On her recent UK tour, Kansas City hotshot guitarist, Samantha Fish, took time out to talk to Blues Matters about her music and soon-to-be-released album, Kill Or Be Kind.

Kill Or Be Kind – that's a title with an edge to it!
Yeah, people have been saying it correctly, Kill Or Be Kind, or they've been saying "Killer Be Kind" like a serial killer or something! I co-wrote a lot of the material on the record, working with different writers from Los Angeles and Nashville.
It's a really personal record and I've been focussing on writing songs with good melodic hooks and but also concentrating on the grittier, edgy guitar sound that people have come to expect from me. We went to Memphis to record, so it's got that soulful side to it, but to me, it's got a bit of everything: blues, Americana, rock and roll, with a little bit of pop in there too!
Your music has moved over the years, hasn't it? The blues hub became a home for you. I first became aware of you with Black Wind Howlin' and Wild Heart, which were both at the heavier end of the blues spectrum, but "Chills & Fever" was a huge sea change for you.
Oh yeah, simmering pop and soul influences! I think, as an artist, you come to a crossroads after two or three records: you can keep doing more of the same or you can shake it up a bit. It felt like a really natural time to make a record like Chills & Fever because we'd been talking about expanding the sound and it was the right time to make that jump. I wanted it to be a statement.
I've been such a fan of soul and Detroit rock and roll – and we had some former members of the Detroit Cobras play on the record and brought in horns from New Orleans. My producer, Bobby Harlow, is such a rock and roll dude, he's amazing! And people had only seen this one side to me, this one singular approach. You've got to be able to spread your wings. And Belle Of The West was a step in another direction.
You brought both of those albums out in 2017. No-one does that anymore! Two albums in one year?
We actually recorded Belle Of The West first. I went in and recorded that with Luther Dickinson after I'd done Wild Heart because we'd spent a couple of days at Zebra Ranch doing an old-school, acoustic session thing and I wanted to do an entire album like that – which was kind of Nashville meets North Mississippi with the players that we brought in. When we came to bring it out, it felt a little too low-key and we all felt we needed something a bit brighter, a bit more upbeat, so we did Chills & Fever and brought it straight out. But I was always going to release Belle Of The West as it's such a great album and it was so personal, I didn't wanna throw it away!
Have those soul influences always been with you?
Yeah, I'm into soul singers a lot. And I really wanted to do the songs justice by using horns and a fuller sound. Ride that dynamic wave! (laughs)
You come from Kansas City. You did open mics and jams growing up, learning the guitar. Has Kansas got a soulful edge to it?
Kansas City has a long tradition of blues and jazz, not soul so much. Count Basie spent a lot of time playing in Kansas City so you've got that whole big band thing there. I think Kansas City has its own sound and it's a bit underrated as a musical city. It ebbs and flows: it's either got a lot going on locally or it's in a down-slump or whatever. When I was growing up, it felt like there was a lot going on and it was an exciting time to be learning how to front a band and put on shows and play guitar and sing.
Why was your first record a live album? (Live Bait in 2009)
'Cos I was poor! (laughs). It was a means to an end: literally one take and that's it, whether you like it or not! I can't sit there and freak out over anything, I just have to commit to this and put it out. I was poor and I needed to go touring and I needed a band van and you have to invest in yourself. And the fastest way to get there is to start selling merchandise and it's also a real calling-card as well for a band starting out, having a CD. I think we were going to play in Chicago for the first time and I needed to have something to sell or we were going to go broke! But it's not in print anymore and I'm happy with that: for me, my recording career started with Runaway.
Tell me about the cigar-box guitar and the tradition that goes with it.
I don't know much about the tradition, honestly. I know there's some famous old-school cats who played 'em.  When I first saw them being played, I was about seventeen and I'd gone to a festival in Arkansas and there were these guys playing them…
And they are literally made out of cigar boxes?
Yeah, they are. But listen, I don't care what they are made of. It makes this sound that's really weird compared to a normal guitar, with like a buzzsaw sound to it. Heavy metal right there – it just makes the heaviest tone. So years later, my band were playing that same festival and I saw a guy selling them on the street, so I bought one. They are all unique, no one sounds the same. I don't know what I'm going to do when it breaks. They all have their own personalities and my one is really special to me.
The album is out at the end of September. What does the rest of the year hold for you?
I'll just be touring the album most of the year. A crazy amount of touring and the dates are stacking up. But I'm cool with it – I miss my cat, but I like touring and I love music and get to go to all these amazing places.
Interview by Nicholas John (Blues Matters)
'Kill Or Be Kind" is out on Rounder Records on September 20th.
"That was my mission on this album: To really set these songs up so that they have a life of their own," says Samantha Fish about Kill Or Be Kind, her sixth solo album and her debut on Rounder Records. "Strong messages from the heart – that's what I really set out for."
For More Info – Samantha Fish
To check out a previous Blues Matters article on Samantha Fish please click here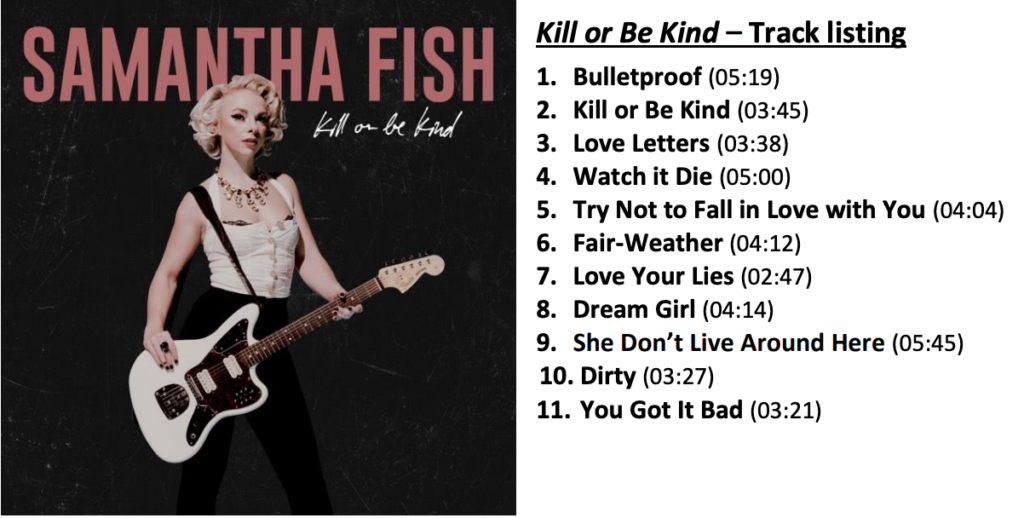 Track by Track by Samantha Fish
You get a good sense of the range the album covers from the first two songs released. Fish propels "Watch It Die" with an insistent guitar riff, but near the song's end, two female background singers lend the song a haunting soulful feel. Meanwhile, "Love Letters" moves on an insinuating, stop-time riff in its verses until it bursts in passion on its chorus. Both songs use horn sections for finesse and texture.
"Love Letters" also introduces one of the album's central themes: the allure of losing yourself in love – and the dangers of it. "Keep waking up in the bed I made," Fish sings. "Forget the pain when you wanna play/I'm back to broken when you go away." "That's just a love-sick song," Fish says, laughing. "like I think I was when I wrote it."
The title track "Kill or Be Kind", a seductive ballad, offers a lover a stark choice: "Make up your mind/I can kill or be kind." To explain that dichotomy, Fish says, "It's funny how love can be so fickle, how quickly you go from object of affection to one of disdain. I've always found that dynamic interesting. That track is full of that duality." "I also love the Memphis sound of the horns on there. They sound modern, but it's got this vintage feeling as well."
The songs "Dirty," "Love Your Lies" and "Fair-Weather" explore similar themes – how deceit, self-deception and shifting expectations can alter the course of life and love. The affecting ballad "Dream Girl" stands the endearment of its title on its head and explores the dilemma of a love not coming to fruition. "I wish you'd take the rest of me," Fish sings. "These tears, they kill your fantasy."
On "She Don't Live Around Here Anymore," a soul ballad once again bolstered by tasteful horn parts, the singer confronts the feeling of being used and finds empowerment in walking away.
The album is framed by songs — "Bulletproof" and "You Got It Bad (Better Than You Ever Had)". "Bulletproof" digs into the theme of vulnerability, about it being mistaken for weakness, and how we often times feel the need to wear a mask to survive in the world today, while "You Got It Bad (Better Than You Ever Had)" is about working towards your dreams and the knifes edge we often walk to reach our goals.
"Trying Not to Fall in Love With You" finds the singer not wanting to rush a relationship – and therefore undermine it. "I fall fast," Fish admits, "I have to remember to take care and not scare the person away."
Pre-order your copy now at Samantha Fish