Advertisements

Fri 14th – Mon 17th Jan 2022
The annual Great British Rock and Blues Festival made a triumphant comeback after some time off thanks to Covid-19. The crowds gathered, the music filled Butlin's Resort in Skegness… good times were had!
Steve Banks give us his thought (and pictures) from the Saturday at Blues Matters' very own HOTSHOTS stage…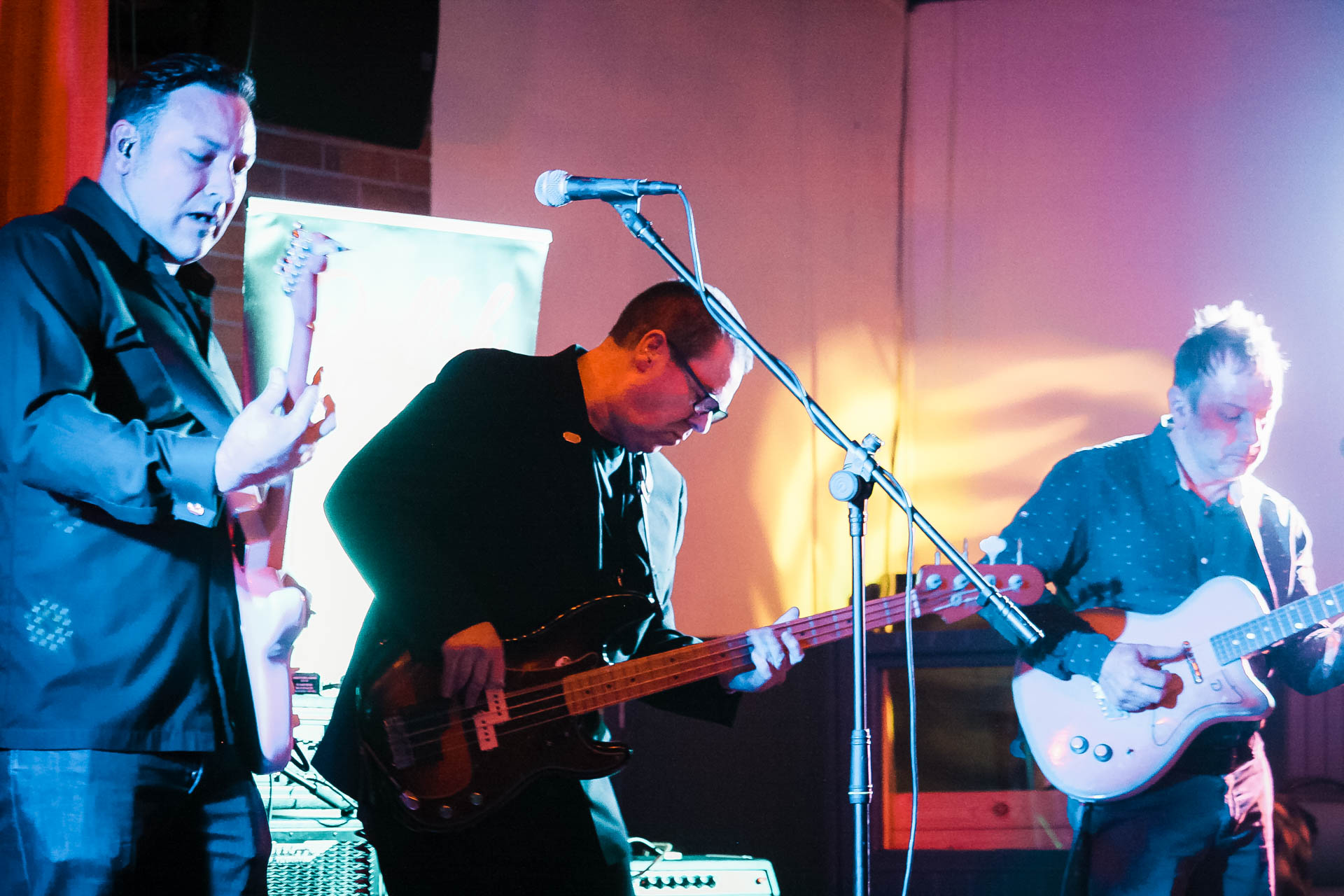 First up at the Blues Matters Stage in Hot Shots was the amazing Redfish, a Cumbria/Borders based band. Their opening slot was no reflection at all on the band's standing in the blues field, a rating that can only increase if they produce sets like this on a regular basis.
It was obvious from the start that this was a band that relishes playing live. Their opening number, Tell The Truth, had a heaving, thumping bassline from Rod Mackay, some atmospheric, swirling keyboards from Fraser Clark, fine slide guitaring from Martin McDonald and great percussion from Sandy Sweetman.
It was an indication of the full power sound that the band has and of what was in store for the eager blues fans. Next up was the track Tuff Enuff, from Redfish's latest album, which must surely be worth a listen, with songs of this quality. Keyboard technical issues forced the band into an impromptu version of Fleetwood Mac's Albatross. This was a brilliant version of the all-time classic instrumental and I was so glad that they got to perform it.
A feeling, I suspect, which was endorsed by the rest of the appreciative audience. As if to emphasise their versatility, the band then switched from the relative tranquility of Mr Green's song to a rockin' bluesy version of Jimmie Vaughan's Boom Bapa Boom. The extremely talented Christian Sharpe, on vocals and lead guitar, made this song his own and produced a fantastic performance. The Allman Brothers Band's Soulshine was treated with loving care by the band and the extended guitar work was a pure joy.
A very poignant moment in the set was Christian's duet with Leon, a very keen air-guitarist, who got great applause at the end. The band continued their varied set with numbers by Albert Collins and an anthemic version of John Hiatt's It Feels Like Rain. The band closed their brilliant set with a blistering rendition of Chuck Berry's You Never Can Tell. Thank you, Redfish!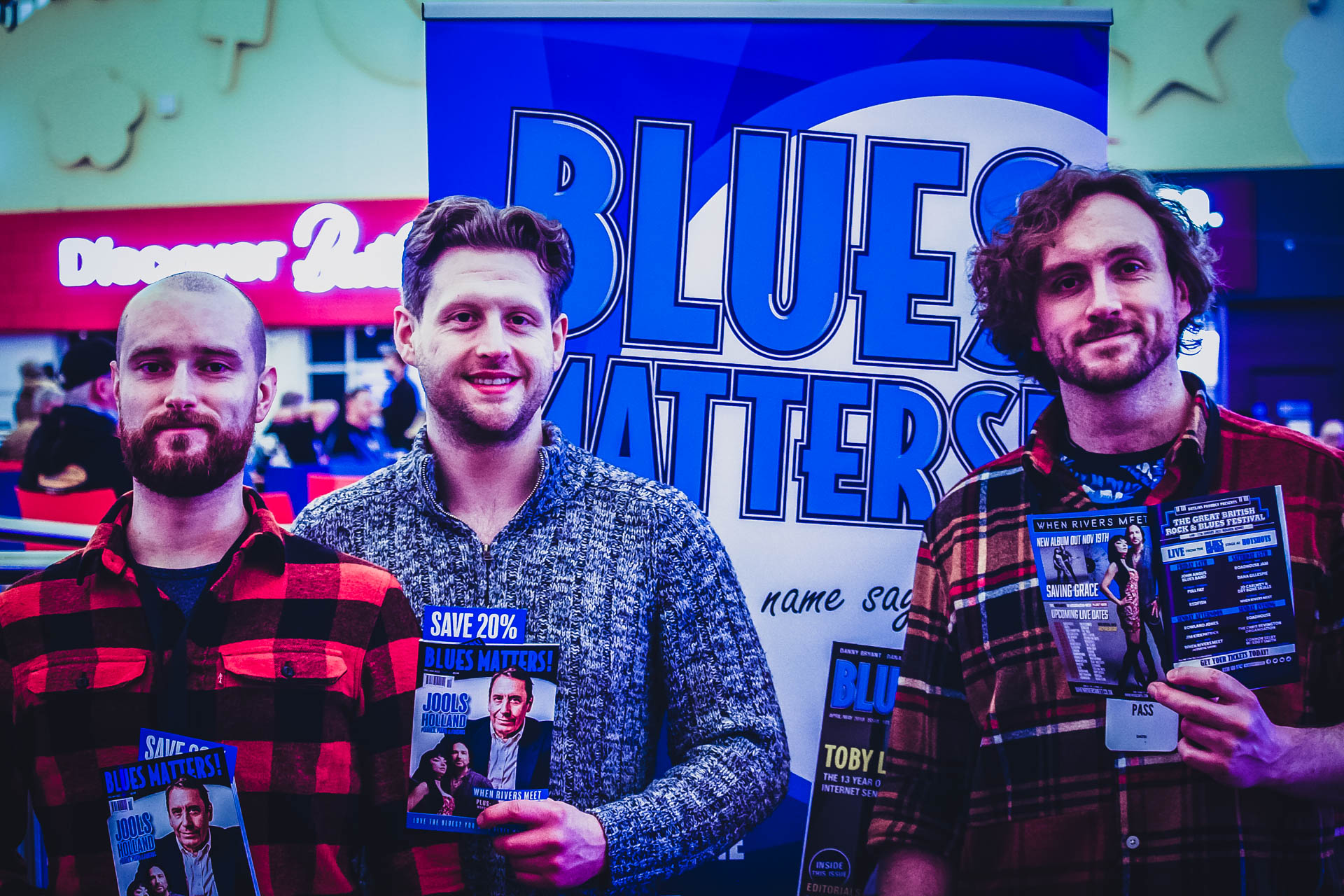 The second band up on the Blues Matters Stage was a trio who had made the journey all the way down from Aberdeen, where they have been aptly described as "Scotland's best kept secret" (they refreshingly describe themselves as "Honest music, honest songs, straight from the soul").
They comprise of the flamboyantly beshirted Fraser McKain on lead vocals and lead guitar, the seriously stoic bass player Fraser Urquhart and the man on percussion, Simon Rattray. The band opened with their enigmatic song Lipstick, whose lyrics definitely put across a message for our times and which are certainly worth giving some thought to. The band describe themselves as Blues Soul Music and have got their own distinctive sound and whilst being in the traditional blues trio format of guitar, bass and drums, produce a sound which is anything but traditional, varying in styles from Elvis Style rock 'n roll to danceable funk tunes.
Temper, Temper was the next track up and started off with a heavy riff and allowed Fraser to show what he could do on the fretboard. The band continued to play a high energy set of their own brand of blues soul funk, slipping seamlessly and very slickly from one track to the next. Full Fat are definitely not a blues cover band and proudly presented numbers from their catalogue, which is quite considerable for such a young band; although their talent is not in question. It took the audience a little while to get into the groove that the band was crafting, but by the time they were a few songs in, it suddenly clicked and they were away.
The track I'm Talkin' To You , a Dave Edmunds/Chuck Berry style rocker was a complete winner and the people up by the stage were bopping to a tune which was rolling away the years for many. Dr. Longhair continued this excellent rocking theme. Just to show their versatility, Le Funk kept the audience moving but as the title suggests in a funky sort of groove. The mix of great self-penned blues soul funk tunes continued throughout the lively set, much to the audience's delight. Let's hope this band doesn't remain Scotland's best kept secret; they certainly don't deserve to be.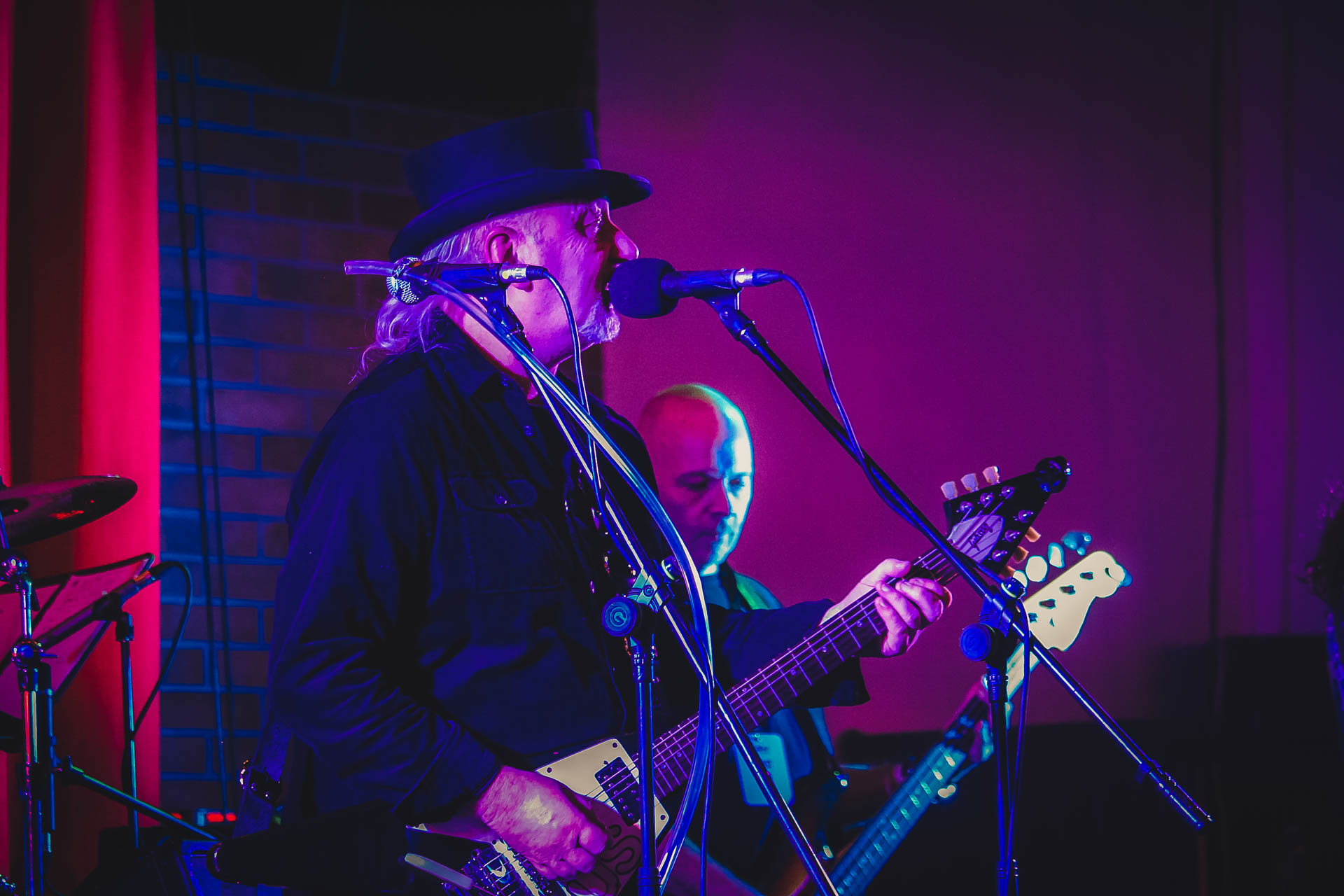 The late (very late) slot on Friday evening at the Blues Matters stage fell to The John Angus Blues Band. The band was definitely up for a late night rockin' blues session and opened up with a very fast-driving, hard-hitting number, Give It Up, which let the audience know what they were about; heavy, rocking blues.
The band, consisting of the frontman and guitar maestro John Angus on lead guitar, Shaun Lowe on keys, Tim Hopkins on bass, Padraig Tansey on drums and Andy Cotton on second guitar, played material from the new album, It's About Time and covers of some great blues numbers. Torture My Soul, from this album, was a great vehicle for John's vocals and heavy guitaring. Their first cover, Hoochie Coochie Man, was a heavy version of this classic track and definitely hit the right note with the audience.
Then came the unmistakeable boogie sound intro to Hipshake Boogie, which gave those who wanted to dance the song they were waiting for and more. This was a great success and a very extended version ensued. (I'm sure it could have gone on even longer without any complaints!) John took a slight break from the rockin' the blues to explain the sad story behind the track Mama's Blues, which was about a family breakup, taking place at Doncaster station; with mum and son heading North and dad heading south. It was sad, but John on a more positive note, also said that it was the start of his journey into blues music.
This backstory gave added poignancy to the song. The audience participation number was Would I Lie To You? with the crowd response being Maybe I Would. (A song for our political leader?) The set wound up with a welcome return to Hipshake Boogie and closed with a great tribute to Rory Gallagher; Messin' with the Kid. This was a fine finish to a high energy set from the excellent Mr Angus and his band.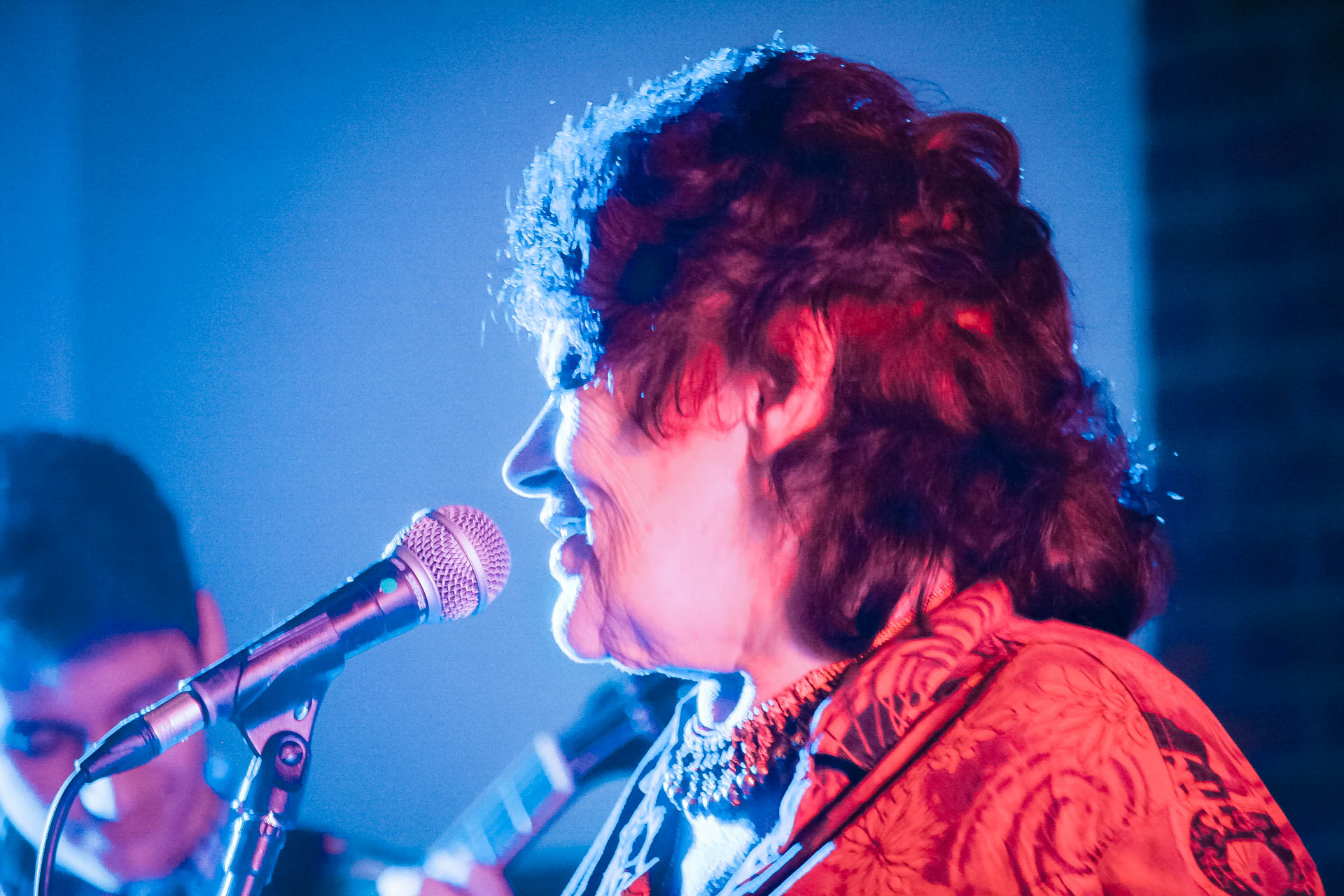 First up on Saturday evening was the legendary Dana Gillespie, who really shouldn't need any introduction, but Stephen Harrison of Blues Matters Magazine did just that and laid the emphasis heavily on the word legendary, to rapturous applause from the Hotshots crowd.
Despite having recorded on 73 albums (I probably misheard this, but I think Dana might have said one for every year of her life!) Dana has managed to keep her feet firmly on the ground and definitely has the knack of relating to an audience. The stage and set-up was perfectly suited to Dana's club-style patter and witty introductions to her songs.
Personally speaking, I could've happily listened to an evening of Dana's chatter re. her life in music, but we were there for blues music and that's what Dana gave us. She did explain that since her last appearance she'd had a couple of knee replacements and a hip joint, so was somewhat of a bionic woman. She also (probably unnecessarily) apologised for a sore throat; it just seemed to give her bluesy sound an even more down and dirty tone, if that was possible.
Dana opened with the song Big Boy, which somehow seemed to be something of a theme for the evening and was a frequent source of reference and amusement. The introduction to the next song, (I Am) Experienced, also gave Dana a perfect opportunity to spill more secrets from her amazing career. She also introduced her band, which comprised the outstanding 18-year-old Marcus Praestgaard-Stevens, who according to Dana, could've been her great-grandson, the almost as young Daniel Watts on drums and the very talented Gino Baptiste on keyboards.
It's great to see that such a well-established artist is prepared to give such young artists a break, but they all seemed like seasoned artists already, supporting Dana faultlessly. The slower Twentyfour Seven followed, permitting some great keyboard work, only to be followed by the rockin' boogie number Too Blue To Boogie. The cheekier side of the blues was never far away, as the songs King Size Papa and FCK (the only thing that's missing is You) followed, much to the audience's amusement. Funk Me-It's Hot was another great title and number. Mose Allison's Your Mind is On Vacation was also preceded by more illuminating chatter from Dana. A Lot of What You Got finished the set in an appropriate raunchy style. This was a brilliant performance from an artist,who sings amazing blues and tells fascinating anecdotes, both done with such an incredibly natural style.
Jo Carley & The Old Dry Skulls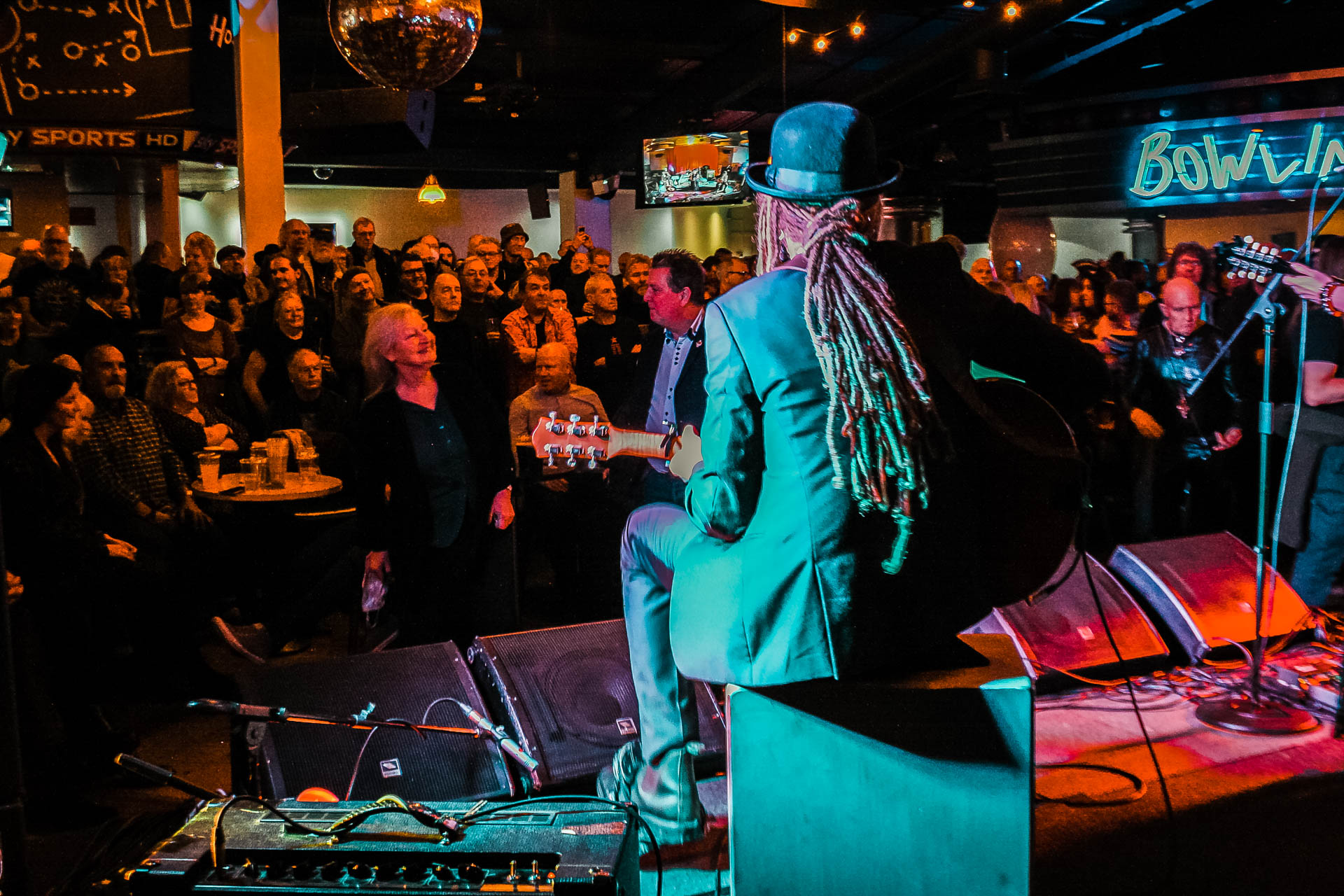 By way of contrast, the next act on stage was Jo Carley & The Old Dry Skulls, who play their own brand of Voodoo Vaudeville Old Timey Death Skiffle Blues. To the best of my limited knowledge, I'd say they are the world's number one in this perhaps somewhat niche genre.
Before they even play their first note, the band has considerable visual impact. Jo is dressed in gothic style with black lace, black eyes, voodoo charms and bracelets and she holds the centre stage with her wailing vocals, looking like something straight out of The Cabinet Of Dr Caligari.
Her partner and co-writer is the Zombie-like Tim Carley, who churns out blues-tinged rhythms on an old archtop guitar, very much like a long-gone antecedent of Wilko Johnson, emerging from the Essex marshes à la Magwitch. He also provides percussion by means of a kick drum and a rattling shoe. The spooky trio is completed by their fellow ghoul, James Le
Huray on double bass and banjo. The band was an immediate hit with the audience, as they began to tell their tales of Zombies, the Devil, Voodoo, Witchdoctors and other such topics. Every song seemed to have a driving, feverish, insistent beat, which was certainly enough to get the evening moving and lots of the crowd got down and started to shake their dry bones. Those who didn't, seem to be spellbound by the whole spectacle.
The opening number Little Limbs Of Satan had a hint of rockabilly about it and, combined with Jo Carley's theatrical gesturing, it set the music hall scene for what was going to follow; song titles containing the words Zombie, Devil, Dead and Bones. At the end of the show, the audience was left with the feeling of having witnessed a performance as a whole, rather than any one stand out track, which I imagine is how the show was conceived.
The closing number, Shake Them Rattlin' Bones, whipped the transfixed dancers into a voodoo-inspired frenzy and was the only way to close such an enigmatic set.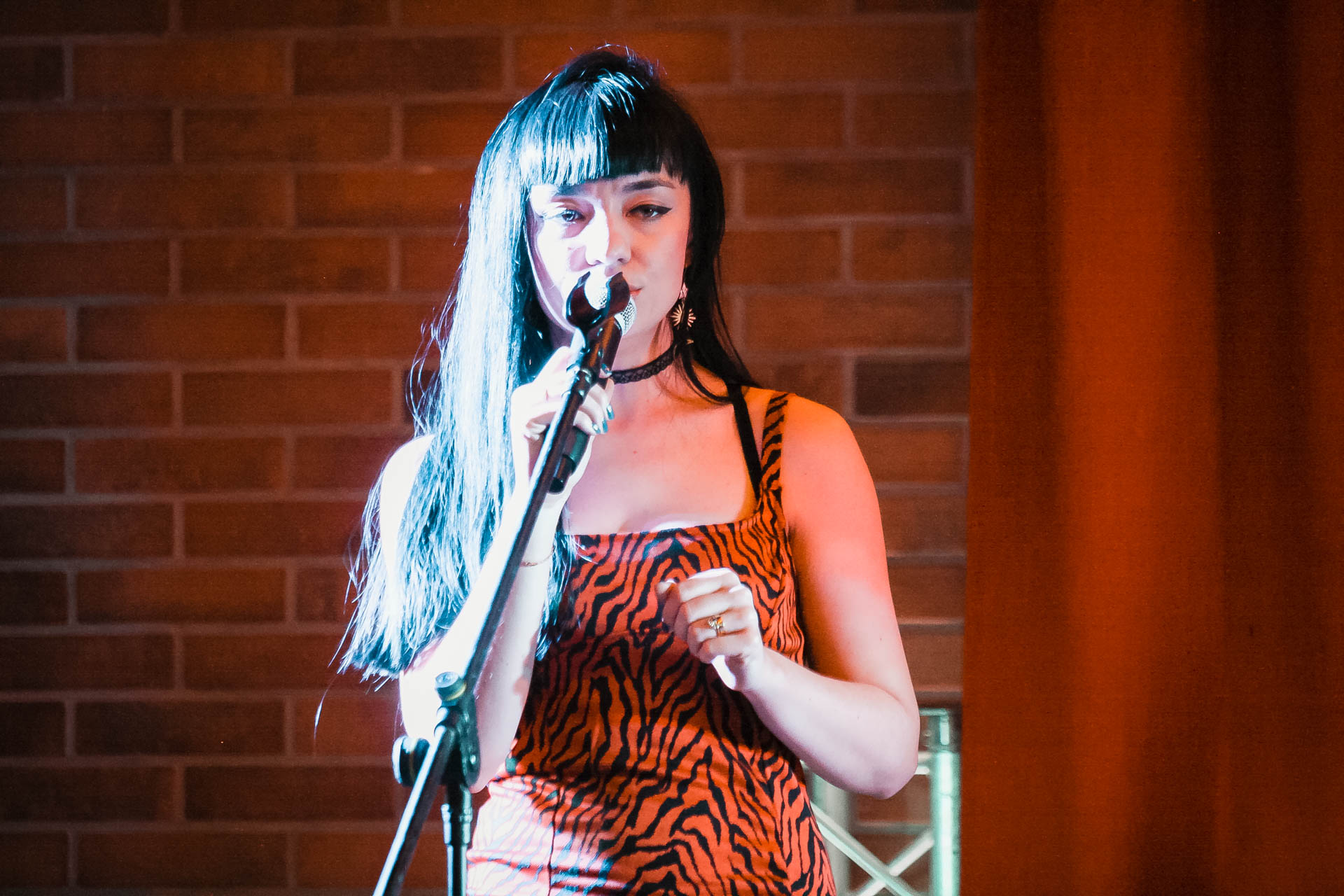 The final slot on the Saturday evening fell to When Rivers Meet. As many readers of Blues Matters magazine will be well aware, When Rivers Meet had not been idle during the pandemic, building up a considerable following with their regular livestreams.
Their hard work had obviously not gone unnoticed by the blues-rock afficionados who were present in Hotshots; the band came on to a rapturous welcome, despite the start time being well past the midnight hour/bedtime. Appearing as a band for only the third time, with James Last on drums, James Fox on keyboards and percussion, and the amazing Roger Innis on bass.
From their performance they could've been together for quite a while. The opening number, Did I Break The Law, was a favourite with the audience and a great starter, with Aaron providing a heavy riff to accompany Grace, his rock chick partner, who was both looking and sounding great. This track typifies the band's sound and was a great opening number; it was going to be a great set from the duo-turned-band.
The second track, Battleground, had a very similar effect, with very heavy bass drumming emphasizing the lyrics about making the ground shake and a chorus which allowed for lots of audience participation. My Baby Says That He Loves Me, with slightly distorted vocals and lovely harmonies from the WRM duo saw Grace pick some choice notes on her mandolin. Bound for Nowhere and Walking On The Wire from their latest release, We Fly Free , followed , with the latter having a bluesy slide riff from Aaron's hardworking guitar. Freeman, from a previous album, had a similar driving slide riff and bounced along in a boogie groove.
Aaron paid tribute to Grace in a touching intro to the quieter song Talkin' In My Sleep, to be followed by a unique rendition of the Man in Black's Ring Of Fire, which contained some lovely vocal harmonies from the duo. One of the highlights of the set was the number Bury My Body, which started off in a gentle fashion, but steadily developed in an anthemic manner into a swirling crescendo, enhanced by Grace's ethereal and mesmeric electric violin.
Despite the late hour, and after a few more equally entertaining songs, the band finished with I Can't Fight This Feeling, which is another heavy riff based tune; exactly what When Rivers Meet are good at. A great way to end their brilliant set!
Keep an eye out for tickets for the Great British Rock and Blues Festival 2023
For more blues news, reviews and interviews, subscribe to Blues Matters Magazine today!