Press Release from UKBlues Federation.
Following on from previous winners Kaz Hawkins and Kyla Brox, the winners of the 6th UK Blues Challenge on Saturday night would certainly have fine boots to fill. Four top bands all did their 'thing' at the Challenge representing the breadth of blues in all its glory, and it was The Achievers that came out top with their gospel roots flair and originality.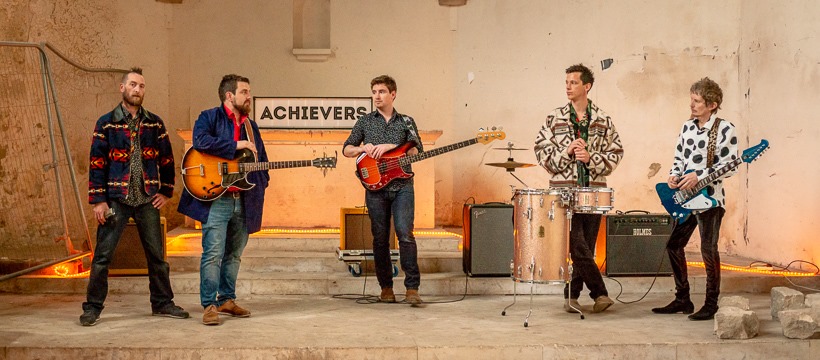 Interesting songs, great vocals and harmonies, a tight varied sound and their own take on percussion, The Achievers, from Gloucestershire, take blues off in new directions while still holding to its roots. They will be off to represent the UK in the European Blues Challenge in the Netherlands and the International Blues Challenge in Memphis next year.

In a packed room at the Bluefunk Rhythm & Blues Club, Poynton, Lancashire, under the guidance of club supremo Garry White, The Achievers were up against three other bands who had all been selected through a process involving some 700 people involved in blues in the UK. Crossfire Blues Band featuring Alice Armstrong and Marcus Praestgaard-Stevens, rockers Little Triggers from Liverpool and The Connor Selby Band.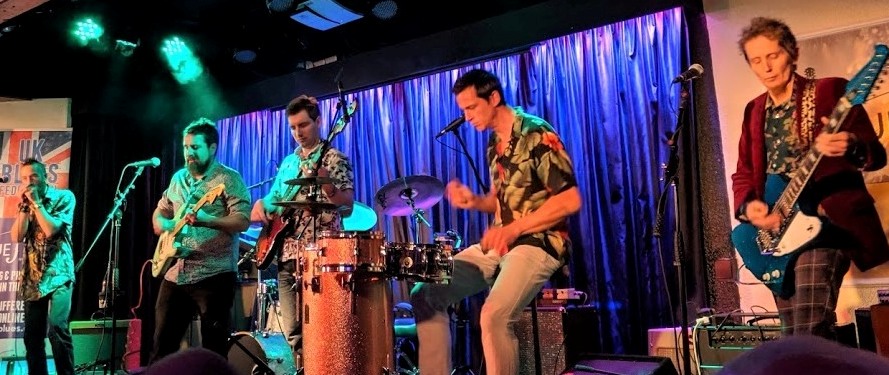 The competition was fierce as all brought carefully crafted short sets to meet the demands of the occasion but it was the charm and flair of The Achievers that won the day. As frontman Steve Ferbrache says, "What a night! Everyone was fantastic, the crowd roared, and it's such a thrill to now be representing the UK, and that hasn't quite sunk in yet."
"The UK Blues Federation will soon be starting a crowdfunding campaign to help The Achievers raise money for their trips to Holland and Memphis which we hope you will all support. The UKBF will be donating £2,000 directly to the campaign," said UKBF Chair Ashwyn Smyth.
For more information on our winners check out The Achievers
Comments taken from The Achievers Facebook page –
"Ok…WOW!
Last night was one of the most beautifully surreal and exciting things we've ever experienced! What a huge HONOUR and RESPONSIBILITY it is to be selected to represent the UK at the International and European Blues Challenges in 2020.
We now have the opportunity to take our music around the blues world and proudly say: 'This is what is happening in British Blues Music right now…'. We're thrilled to be able to do that.
As a stand-alone night of live music, it was SUPERB! We've so much love and admiration for the other brilliant acts that took part – entering into the spirit of the event with graciousness, camaraderie and kindness. Each of them are shining examples of what it means to be genuine 'pros'…wonderful people.
We are so pleased and proud…but we can't quite believe it! The van trip home last night was just like any other, I'm sure it'll sink in next time we're all together.
There's a huge amount of work to do now…not least crowd-funding the money we need to get to Memphis! Watch this space for how you can support us and what you can get in return.
There are so many people to thank and we'll be taking the time over the next weeks to do that in a big, proper way. In the meantime, thank you all for your support, good vibes and love. We love you guys so much".

There is an interview with frontman Steve Ferbrache coming up in the next edition of Blues Matters magazine. (in shops Friday 27th Sept) We'll also be adding a post to this site shortly to help the guys with their crowdfunding for the Challenges and we'll let you know how you can help.