They don't come any more authoritative or authentic than Tony Joe White. I found him a fascinating conversationalist – never in a hurry to say anything glib, he would ruminate a second and then respond directly to any question you put to him.
Like most musicians, he seemed happiest talking about songs, writing, performances, influences – especially in our last chat about his stone blues album release –  and of course family and friends.
One of his best pals was Patrick McGoohan the actor of The Prisoner tv series fame. White thought the world of Elvis Presley, who treated him with warmth and respect.
Polk Salad Annie was the very essence of swamp rock, As The Crow Flies and Undercover Agent For The Blues, such atmospheric songs that Rory Gallagher and John Mayall respectively recorded their own versions.
With the exception of Chris Rea's Josephine, has there ever been a more achingly poignant number about being away from home than A Rainy Night In Georgia? White's take on Witchita Lineman is breathtaking, as he portrays an ordinary guy trying to get through life. Add to that maybe the best duets album ever, even featuring his lovely daughter Michelle and the weight of Tony's sonic legacy is evident.
Tony Joe White's recordings do not suffer from over-production, his guitar playing was solid, direct and that voice just commanded your attention with no shouting or gimmickry.
From steamy windows to tumbleweed to glorious desert sunsets and gleaming swamps, this man could lift you anywhere he pleased.
Farewell to a friend and icon.
By writer – Pete Sargeant
Tony Joe White was recently interviewed by Pete in the latest edition of Blues Matters!
He is in issue 104 – available in app format at Exact Editions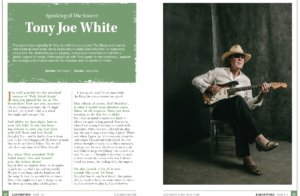 Individual print copies of this issue are available at Warners