Advertisements

An interview with 8 Ball Aitken by Colin Campbell.
Images by Toby Kroner.
YOU DEVELOP YOUR OWN THING!
His new release Swamp Blues 2, is a follow on from his much-acclaimed Swamp Blues release. This is his eleventh release and for it, he assembled a band of top-notch musicians. JJ Johnson on drums (Tedeschi Trucks Band), bassman Glenn Fukunaga (Robert Plant), sax and keys player Buddy Leach (George Thorogood), and he co-produced this with Dave Percefull at Yellow Dog Studios in Texas.
He has performed his swampy, slide guitar-driven songs at over two hundred shows each year and has played around the world in the United States, Australia, Europe, Canada and Asia. The new release was only one of the topics we chatted about during this interesting conversation with 8 Ball Aitken.
Hi, thanks for taking time out to talk to Blues Matters magazine, where are you today?
At my home here in Nashville, Tennessee.
How are you coping with the restrictions of Covid-19 lockdown and what are you missing the most at this time?
Writing and recording songs every day at the moment! I miss my friends; I miss hugs and performing with my band. I'm spending a lot of time in the studio creating music every day. I miss interacting with other people in a crowd. Playing music by yourself is fun but playing music with people, that's what it's about. I miss the community and being happy in a collective state of mind.
Live streams, are they rehearsals for you or do they give you a chance to play differing music styles? I'm thinking here of your recent session playing Jolene.
I'm not above doing anything! For me, to do a swamp blues version of Jolene to make people laugh, then I'm having a bit of fun! I'm pushing myself out of the box. To play some Big Bill Broonzy, Slim Harpo or whatever is great, I love playing old blues tunes. I did a version of Copperhead Road, I thought maybe that it would make people not want to hear me!
How difficult was it to release Swamp Blues 2 during this pandemic?
For a physical product, people have to be in front of you watching you play. They want to take a CD or vinyl away as a moment. Everyone knows you can listen to stuff on Spotify and that CD's could just become drinks coasters unless they listen in the car. It's complex, I wanted to drop that album as a thank you to my fans and give them something to listen to while we all have a bit more time. There are a lot of people working but they seem jealous of the people who are not! My job as a musician is to play twice a week and keep people smiling and keep the joy and happiness going.
You seem relaxed and enjoying the live streaming, is this what you are like on stage?
Yes. There's no filter, I'm not putting it on and being somebody else. I've been on the road for eighteen years I guess, and if you keep going, you develop your own thing.
Did you always want to be a musician?
Yes, this was my only idea of what to do. I had a lot of jobs before I was twenty-one, I didn't want to do them for longer. It was a matter of time before taking my music to another level. I was a hitchhiker, busking around Australia with a guitar before I ever got a gig. I was already travelling and immersed in that lifestyle. You get an opportunity and you run with it.
Do you come from a musical family?
My dad was a good fingerpicker; he was crazy about Chet Atkins. When I was thirteen, we used to go to the Post Office and get a blues collection CD that had a different artist each week. That was my first discovery of the blues. John Lee Hooker, B.B. King, Buddy Guy, Jimmy Reed, Magic Sam, I just got hooked on it. My friends were listening to Nirvana. It felt like me and my brother were the only people in the world who knew how cool blues music was! We eventually found other friends who were into the blues and it took off from there.
Where was your first gig?
I played on the back of a truck at a rodeo in my town. That was with a high school band, I loved it, I played the guitar. I knew I just wanted to keep playing live!
What's your musical background are you self-taught regarding guitar playing?
Yes. My dad was busy; we played for fun at the weekends. Music was something my family did but I just picked up the guitar and played all night. I think I'll play until the day I die, I feel it's a life calling. It's a funny thing when your job is your hobby and it's your passion and your life. It means everything to me. I do have other hobbies but they are temporary things. I feel so blessed; I've never had a "bored" moment in my life. I wish everyone could be fulfilled with what they do, as I do. There are so many cool things to do with your life; I can't imagine a life without music, so I keep going.
Who have been your musical influences?
As far as blues goes, I really love swamp blues, like Tony Joe White. My favourites are from Mississippi and Louisiana. I'm a big fan of JJ Cale. I love good songs; I listen to a lot of soul music. Derek Trucks is a guitar god that walks amongst us. I like getting back to the roots of all American music that interests me. We have great blues musicians in Australia and it is played all over the world.
Why did you choose blues music as a genre to play?
It's the coolest music that ever existed! It sounded better to me than anything else. It's the space in the groove and the emotion. You never have to play it the same way twice. I feel sorry for the guys that do scripted shows night after night. Playing blues you have a licence to do what you feel like when you feel like doing it. Without a bass player, you can change key and do anything you want.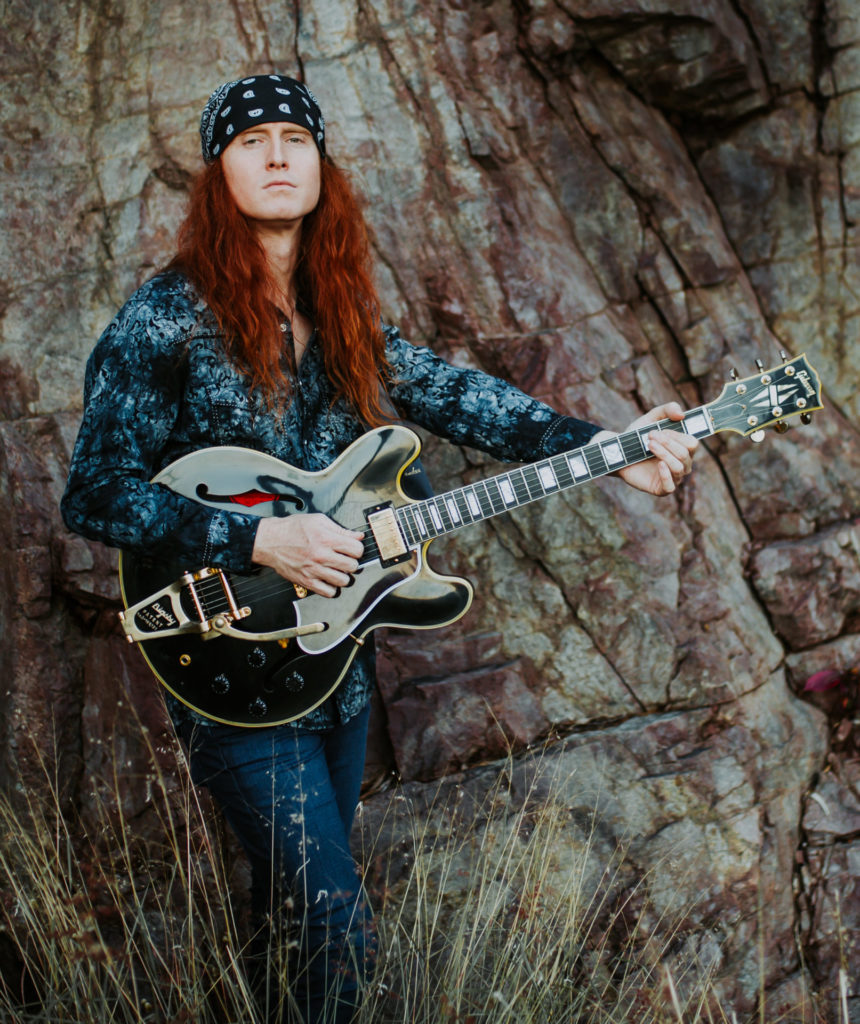 How would you describe your music style to those who have not heard your music?
My music is swamp blues and as authentic as it can be coming from Australia! I am an American citizen I moved to Nashville eight years ago. I'm dual with being Australian! I'm somebody who tries to write the best songs I can. I try and share the joy I get from music and project that to others, that's my philosophy.
What's the best advice you have had musically?
Simply play the music, you love the most. Play what you really want to play. Keep writing your own songs and if you don't write, keep playing!
What is your songwriting technique?
I have a trick for the modern world! That is, don't put your phone on in the morning until you have written a song. Wake up and get your guitar and pen and paper and write a song when your mind is waking up and see what happens. If you do that every day I guarantee you will come up with plenty of good content.
If you just get distracted by technology that's a problem. Technology steals our time and sucks our energy. Harness that energy for the morning that's my secret! I enjoy collaborating these days. It's a social thing working on projects. Sometimes it's a groove or lyric or something from a sound file. I'm a prolific writer and write for others.
This leads us nicely into you talking about your new album Swamp Blues 2.
Thought you were never going to ask! It's the highly anticipated follow-up album to Swamp Blues, It worked for Jesus and two thousand years later the book sales for that are still good! I had a lot of songs leftover and I felt we had unfinished business because we clicked so well out at Yellow Dog Studios with JJ Johnson who was voted best drummer in the world, he is incredible.
Most are Austin, Texas guys. JJ is a deep footed music man. Glenn Fukunaga is so laid back, cleanest sound on bass guitar. We needed to do another swamp blues album. My mate Guthrie Kennard from Dallas, Texas we wrote some songs together. I don't like making albums with too many personalities on them, you want a good core team. I'm from the keep it simple method. We were more creatively relaxed on this one. We knew each other better and what to expect. It feels right!  When I play live, I play all the songs in order on the album. Most I had been playing months ahead. Road testing them is the way to go.
What songs from the album do you enjoy playing live?
I like, Tremolo Rain. The one chord groove songs have something special about them. I enjoy the softer side ones too; My Darling, being an example. Chocolate, Jack Daniels, and LSD have all been crowd favourites for so long. Week Man is a groovy one. The surprise was the song, Cherry; this is a great opener for the live set. You want your first note to count, it's like a big "Hello everybody". They all work live. I've made eleven albums; you can't fit them all into one gig. You pick your songs for what event it is.
What venues do you like playing, small or festivals?
Music festivals, because people go there to have a good time. I enjoy the outdoors in the sunshine. Touring in the UK was fantastic. I was playing with Hayseed Dixie. I couldn't believe how the UK crowds were responding to my music.
How did you get the name 8 Ball?
Johno's Blues Bar in Cairns, Queensland  Australia. I played when I was twenty-one. It was a tourist town. All the blues greats played there including Albert King. It was a bikers place and had a pool table. An 8 ball landed on the stage I was playing and that's where the name came from. I changed my name to 8 Ball the day I became an American citizen.
What made you move from Australia to America?
I toured Australia non-stop for eight years and it's always home. I had to expand my musical horizons. When you play blues music you have to go to the source. It's not until you work with American blues musicians that you can really understand a lot more about the culture. I've become a better musician for experiencing this.
It's like a skier you have to go to where the snow is! It was a natural evolution. Audiences around America regionally are different as well as Australian ones. It's one big world. You realise as the old bluesmen "kick the bucket" you have a duty to keep the blues happening and keep the scene going.
How do you keep the blues original in a modern age?
You've got to follow your heart. I'm not scared to try new things. I play a toaster, a one-string guitar. I won't stop creating and learning. There would be blues purists that would probably hate me for playing swamp blues Jolene but I can't stop pushing things forward. Keeping the blues traditions alive is one part of it.
The other is keeping it fresh. Audience connection I feel is easy. You want people to tell their friends that's how the audience grows. For me, it's all about people. We feel the same joys. Community is important to me especially during this period of isolation. Live music may not be the same but it will adapt and if we all work together we can have festivals online and outside of technology. I embrace the future. The blues is changing it won't go away.
There are drive-in concerts going on just now what do you think of that?
It looks a good temporary idea. If they want social distance am not sure, because these are the places babies are made! Being in a metal box, if you're in the front row, fine. But if you're at the back, I can't imagine that's as good.
What's the strangest gig you've played?
There's been a few! I played a Suicide Prevention fundraiser…at a bar in Texas. The first prize in the raffle was … a gun…!! Second prizes were bottles of whiskey, that blew me away. In Fiji, they had to cancel my gig they thought they had hired a magician, not a musician! I've played in places where the backing band couldn't speak English but we still played the blues! My travels have opened up my mind.
What are your future plans?
I've been cutting some soul blues and heavier blues and playing my toaster guitar. It's a mystery what I'm going to bring out next. If people are still following me, they will accept me for what I am!
Good speaking to you.
See ya thanks!
More Info at www.8ballaitken.com
---