Advertisements

Recently Blues Matters had the opportunity to talk with Neil Warden. His blues musical roots are well documented, and he has been a musician for over forty years. He has worked with: Tam White, Boz Burrell, Camille O'Sullivan, Peter Straker, Maggie Bell, Jim Diamond, Brian Kellock, Stuart Mitchell (Classic FM composer), Dave Heath, Aqua Bassino, John Burgess, The Lorna Reid Quintet and many more.
More recently he has been adding guitar tones to the new double album Once In A Blue Moon along with David Pringle on keyboards and Fraser Speirs on harmonica and vocals.
Words: Colin Campbell
Pictures: Supplied
Neil is doing work with David Pringle and Fraser Spiers with this new double CD, it took about six weeks to record his parts. He is rehearsing duo music with Lorna Reid, and some Americana. Also, he is working with Boo Hewerdine, he jammed with him at the Folk Club before lockdown. "He put a couple of jobs my way which was pretty good. I love to record, and everyone seems to like the Weissenborn lap steel guitar so that's good. Nothing major regarding live stuff, am having trouble with my eye. The problem is when I focus in, this eye closes, so will have to get an operation. I want to get in touch with musicians in Fife, it's very much a rock and roll town, just jamming with a few people, we'll see what happens".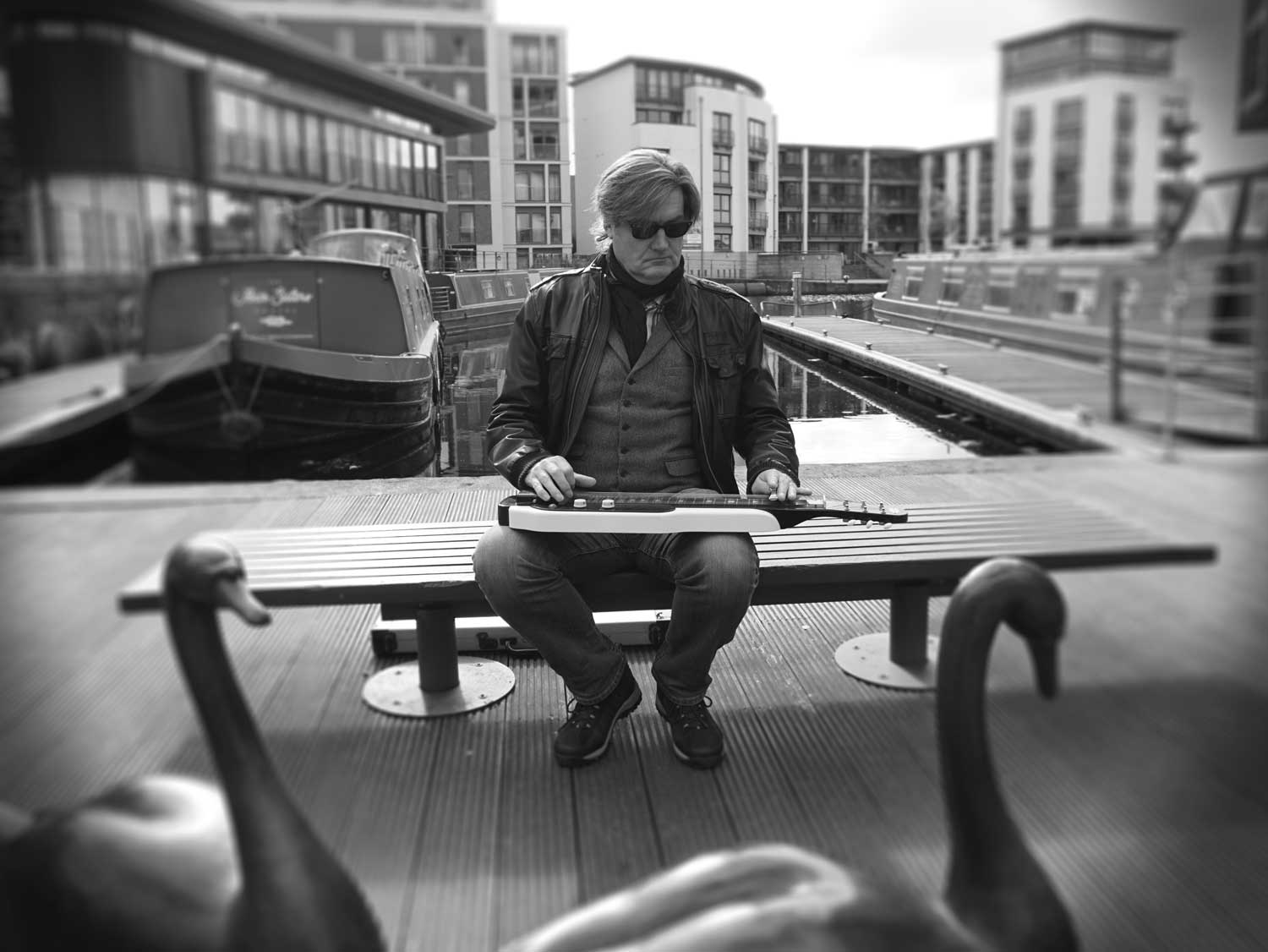 Regarding the new album, he was taken by surprise how this came about. About six years ago, he spoke with harmonica player Fraser Speirs. "I had this album out a few years back that was a sort of tribute to Grover Washington, a simple jazz funk soul instrumental. It's had some plays; Fraser gave this to David Pringle. There's next to nothing about David on the internet. He was the Musical Director for Scottish Television, Dave was MC for the show Shindig and played the piano and Hammond organ in the 70s.He also arranged strings for Deacon Blue, a whole range of music styles. He ended up in America, he did the music for Wheel Of Fortune. He also brought Oscar Peterson to Scotland, Live at The Gateway.
Advertisements

He's got a pedigree in old school arranging. He is now 82. He played the West End Club when Roger Spence started Platform which was pre–Jazz Festival. He had a jazz trio. About nine months ago Fraser told me he had all the backing tracks. Dave phoned me when I was flitting to Dunfermline. He sent me thirteen tracks, a lot of stuff, with chord charts, so much stuff. Fraser's vocals were not on, so I had to listen to the tracks a lot. It had to sound like a 70s blues style album! The music I was sent was the kind I listened to back in the day and I was pleasantly surprised when the mixes came back. It was recorded at Etive Sound in Glasgow. I was surprised this was coming out as a double CD, I thought it was going to be a live gig! We are all pleased with the sound, long tracks but there's something there for everyone. It's great to hear someone play the Hammond Organ well. I'd like to be still making music at 82!
Fraser had known Dave Pringle through the old Glasgow connections. Fraser was very much in demand in the 80s. Last time Neil saw Dave was in the 80s when Dave was demoing synthesisers. He knows the technology to record. On the new album there are a lot of songs that have blues influences. Let's go over the tracks with Neil here:
Back At The Chicken Shack-This is a standard Jimmy Smith song from the 60s. Neil was very familiar with his music growing up. He picked up his first guitar at thirteen years old. His dad always played Jimmy Smith songs. It was easy for him to play because he'd heard it so many times. If you're a Hammond player, that's the one that people familiarise themselves with this tune. You can't make a Hammond organ album without a Jimmy Smith track!
Ain't Nobody's Business- Neil's favourite version of this is by Jimmy Witherspoon. It's got that lazy 60s feel to it, it's been well preserved. The album is not too intrusive. You can have it on in the background. We didn't make it into a blues rock album, which is not the way to go! When Dave phoned me about the album, I suggested having some Kenny Burrell, Larry Carlton, George Benson and some Johnny Guitar Watson, J J Cale, that sort of stuff. I'm a massive fan of that understated stuff. As a kid I was obsessed by Johnny Guitar Watson. It was all the funky arrangements I like. My favourite is his Tribute To Fats Waller album. Its non-obtrusive jazz. This song is how we play all through the record.
Stand Up & Be Counted-This was originally recorded by a saxophone player, Cornelius Bumpus. He played saxophone with the Doobie Brothers and depped for Clarence Clemons for Bruce Springsteen. This has a Gospel flavour, one of Dave's choices. When I first heard it, I thought Larry Carlton, Robben Ford take.
Gee Baby- Same approach to this as Nobody's Business. This was Fraser's choice. This was on the Kenny Burrell album Midnight Blue. I liked his understated style.
The Mountain- A reference track was from Steve Gadd. It's got the pentatonic scale throughout, almost Japanese style. Abdullah Ibrahim the pianist recorded this also. Lovely track.
Everything Will Be Alright- JJ Cale track. I played the Weissenborn on this and added overdrive to give it more oomph! The whole JJ Cale sound was big in the 70s. He was one of the first people to use a form of looper. He used to go on stage and wanted to hear people talking so he had the sound on stage turned down!
Soul Serenade- The sound of the melody is big, no reverb. Think I played it on a Telecaster, just relied on the wood. King Curtis tune, I am very influenced by his Live At The Filmore and Bill Withers, Live At Carnegie Hall. When I played with Tam White, I always liked when he would say don't play over the vocals, you'll get your chance to solo and play anything you want.
Contemporary wise Neil likes the album TajMo but doesn't really listen to much new blues music and not much time for blues rock phenomenon but admires Gary Moore and even supported him in a group he was in. "Joe Bonamassa wouldn't be about if it wasn't for Gary Moore". He doesn't hear anything new in this genre, "maybe needs some psychedelic rock mixed in!" He does like crossover artists like Ben Harper. "He does some reggae, full on rock, like him! He also doffs his cap to Jack White, interesting and retro takes on tunes". This led to a discussion on the way we listen to music nowadays and the different streaming platforms.
Put It Where You Want It- First time I heard this was on The Average White band's first album. The first album that got me into that crossover between jazz and blues. This was about 1973, there wasn't much blues to hear then in Scotland. The UK blues boom was well over by then. There was a lot of blues in popular music back then. It was nice hearing something jazzy and funky but not too over the top.
Black Coffee- Again played like Ain't Nobody's Business. The vibe is similar to other ballads. That's about all I can say about that one.
Country- This took me by surprise. I found a version where someone had played guitar, Mike Landau. He does it like Jeff Beck. Probably the most commercial things Keith Jarett has written. It's an emotional tune and you must get it right. Had a lot of learning with this one as it is piano based.
Lies- Another JJ Cale song. I put more of an edgy guitar sound on this one. It's as rocky as it gets on this album.
Watching The River Flow- That was a surprise. It's played in an up-tempo swing blues style. When I first heard it, I thought what's this tune. I've heard a few versions played as an instrumental but couldn't hear the melody properly. It's given the Jimmy Smith treatment, no doubt. That was pleasant to play, can see that working well when played live.
I Wonder- I played this with Fraser before. I recorded the ballads all in one day, so they had the same sort of vibe. There are jazzy chords to this one although it's based in blues.
Dear Old Southland- Last track on the record. Neil does not play on this one! It's an old traditional tune, made famous by Louis Armstrong. It is acoustic piano from Dave and harmonica with Fraser, sweet playing in a country blues style. Fraser excels at country ballads, a great tune to finish off the album an old blues standard.
David Pringle is a very humble man, yet not a lot of people know about him and the wonderful work he has done. His liner notes about the concept of the album are thus:
"When I returned to Glasgow from the U.S. I was lucky enough to run into Fraser Speirs. We're friends from way back. We started jamming and worked on a common repertoire; Once In A Blue Moon, is the result of this collaboration. We asked Neil Warden, a well known highly skilled guitarist to join us. Also, the fact that we had all played with Tam White at different stages of our careers was a common factor. Brian Paterson was our recording engineer when we worked at Scottish Television (STV), luckily, he was available to complete our team. Our musical style is not easy to define, a mixture of jazz, rock and R & B with a look back to the Muscle Shoals Swampers and the Wrecking Crew. This project has been a pleasure to work on."
Chatted with Neil about his back story and how he got involved in music. His interest in guitars started when he was fourteen. Daytripper/ I Feel Fine by The Beatles were watershed songs for him. He played trombone in the brass band at School and hated it! First record he bought was This Is Soul a 1968 compilation. He liked all the twanging guitar riffs and sounds. His father played Jimmy Smith, Wes Montgomery and Count Basie so he was surrounded by musical influences both jazz and blues genres.
He saved all his wages and bought his first electric guitar in a shop in Rosyth. Alan Darby sold it (He played with Eric Clapton and had a band called Cado Belle). Alan had bought a Les Paul Deluxe and Neil played it but after six months he still could not play it. Then he moved to Dunfermline and listened to Johnny Winter and post Bluesbreakers music, also listened to Graham Bond Organisation. He played in some bands around Dunfermline, it was a vibrant music community with Nazareth regularly playing, Neil watched them a few times and was influenced. Music changed him completely after watching Woodstock at a local cinema, he was amazed by Sly and Family Stone and Jimi Hendrix. "Blues wasn't just straight blues then. People wanted a change. Blues was copied in many different genres I think". He played in a Prog Rock band called Joes Diner with Dave Cantwell on drums. They won an award in The Melody Maker in 1976 for Best Folk Rock Group Scottish Section. They supported bands like Procol Harum when Neil was nineteen. In 1977 punk rock came and the band split up. He moved to Edinburgh in 1978 and got involved with some jam bands, mostly funk for a few years. Then he got a job doing sound control and recording. Then he met Tam White in 1982 "He had his own way of insulting the audience". He jammed at Neil's flat and then started working with him. Fraser Speirs joined; they were a trio before Tam White and The Shoestring Band. He was also involved with doing Edinburgh Festival shows.
After Tam White he continued recording and Tam went to London and used London players. Neil still has lots of recordings on cassettes of Tam White and is working on digitising some. "Tam was always into selling songs, that was his thing". He was keen to learn more about recording and started compiling an instrumental album, Blue Soul Groove. Jazz FM liked it, but he only had one track, he sent tracks to John Burgess his saxophone player and Jazz FM made one of my songs, track of the week. He distributed this in America, and it did well there, but not in Scotland. "This album was a great combination of sax and guitar that got him more involved with production and mastering". He played with Tam White for over twenty years he also did small solo gigs. When Tam died this left a huge gap for him. He was on Reverbnation and heard Stevey Hay play a track called Orange Moon and liked it. He knew who I was, and we went to a jam at Whigham's in Edinburgh. Stevey wanted to get a band together and did some gigs with two guitar leads. He wanted to make an album and get Brian Kellock in to play keyboards, giving the group a different dynamic. The album was called Shades Of Blue. Stevey died suddenly of a heart attack. After this Neil started drinking heavily and didn't have enthusiasm for gigging and had also broken his leg. His mobility was affected, and this is when he bought a Weissenborn lap steel guitar. He sent away for one but couldn't play it! He never really played much slide guitar prior to buying this make.
He sat and learned to play this guitar for a year solid. His friends play in an Americana rock band and let them tag along and learn. After saying I would never play a Theatre again, I got asked to play at The Pleasance Theatre Edinburgh with Peter Straker who was the only leading black male actor in the musical Hair. He was good friends with Freddie Mercury. After this, he sat in with a cabaret band as well. He met a Classical pianist Stuart Mitchell and started writing together. Neil said "I play this instrument called a Weissenborn, I'm sure you could orchestrate something. We'd been pitching for a Hollywood movie and a producer wanted a Paris Texas vibe. So, we recorded an EP Adventures In Weissenborn Land in a week. We stuck a vocal track on to see how it would work and got Gary Martin to sing". As to the Weissenborn guitar, "This can only be tuned to a particular pitch because it has a hollow neck. It can't compete with a Dobro because that's louder. Most people use this guitar self-accompanied, it doesn't always suit being played in a band. I like the whole organic sound of it. One track that typifies its sound is the short instrumental called Look So Good, by David Lindley. If you have the right sounding instrument in the right room, you can make it happen. I only tune it to D. If you want a blues sound, this guitar is the one, haunting and sounds best with minimal instruments".
He's keen to see how the new project goes and keep on living! Also playing with Lorna Reid as a duo. It's finding the right venue though that's a big problem. A fascinating conversation, it was great to catch up with Neil, such a professional, a fascinating man to chat to!