THE GREAT INTERNATIONAL BLUES RETURNS LIVE IN THEATERS – MAY 2020!
The Blues Place presents – The second edition of "MILANO BLUES SESSIONS" and the first edition of "ROMA BLUES SESSIONS" for 2020.
Four days of great international Blues, with artists and bands whose music crosses the ocean, from the great Chicago blues classics of John Primer, passing through the original and engaging style of Estrin and the Nightcats up to the Sardinian-Mediterranean blues with African influences by Francesco Piu.
After the success of the two-day, completely sold-out first edition, last May 2019 in Milan, The Blues Place returns to propose a selection of the best international blues with a double event, in Milan, on May 16th and 17th 2020, in the central San Babila Theater and in Rome, on May 18th and 19th 2020, in the historic Ghione Theater, a few steps from the colonnade of San Pietro.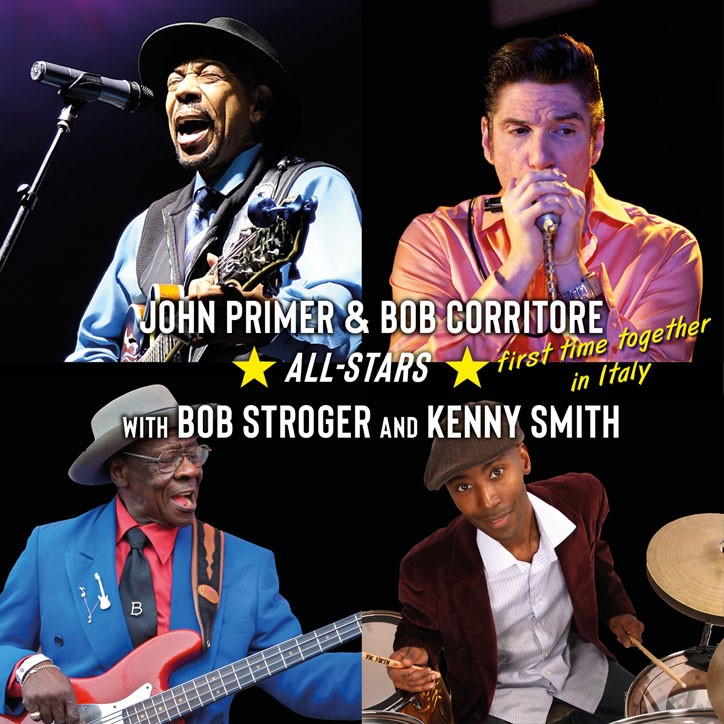 An unrepeatable line up awaits Blues lovers with international artists who will perform in both theatres:
AN UNMISSABLE "ALL STAR SESSION", WITH 4 GREAT BLUESMEN FOR THE FIRST TIME TOGETHER IN ITALY, JOHN PRIMER, BOB CORRITORE, BOB STROGER AND KENNY "BEEDY EYES" SMITH.
John Primer, living Chicago Blues legend, with his strong traditionalist blues phrasing and his seasoned rhythm and blues vocals combined with his lightning-fast slide technique.
Bob Corritore, one of the most popular blues harmonica players on the scene today, brings classic blues style to the biggest stages in the world.
Bob Stroger, a veteran of the blues music scene in Chicago, bass player, singer and blues singer-songwriter with a unique style.
Kenny "Beedy Eyes" Smith, extraordinary and award-winning, world-renowned blues drummer, inventor of the original and brilliant "Kenny Smith Triple Blues Shuffle".
Rick Estrin & The Nightcats, certainly one of the most important exponents of the West Coast Blues, considered a harmonica master. With his unpredictable band, he creates a "no-holds-barred" performance, with an original and engaging blues style.
Quiqué Gomez, Spanish harmonicist, accompanied by The Vipers, whose music brings the blues of the previous era into the new century.
Francesco Piu, a Sardinian musician, leads the blues in the Mediterranean through his voice and his refined mix of blues, funk, rock and soul, colouring it with African and Middle Eastern percussions.
Marco Pandolfi, one of the best European harmonica players and refined guitarist, a witness of the truest Chicago Blues in our country.
Tickets are on sale at the ticket offices and websites of the two theatres. For online purchases, visit Webtic.it for Milan shows, and Ticketone.it for the Rome shows.
For the Thebluesplace's social profiles and the website go to –www.thebluesplace.com
For more info on The Blues Place family read their story here.