Advertisements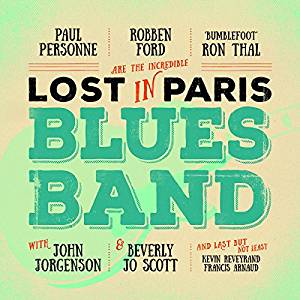 Chuck a bunch of accomplished and compatible blues musos in a studio in Paris and what do you get?
A collection of recordings like this. These are versions of mostly well-known songs by those who know how to play them.
The band includes Robben Ford the blues master whose licks are never far from jazz, the guitar replacement at one time for Slash in Guns'n'Roses, Ron Bumblefoot Thal, John Jorgenson, Dylan and Elton cohort, French blues star Paul Personne and female hotshot vocalist Beverly Jo Scott.
A French rhythm section provides some cohesion in the form of bassist Kevin Reveyrand and drummer Francis Arnaud.
We surely have heard enough takes of Little Red Rooster and I Can't Hold Out but at least they have spared us Need Your Love So Bad.
The better cuts include a wah-ridden and organ-chug version of Tom Waits Downtown. Sounds very Paris!
Bob Seger's rocking Fire Down Below given a Stones setting and male-female duet and a stealthy I Don't Need No Doctor.
Janis's One Good Man is somewhat solemn with churchy organ and ethereal guitar sounds, before settling into a chugging slide feature and Beverly deepthroating the lyric.
Cool electric piano brings in You're Killing My Love.
A pure jazz treatment of Evil Gal Blues has a midnight ambience and lovely drumming, co-writer Lionel Hampton would be smiling down from above.
Hardly essential listening but a quality session that flows well and happily displays no ego-tripping in the performances.
PETE SARGEANT