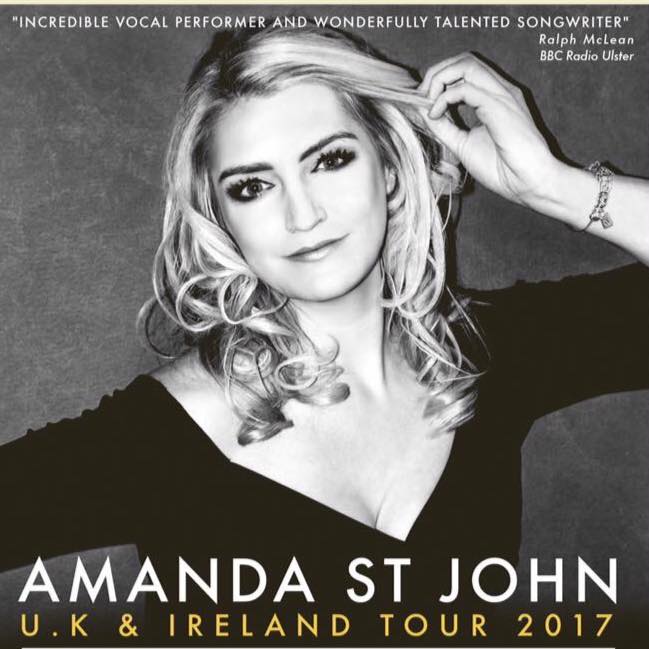 Amanda St John is a soulful singer-songwriter from Northern Ireland. She is a mainstay on the Irish radio, festival and gig circuit and has been described as a "Head-turning vocalist with serious songwriting prowess………a sensational artist" (Visit Dublin).
Her debut album 'Grow' was launched in May 2016 to a full house at the prestigious Cathedral Quarter Arts Festival in Belfast and has received rave reviews and worldwide airplay including a national advert campaign for the Rio Olympics for the title track 'Grow'.
The product of a year's worth of recording and a lifetime's worth of experience, the soul, blues and pop-tinged opus is imbued with an uplifting sense of positivity throughout and serves as something of a much needed sonic tonic for these dark times.
Speaking of dark times, St John has had more than her fair share of them in the past, but she has used them as fuel for her muse.
In fact, a near death experience (in 2011) which saw her fighting for her life 300ft down the side of a mountain after a serious car accident actually gave birth to her career as a songwriter as she resolved to make her time of Earth count.
Amanda has found that people are very inspired by her story of overcoming self-doubt, starting again and fully committing to living her dream.
She has worked with artists like Brian Kennedy, Duke Special, Eddi Reader, Mary Coughlan, Ciaran Gribbin (of INXS) and Jon Tiven (Grammy winning Nashville writer/producer who has worked with BB King, Van Morrison and The Rolling Stones etc…).
She's also gaining substantial media interest in Ireland and the UK including extensive airplay on the BBC and RTE as well as reviews in Hotpress Magazine & The Irish Times.
Amanda has started to gain nationwide interest in the UK with upcoming live sessions as well as recently recording for legendary broadcaster Whispering' Bob Harris.
Known for her passionate and powerful live performances Amanda is fast establishing herself as one of Ireland's leading vocalists, with many festival slots and an ongoing tour of UK and Ireland 2017 is set to be her best year yet!

For more info – Amanda St John Music