Advertisements

Never been to this venue without having to stand, what a pleasant surprise it was to see cabaret style seating for this event, Suga never sounded so sweet. Tonight, he had his band with him.
Words: Colin Campbell    Pictures: Colin Campbell (below), Allison Morgan (Header photo)
 These included ex Deep Purple keyboard player, Drake Shining who was outstanding as were the rest of the band. Allen Markel on bass and Ramon Michel on drums kept the rhythm throughout. Add to this the wonderful guitar solos and riffs by Danny Avila mixing up styles. Also, the brass section of Derrick Martin on saxophone and trumpeter Julian Davis this gave a Muscle Shoals/ Stax vibe to an inspired set list, a five-star performance by all.
Sugaray sat on the stage at first just relaxed and talking to the assembled audience before the band came on stage and it was time to party! His shows are always different and always a party not a prepared performance, he just gets into the groove and plays what he wants when inspired, never knowingly has a set list, and certainly knows his audience and how to work a crowd. It was like having the band in your living room such was the intimacy and connection between performers and audience: differing music styles, funk, soul, blues, something for everyone from this phenomenal lead singer and beautiful singer. Starting with Bill Wither's Who Is He (And What Is He To You?), the band just came out and delivered this funk infused song with tenacity, great sound full on rhythm section and that voice, my we were in for fun! Sugaray's stage persona just lights up the room, he is so enthusiastic about his music and puts everything into his performance.
Advertisements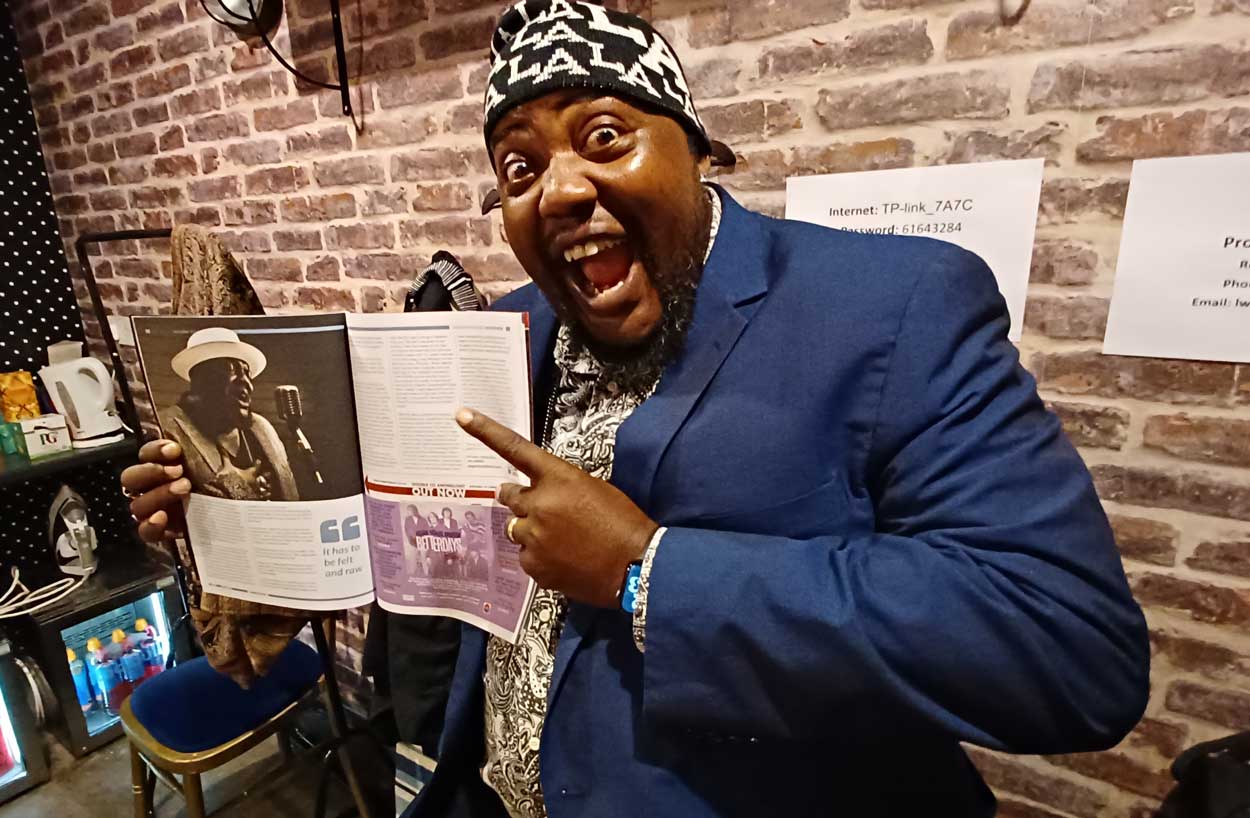 He played songs from his new album In Too Deep. Fist one was Invisible Soldier, co-written with Eric Corne this deals with PTSD, a subject Suga has held back about until now. It was delivered succinctly, melodically and with lots of soul. Similarly on his next song Miss Information from same album, where he spat out vitriolic lyrics about the state of false news. The band ramping up the funky vibe here. No Limit To My Love, slowed the tempo down to a slow soulful take on this, the brass section took this song to a different level then you get the guitar solo, and the audience were totally captivated. In between songs, Suga told the stories behind the songs, giving them more meaning and substance. He even shared he felt like not doing music anymore before introducing the title track of his new album In Too Deep, with a driving groove, a highlight of the set.
Big Legged Woman got the band moving and shaking, some classy blues driven tones, a wall of sound. Then Suga sang off monitor front stage for a rendition of Don't Regret A Mile, full of soul and sweet horns, amazing musicianship that turned into a jam. The audience was fired up by now, call and response noted on the funky stripped back, Rub My Back. Suga talked to the ladies, especially during this one! The saxophone solo was superb, Suga dancing seductively now!
But there was a surprise in store to come. Suga brought Iain Donald "The Gator" onstage for some intimate Delta blues. Iain playing slide on his Resonator whilst Suga sang on Death Letter, you could hear a pin drop during this wonderful rendition, so emotional and full of power, with fantastic finger picking by Iain. They also did a stunning version of Big Bill Broonzy's Bricks In My Pillow, Iain nailing the complicated chord structure and taking the audience to the juke joint and Suga taking it to the Church, quite literally!