Advertisements

Well, the time has arrived, after many reschedules and various associated problems it was time for Christone Kingfish Ingram to start his 2022 UK Tour. Cannot think of a more perfect setting to spread the news of a rising bluesman than in the splendid surroundings of this Church, rapidly becoming the go to venue for the cool bands, and stunning acoustics. The backdrop to the stage was lit through stained glass windows and the smoky blue colour adorned the church organ. With a sold-out crowd, this was the music ticket to have.
Words & Pictures: Colin Campbell      Venue: St Luke's Glasgow, 8th June 2022
On a personal note, this reviewer has not been so excited about a blues concert since seeing Albert King, that is the benchmark for how good "Kingfish" is and what a show he put on. Great to see a younger crowd tonight, and they were entertained fully.
First band was a local upcoming blues combo Blue Milk, consisting of four accomplished musicians. These are, Jonny McGiffen charismatic lead singer and guitarist, Taylor Whyte on drums, Ike Malinki on bass and Leo Glaister on harmonica. Together they take the blues genre to a contemporary level, mixing their own feel and take. They feel authentic, full of raw power and energy and enjoyment of their craft. They have roots feel and a substantial local following. Hard Way To Fall opened the set, clear vocals, great sound throughout the mixed set. Devils Calling was a particular highlight, the pace to the song matching the band's enthusiasm to entertain and the rhythm section is phenomenal. Another original, Moonshine added to a heady mix of styles. Then they put their own powerful slant to Dust My Broom, the venue was rocking now, a rapt audience really enjoying the feel of this tune and groove.
Advertisements

Come Back Around, only added to the raw feel, hearkening to such bands as the Black Keys. An eclectic set, well worth catching when they come to a venue near you, a great vibe and some real characters in the band, they nailed it tonight, very professional and workmanlike performance, highly recommended, twisting their take on electric and acoustic Delta Blues, fabulous.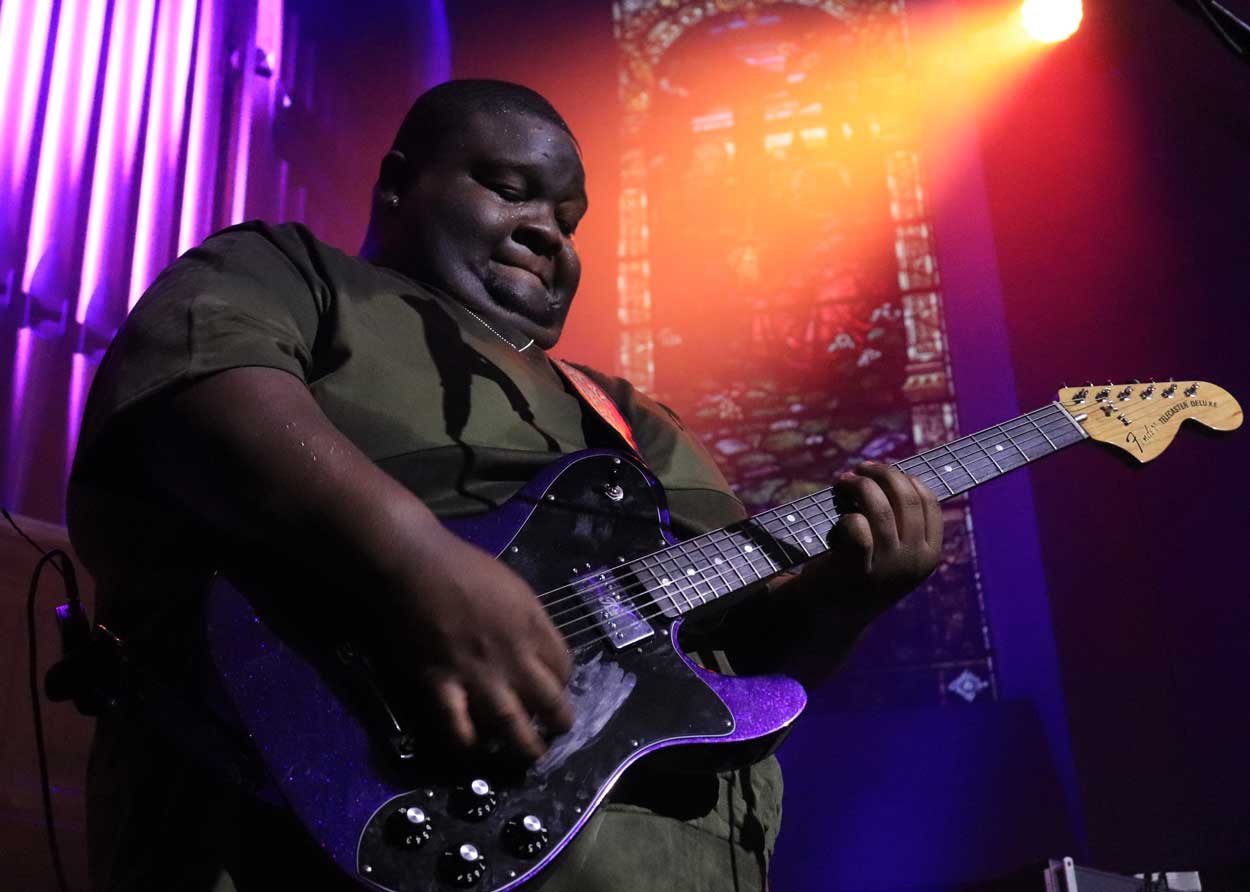 Well, if the warmup band were fabulous then the main act had a lot to live up to, but this is Kingfish the quality, passion and pure adrenalin infused guitar playing is on a totally different blues infused trajectory. Initially, the other three members of the band took the stage: Paul Rogers on bass guitar, DeShawn Alexander on keyboards and Chris Black on drums, in a dark blue light back drop. The anticipation of the audience was palpable and there was a real buzz of human electricity going through the venue, this has been a long time coming. Then we heard the lead guitar chords booming out from behind the stage, yes, enter the Church of Kingfish, he strolled on stage like a veteran, twenty-three with so much stage presence he just oozes confidence and personality. When in front of the microphone, it was time to let loose.
Billed as the 662: Juke Joint Live Tour, the band's repertoire was from his latest Grammy Award winning album 662, being a reference to the area code in Clarksdale where he resides. Mississippi meets The Clyde delta tonight and it's no hold barred. She Calls Me Kingfish, was delivered to perfection, each chord better than the last and when the band gets into a groove that's where the magic happens.
Fresh Out, from his debut album was next and his vocal delivery here was wonderful, holding the audience with every lyric, the rhythm section just keeping the groove going. Another Life Gone By, was sung so emotionally, he just has that feeling for the blues genre. Also noticeable on Michael Burk's Empty Promises where he did a guitar solo that filled the church and it really felt like a spiritual experience.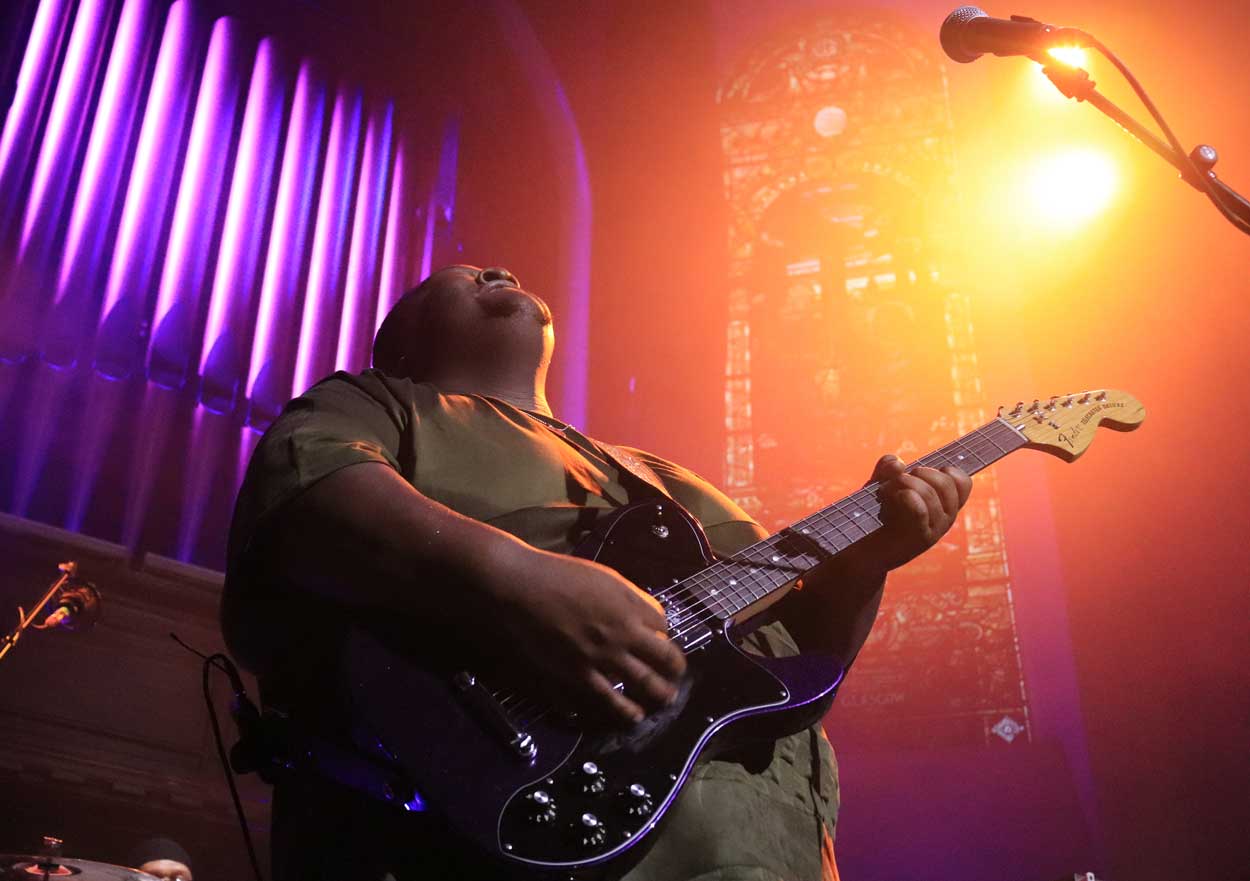 Too Young To Remember, brought funk into the mix and was quickly followed by Your Time Is Gonna Come, just beautiful melodies ringing out to the audience. The tempo so far had been palpable and upbeat, so the next three songs were played acoustically by Kingfish: That's What You Do was full of love and emotion. The Juke joint music continued a pace with his homage to Clarksdale on Something In The Dirt, then his stunning rendition of You're Already Gone had soul added, he has a beautiful vocal delivery, spine chilling and when the band cranked up the tempo it just took a journey of its own, keyboard slowing pace but so many layers and such a tight band.
Not Gonna Lie had some funky blues tones throughout a well-crafted song. The joint was jumping now, next was Outside Of This Town which was driven by the bass guitar tones. There was now time for kingfish to get off stage and do a walkabout among his adoring fans, first downstairs, then to the balcony where he just exploded into guitar mastery, getting in touch with his inner Jimi Hendrix, BB King influences, yes even playing the chords with his teeth, this was showmanship Delta style make no mistake, pure genius, he is the real deal full package entertainer! This segued into the title track 662 when he returned to the stage, his home environment, different level of musicianship. His facial mannerisms when playing guitar are extremely expressive, assimilating what he can do guitar and vocal wise.
The band left the stage to a rapturous ovation. Soon returned for an encore of Long Distance Woman, full of quirks and tones, groove laden, energetic keyboard playing and guitar riffs aplenty. Final song was his own reinterpretation of Hey Joe, which had a late-night jam feel to it, blending reggae tones at times and sublime guitar playing, pleasing a rapturous audience. Kingfish left the stage saluting the audience and leaving his guitar reverberating on the stage floor a fitting tribute to a fascinating night of music. The band was first class, but it was Kingfish who stole the show with a stellar performance, this man is keeping the blues alive no doubt about it, an absolute ambassador, this is what live music is all about, excellence personified, thank you Kingfish!