John Angus formed the band in 2017 with the view to recording a few tracks at Prism Studios in Hanley, Stoke- On – Trent. The result was a CD with seven songs. Fast forward to 2020, and things have changed dramatically. The pandemic has hit band and venues very hard so to see a live gig, albeit a scaled-down version was very much appreciated. On top of that, John Angus Blues Band managed to fit in a recording session at the world-famous Sun Studios in Memphis to record a four-track EP.
So, the gig to promote the EP was a real boost for the band, the venue, and blues fans in general. A 90 seated capacity crowd were about to be treated to a couple of hours on a Sunday afternoon to blues/rock of the highest calibre. The gig opened with Torture My Soul from the album It's About Time. John Angus blasted out the blues with his trusty Fender and all of a sudden the world seemed a much better place than of late.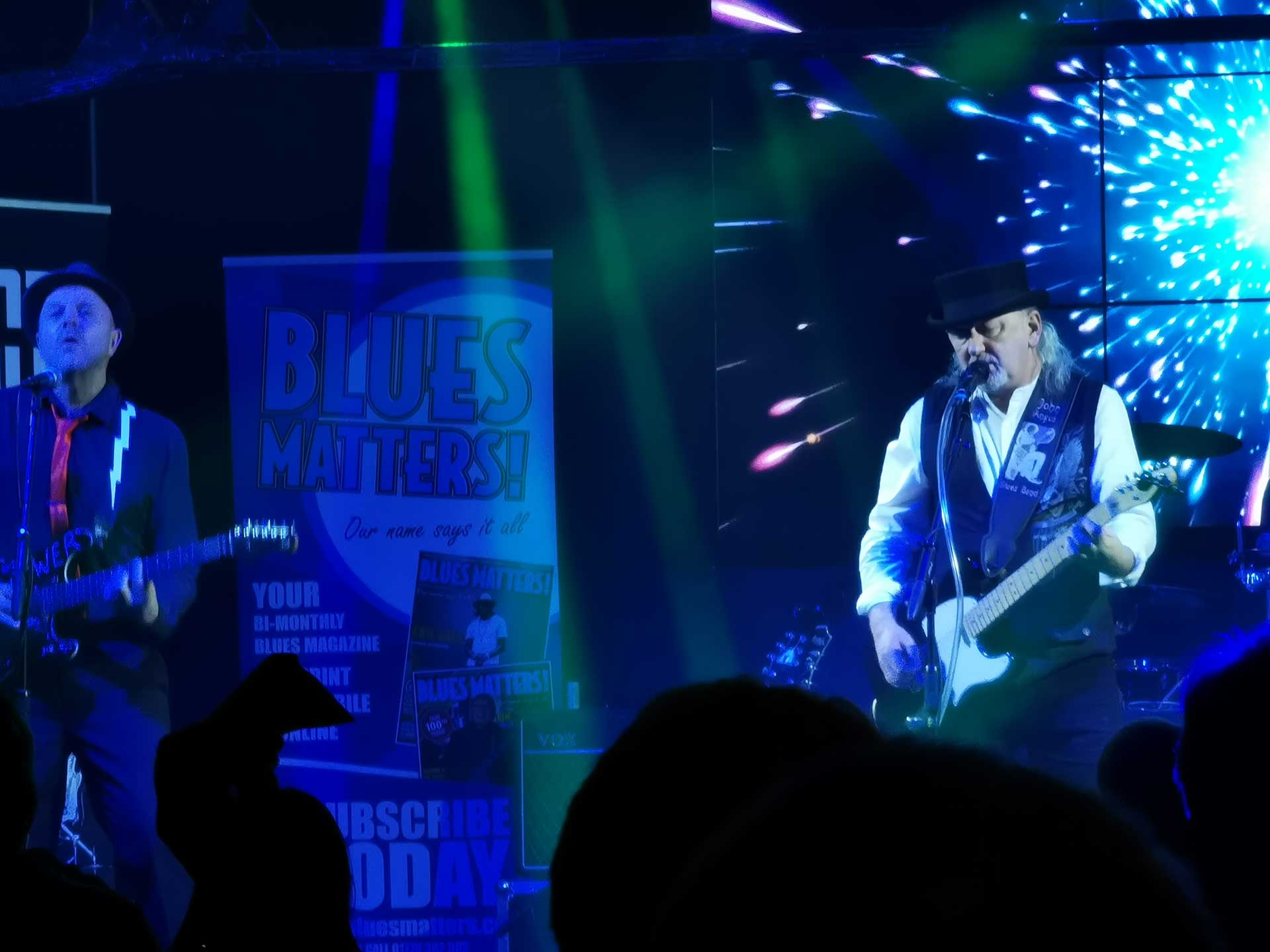 Apart from writing all the songs on the album himself, John Angus Blues Band is quite adept at treating us to a few blues covers along the way. So, after Thow It All Away had been thrust upon us, we were treated to a wonderful rendition of Hoochie Coochie Man. It was as if the blues descended on top of the audience covering everyone with the majesty of Muddy Waters. You're The One was written for John's wife Sue, and immediately put me in mind of Bad Company.
But, don't let that put you off your stride. This lovely tune can stand on its own to feet perfectly well. It shows the skill of the writing of John Angus and also the playing of his wonderful band. Indeed, there was a cover version of Muddy Waters Blues that was originally done by Paul Rodgers, as a nod from John to one of his heroes. The title track of the album, It's About Time, is a great up-tempo blues tune. It tells you everything that you need to know about the band. Loved it. Dust My Broom was simply stunning in its delivery.
"It was as if the blues descended on top of the audience"
One of my all-time favourite blues tunes, The John Angus Blues Band performed it so well and with so much feeling. Blues on a Sunday afternoon doesn't get much better than this. Mamas Blues, was the first song that John ever wrote. Brilliant slide guitar with the rest of the band in a full groove behind him, leaving you in no doubt about what a great live band these guys are. Give Me More and Would I Lie To You?, also from the album carried on in much the same vein, carrying the blues straight to the audience, giving everyone a feeling of watching something quite special. I've Got Your Number, from the Sun Studios EP made you feel as though you were standing in the famous building that produced such amazing musical history.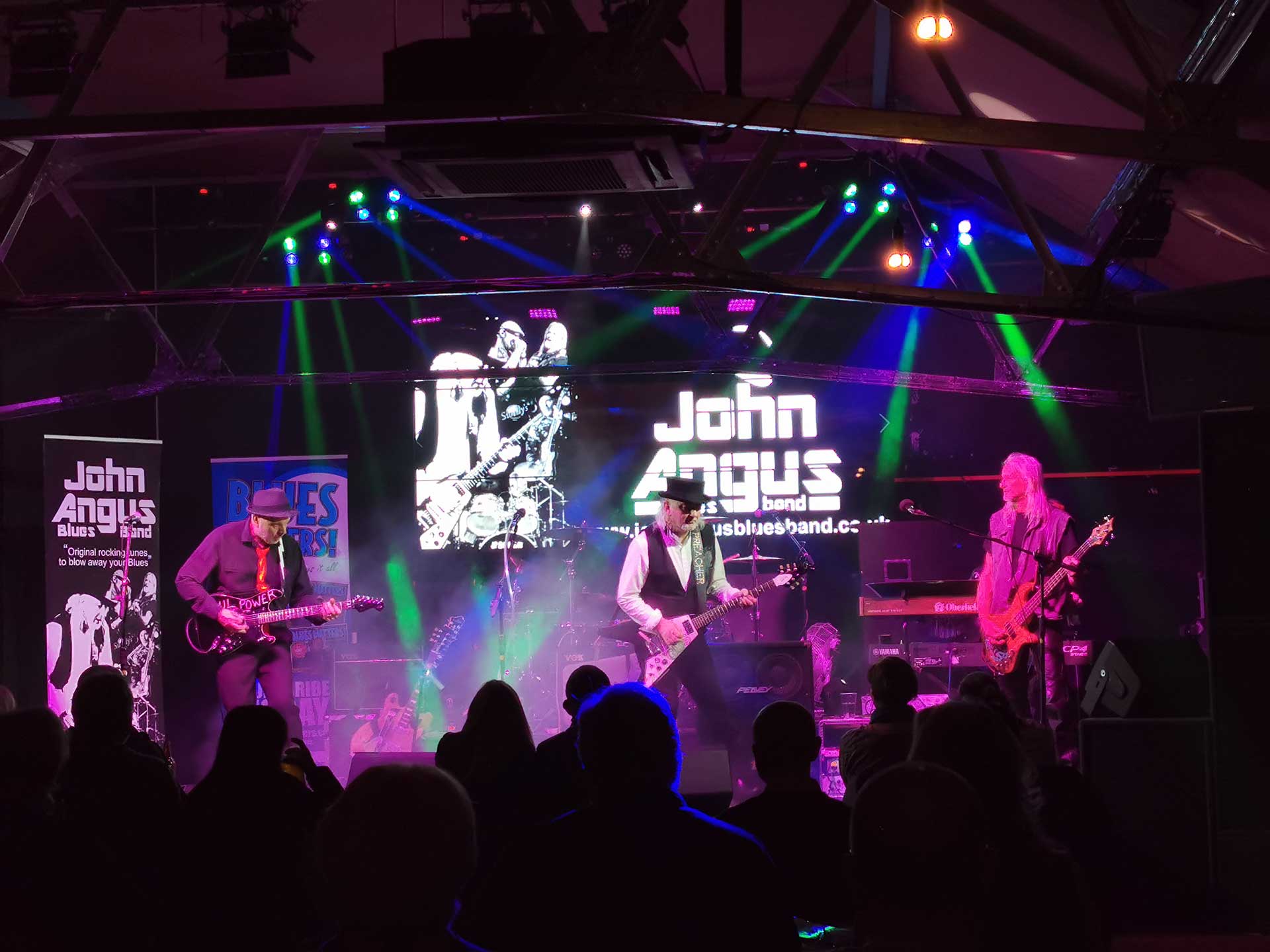 Now when you think about Elvis, and Sun Studios, it's easy to think about all the classic songs that were produced there. Heartbreak Hotel is a prime example. Well, the version that The John Angus Band recorded in Sun Studios is a world away from the Elvis version. A blues version of Heartbreak Hotel that will live in your memory for a long time once you get to hear it. I'm sure the King is sitting up there with a big smile on his face listening to this wonderful interpretation of his classic. As good a cover of a song that I've ever heard. The encore proceeded to give us another glimpse of how good this band is. My Baby She Left Me, by Rory Gallagher is s stunning blues tune. The John Angus Blues Band version did it proud. What a great way to end a stunning blues gig. Once more they took the stage, then it was a fond farewell. I urge you to go and see these guys at your earliest convenience.
PS. Many thanks to Paul Hulme and all the staff at Eleven Club for working so hard to put on live music once again.