On the heels of the announcement of her first U.S. concert film Blues From The Heart Live set for release on June 10th, KTBA Records recording artist and British blues-rock star Joanne Shaw Taylor releases "Can't You See What You're Doing To Me" featuring five-time GRAMMY nominee Kenny Wayne Shepherd.
Blues From The Heart Live will be available as a CD/DVD and CD/Blu-Ray package, including a collectible 24-page CD booklet. Filmed and recorded at The Franklin Theatre in Franklin, Tenn., the special concert film, and album includes sixteen tracks and features incredible guest performances from Kenny Wayne Shepherd, Mike Farris, and Joe Bonamassa. Pre-order is available below.
 "It was an incredible evening and a show I'll never forget," shares Taylor. "I'm so proud of the film, and I'm honoured to have been joined by some of my friends for this special concert."
This historic event was Joanne's first live performance in two years and features Rob McNelley (guitar), Steve Mackey (bass), Jimmy Wallace (keyboards, piano), Nick Buda (drums), Devonne Fowlkes (backing vocals), Kim Fleming (backing vocals), and Taylor on vocals and guitar. Public TV stations around the country have been airing a shortened version of the film for their pledge events since March to their audiences.
The audio was produced by Bonamassa and Josh Smith at Blackbird Studios, Nashville, and was mixed by Kevin Shirley (Led Zeppelin, Iron Maiden) at The Cave, Australia. The video component includes bonus track "I'm No Angel" (not available on the CD), plus a behind the scenes featurette which includes interviews of Joanne and Joe before they took the stage.
The first live single, "Dyin' To Know" is available to stream now.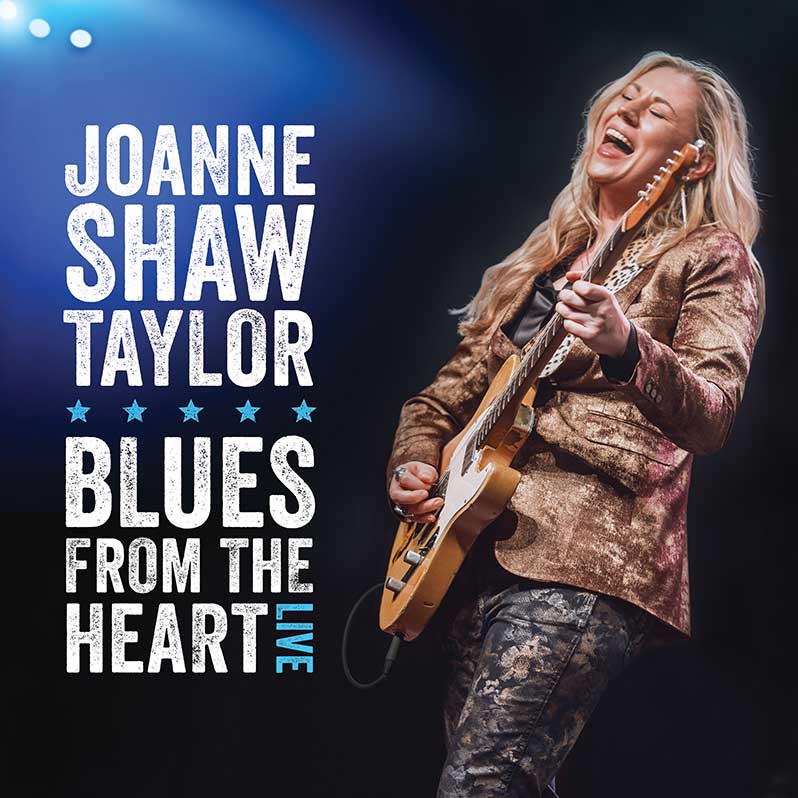 Over the past two decades, Joanne has proven herself as a prolific songwriter, releasing seven acclaimed albums under her belt, each increasingly more successful with her 2019 Reckless Heart breaking into the UK Top 20 Album Chart and cementing herself as one of the most important exports in British blues-rock.
Her highly anticipated seventh studio album The Blues Album, produced by Joe Bonamassa and Josh Smith at Oceanway Recording Studios in Nashville, Tennessee, was released on Bonamassa's independent record label KTBA Records on September 24, 2021. The album topped the Billboard Official Blues Chart. The album was also voted #1 Most Played Album of 2021 by the British Blues Broadcaster's Association. The album received across-the-board rave reviews worldwide.
On June 10, Joanne will release the live album Blues From The Heart Live featuring guest performances from her friends Kenny Wayne Shepherd, Mike Farris and Joe Bonamassa.