Advertisements

Now having released three albums since this original show was announced, it just accentuates the problems working musicians have with putting a show on let alone a UK tour.
Well, no need to worry, it was Edinburgh's time to get the full-on JST treatment and what a spectacle it was. Mixing tunes from her most recent album, Nobody's Fool, and bluesing things up with tunes from the release of her cover Blues Album, Joanne just is getting better in so many ways, her musicianship, songwriting, and confident stage presence, which can light up any cold Winter's night. Her vocals remain strong and peppered with smoky sultry tones, that more than boost her amazing dexterous guitar playing.
IMAGES: Callum Scott
WORDS: Colin Campbell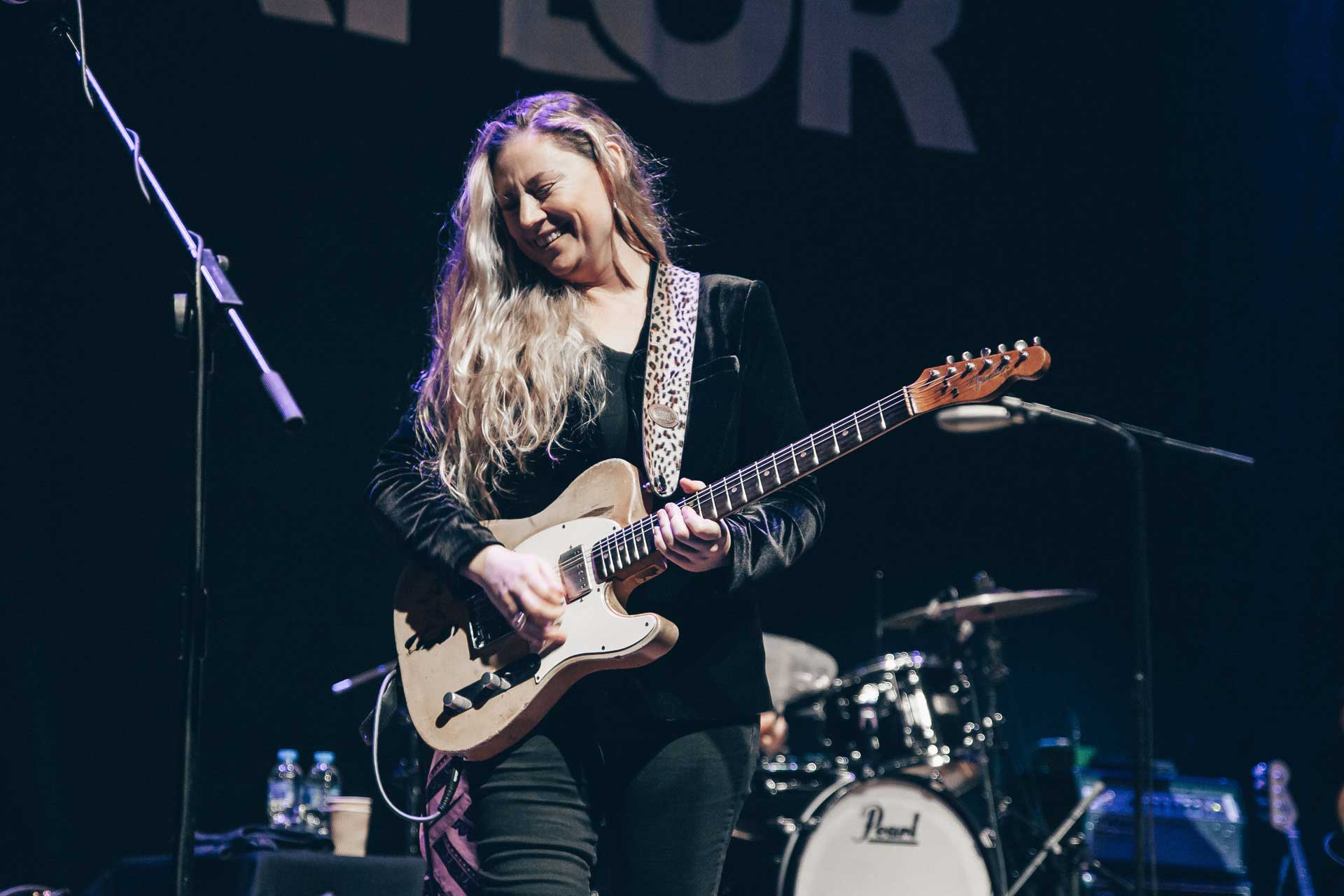 Tonight, she was backed by an amazing four-piece band blending some heavy rhythm and keyboard tones when needed. The all-over feeling given on stage was of joy and entertainment and the adoring crowd was rapt throughout the set, the connective feeling was palpable. The four band members came on first all wearing dark clothing, in contrast to the entrance of Joanne with her flowing long blonde locks and carrying her trusty Fender Telecaster, the scene was set for an entertaining night of mixed musical styles all rooted in the blues genre. A simple vocal introduction of "Good evening Edinburgh, how you doing" and it was straight into the first song and what a starter, Peter Green's Stop Messing' Round which had a soulful delivery and Joanne's vocals filled the old Church Hall, with a rousing guitar solo and wonderful rhythm section; welcome to the house of JST, well at least for nearly two hours anyway.
Advertisements

I Want You To Love Me had a great groove to it and some quirky Chicago-style blues licks. Indeed, even after two songs, you could hear this was a tight band, effortless playing throughout the set, a skilful performance, backing the main performer with great musicianship. Nobody's Fool had an intoxicating beat and Joanne's vocals were husky but crisp guitar riff. Before the next song, she confessed how much she was looking forward to playing in Scotland as the audiences are rowdier than the English, she knows how to work a crowd. Slowed the tempo on the ballad, If You Gotta Make A Fool Of Somebody, her vocals soaring and contemplative with some chord notation doffing a cap to BB King.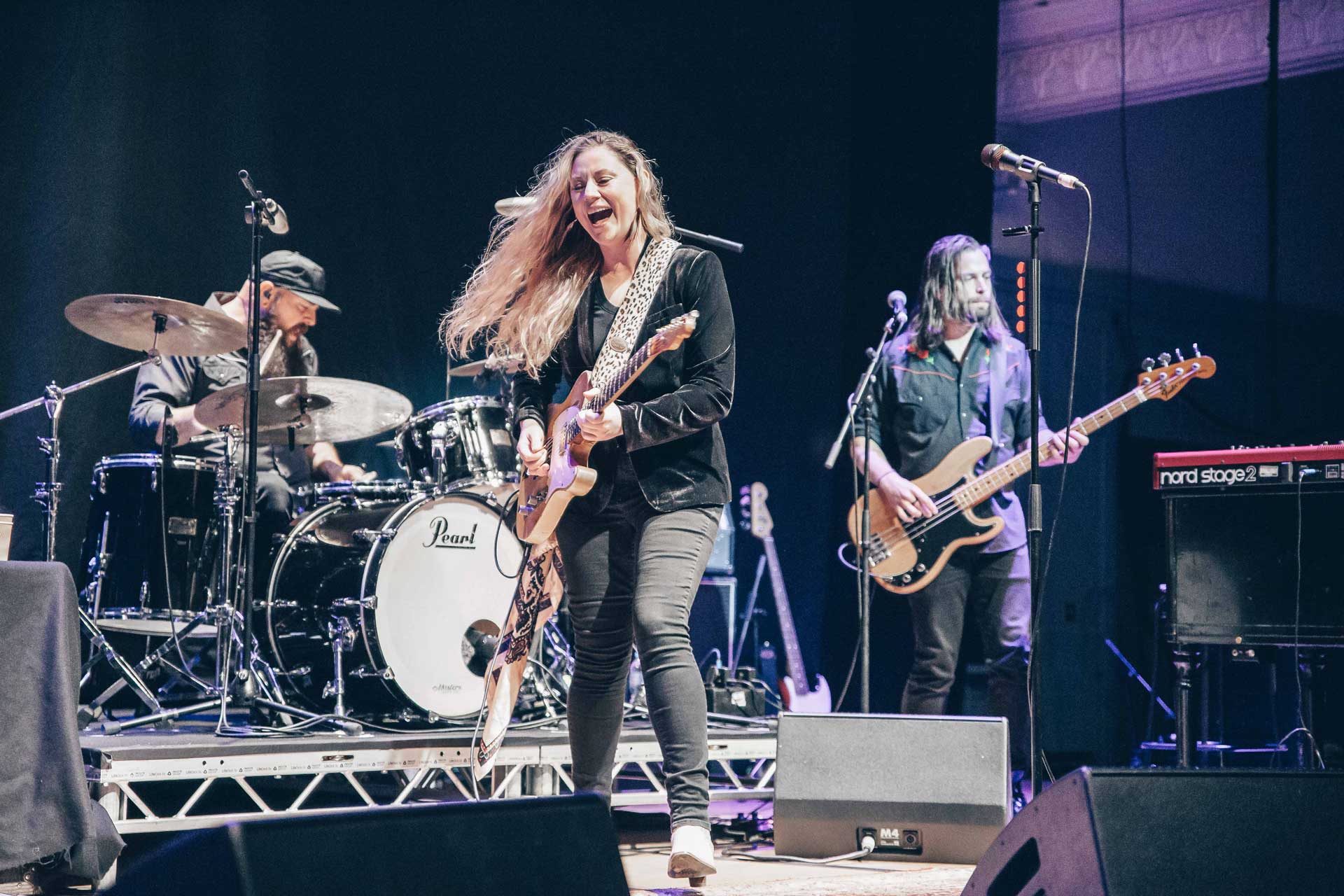 Can't You See What You're Doing To Me had a big guitar break influence when she duelled with the rhythm guitarist, this was counteracted by some fabulous Hammond organ playing, a real crowd pleaser. The Fabulous Thunderbird's tune, Two Time My Lovin' was an upbeat song but some dark lyrics were sung with emotion, and the ending guitar solo was succinct. Another ballad next, Let Me Down Easy where she let her inner Janis Joplin style come out, such a vocal range. Wilson Pickett's Three Time Loser, a twelve-bar blues tune had the crowd singing, this had an intoxicating vibe to it. Dyin' To Know from her 2016 release, Wild had a wonderful backbeat to it and dark bassline notes, leading to a smooth guitar riff with great fingerstyle throughout, punchy and pacy.
A change of style to the next tune, Bad Blood which she introduced as an imaginary spaghetti western theme tune, she wanted to do a video of this with her on a horse but was not allowed by her producer. The result was a song that she really put everything into, this had a country pop feel, a bit of a change from pure blues but effective and some great hooks. Keeping to the new album, Won't Be Fooled Again, had tinges of The Police Can't Stand Losing You tones, a very catchy and infectious chorus and some great vocals. She described it as being cheesy, just a fresh style nothing wrong with that and live, this song really worked well. Watch 'Em Run from her debut album White Sugar was next. Rocky Texas blues with a great backbeat and tempo increase. Then Joanne soloed out with a mesmerising guitar style, fretwork was superb, and the crowd went wild, a real highlight. Slow tempo ballad next, I've Been Loving You Too Long was a special moment ending with Joanne hitting top note vocal delivery.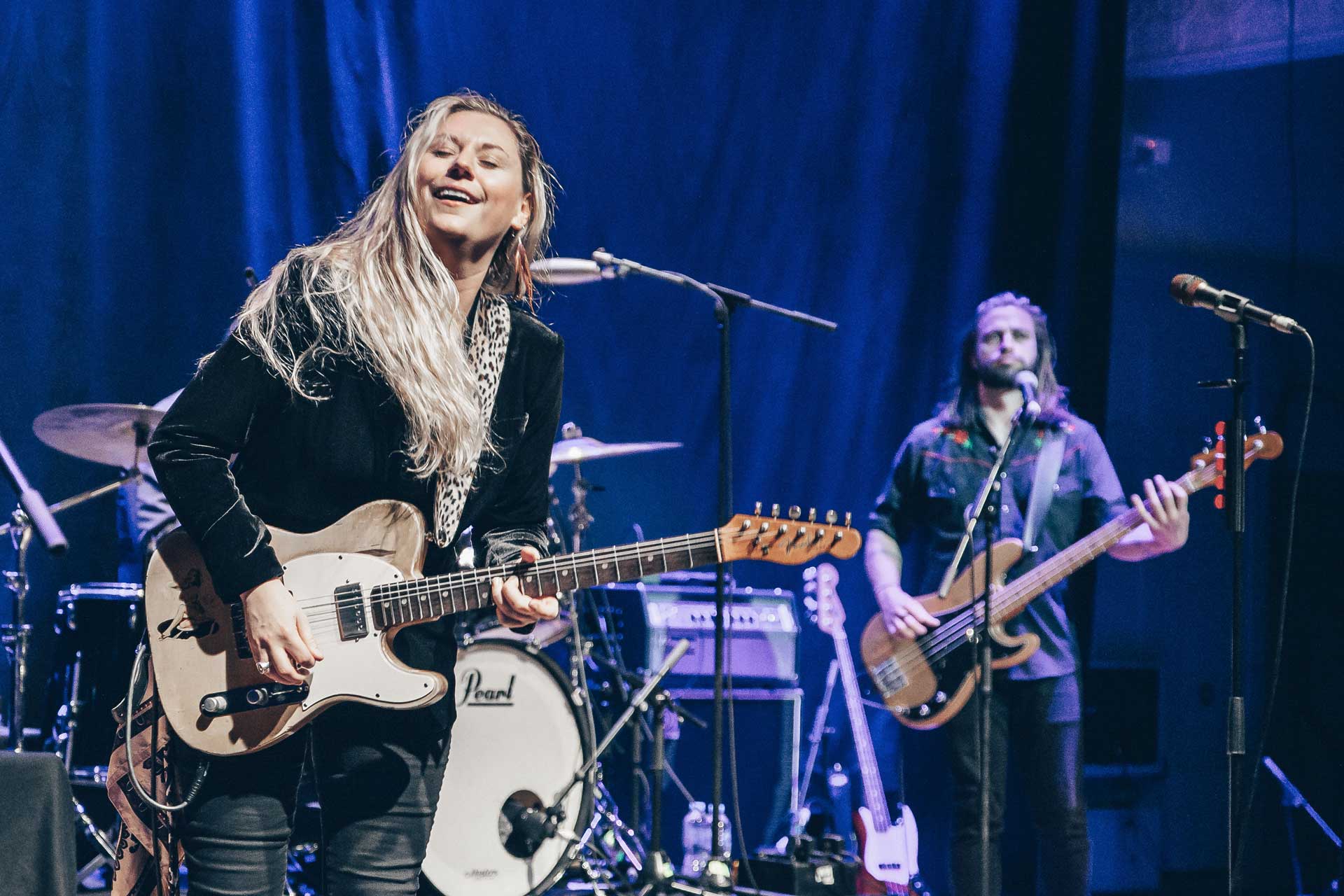 Just Another Word had a soulful sultry approach with a steady beat and great keyboard tones. She dedicated the next tune, Fade Away, to her mother who died in 2009. Joanne played acoustic guitar, along with rhythm guitarist and piano, this was a beautiful moment in the concert, a stunning song sung with real passion and feeling. That was sublime, Runaway was pure pop, and there was an interesting acoustic effect on the Telecaster here that added tone to this upbeat tune. With another tune from the Reckless Heart album, Bad Love to finish, the band fully rocked out on this rocky version full of groove, rhythm, and guitar shredding. Encore time, saw the band play the Southern rock-tinged, Going Home and finishing with the anthemic rocky blues tune Mud Honey two epic tunes. An excellent performance, Joanne is a must-see performer, a brilliant musician just getting better, highly recommended and having seen her a few times this was her best yet but more to come from this multi-talented musician.
Jon Allen was the support act for the night, no mean feat, he is a consummate singer-songwriter with five album releases to his credit. He played solo throughout on acoustic guitars, a handy left-handed guitar fingerstyle, his tunes were melodic and delivered with a hint of a Paul Simon vocal intonation in parts. No-one Gets Out Of Here Alive was a particularly melodic tune. Can't Stop Now had hints of Ray Lamontagne vibes and lyrics. I'm Just Lucky I Guess, name-checked an associate, Mark Knopfler with some melancholic lyrics and good vocal delivery. The final tune was a highly charged Bob Dylan-type tune called Dead Man's Suit; he played the harmonica on this also. This did indeed get the crowd clapping on this upbeat tune. A good set of well-crafted songs, a natural storyteller.