Highlights in Issue 108 are…
The unearthing of a splendid collection of live and studio recordings by the late great Irish blues star Rory Gallagher means that fans can, at last, enjoy dozens of unreleased tracks. In fact, three albums' worth! Find out all about them here!
Hollis Brown is a band from Ozone Park, Queens, New York with ambition and a desire to shake things up. Here we catch up with frontman Mike Montali.
Duke Robillard the original blues chameleon explains his musical world.
Josh Smith; a guitar-slinger feature from Bristol Jazz & Blues Festival.
We catch up with Nashville blues picker Colin Linden back home in Music City. He is pictured here with Luther Dickinson.
Kai Strauss is a German bluesman with an eye to the future, find out what makes him tick.
Grammy winner Mike Farris reveals all about his music and surviving the blues.
Otis Taylor; never a stranger to controversy, and a blues banjo explosion is on the cards.
Katie Knipp is a Californian lady with a blues push and a purpose, we catch up with her to talk about her latest album.
Robert Randolph has a zest for life and is again ready to rock. Here he talks about his new album Brighter Days.
Matty T. Wall is BM's Australian correspondent and has released 2 albums of guitar driven rocking blues. We talk about his music, Sidewinder his latest album, and his future hopes.
John Paris, we catch up with the blues master to talk about his music, working with Johnny Winter and Edgar Winter, and more.
Features…
In this issue, we cover many exciting topics including our regular Phenomenal Blues Women piece on Jackie Shane. We also have more Scandinavian Blues, Australian Blues, Piano Blues, Fleetwood Mac, The Devils Music piece and so much more.
Reviews…
We have many Festivals, Gigs, Books, DVD's & Albums covered just for you.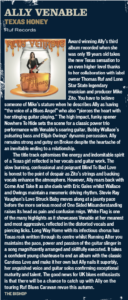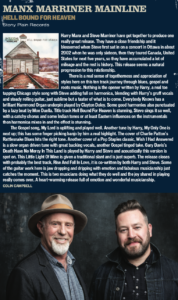 Regulars…
Blue Blood – Newcomers to introduce you to this issue are Tiwayo, Lena & The Slide Brothers, Holy Moly & The Crackers, Redfish, David Layton and Lenny's Girl.
IBBA Blues Top 50
Festival news, gigs reviews, album reviews and so much more!