Advertisements

Established British blues musician Robbie Reay is making waves on the UK and European circuit. He performs solo playing original contemporary blues songs with slide and box guitar. He also performs as a duo with harmonica player Willie Cran and in the group The Killer Cats. His blues repertoire is peppered with sincere balladry in a virtuoso style that is hard to beat. He lives and breathes the blues, currently working on another solo album, we chatted at his Blues Shack at his home in the Scottish Borders. Originally from Newcastle Robbie's live shows are full of musical anecdotes and humorous tales…
Words & Pictures: Colin Campbell
Robbie's musical background:
It all started in Newcastle Upon Tyne. I am the son of a Maths teacher and a GP Telephonist! My mother was a Mod and my dad a mod/ rocker with a BSA bike and a scooter. He went to University with Bryan Ferry. The first song I was exposed to was Ride a white swan by our next-door neighbour who would play it when his parents were out. Growing up I heard lots of music through my parents; Dylan, The Byrds, Roy Orbison and The Rolling Stones. My mother met Roy Orbison in Newcastle she was a huge fan. My dad met the Byrds at the City hall in Newcastle. I bumped into Black Sabbath backstage in the City Hall. When I was a child, I was unable to hear and wondered why people's mouths were moving and found this amusing. Then after several operations I began to hear things, this was incredible. When I heard music that was something else. I was in Nursey when I first found I couldn't hear. 
When I could hear, I sat next to my Gran who played piano. Several family members were into music and my grandfather's brother wrote music. At the age of ten I got an acoustic guitar that I thought was brilliant. I could not play a note but just having it on me felt amazing. When we moved to another area, I got guitar lessons from a folk musician. She took me through the basics. Then later a friend of mine had a heart transplant, youngest in the country, we were best mates, he wanted to play the guitar. So, I took my guitar into Hospital. When he came out of Hospital, he could play the guitar. He wanted me to go and see his band a rock and roll one. Every instrument they played reverberated through my body. We set up a band ourselves called Some Like It Hot. Andrew Williams and I formed that band. He was in a band called Rockhouse, I roadied for them. We had some demos, rock and roll, rockabilly, and some blues, especially Rolling stones and early guitar tunes like Telstar. All valve amps! We came quite well known in the North East. I was a rhythm guitarist that's where I cut my teeth! We swapped guitars and this gave me a good grounding. A talent scout came to hear us when I was sixteen. He wanted us to play at his London blues club. Still don't know who he was but said I was a great blues player; I still didn't understand that if I'm honest. Finally, I found my calling to be a blues musician.
So what led you to playing the blues? 
I had a life changing experience. I loved rock and roll music but knew it must have come from somewhere. The roots I found was the blues. I think this is true music, it's about reality. The original roots from the delta blues there wasn't much going on there. He had to improvise and be on top of their game in order to entertain people in the Juke Joints. That fascinates me that the music can be done by playing one guitar. Sometimes not even a guitar, one bit of wood or clapping and doing the vocals. I sing Son House's Grinning In Your Face along with an audience. This connects me with where it all started really. Modern guitars are great don't get me wrong. You can play a million notes in a minute, I can't. Blues music is about the playing and the singing. It took me a long time to know how important vocals were by the way! The voice is a very important instrument. 
What's the best piece of advice you've been given?
Prior to me joining the Military my Grandfather said, "Expect a lot of shit in life but for all the shit times, the good times will always outweigh the bad times." In terms of music, I was told "Always be true to yourself, play what you want to play." "Don't follow a trend, so if the trend now is x, y, z, do something you feel you're good at and should be doing."
How do you make blues music accessible to a younger generation?
I didn't find the blues, the blues found me. To begin with, when looking at the original Delta blues form, I struggled with this. We're predisposed to listening to music on the radio. There's a lot of repetition and some interesting stuff. Actually, I think the youngsters now are craving reality and real music, musicians who play with their instruments through amplifiers singing through microphones without autotuning. Audiences I play to have all felt the realness of it. This resonates feelings through the audiences' lives. Youngsters have it tough nowadays, but more so in the Delta growing up years ago they had extraordinarily little. They had to improvise, but nowadays with the internet, this just blows my mind. You have to get down to grassroots level. The IBBA have been fantastic. I sell CDs at gigs and that's important. I have songs on streaming services but don't know how I feel about it. Recently someone asked me, can I download your stuff because I have no CD player. He asked how much money you get for streaming. I put things into perspective for him about that. You have to have a good story and pick subjects close to people's hearts. You can't write a song about red wine if you have not drunk any! Seasick Steve said he's dead on. If a fourteen-year-old is singing about love and marriage, it's not reality necessarily. Blues is life, people experience life in different ways. If you can touch someone's heart by expressing empathy, then you've got them!
As a songwriter do you have a technique?
Songs can be triggered in many ways. You hear the heart beating and sounds can trigger a song. Sometimes when you're stressed in a job you can write better because this is true emotion. It can be a drumbeat, words but more than anything it's the groove. John Lee Hooker is the groove man. Because I came from a rhythm background, I can understand that. I enjoy putting a bassline doing my albums as well. Being an independent artist in this Cottage Industry, trying to break through is difficult. There's no middle ground. I heard on the news there would be this massive injection of cash into the Arts. This doesn't come close to the likes of Blues Clubs, and I feel strongly about this. Music is therapeutic in whatever form. But it's sad the way things are going. It's the connection with the audience that's important. I use call and response. Every element I use harkens back to the blues roots. I do, Juke Joint Boogie, that's a classic example. It's like when people worked in the cotton fields, and they would use this technique. The songs and words must be right. The second album I wrote The Jekyll Can't Hide about people getting stabbed in the back at the workplace. You see people in the audience responding to this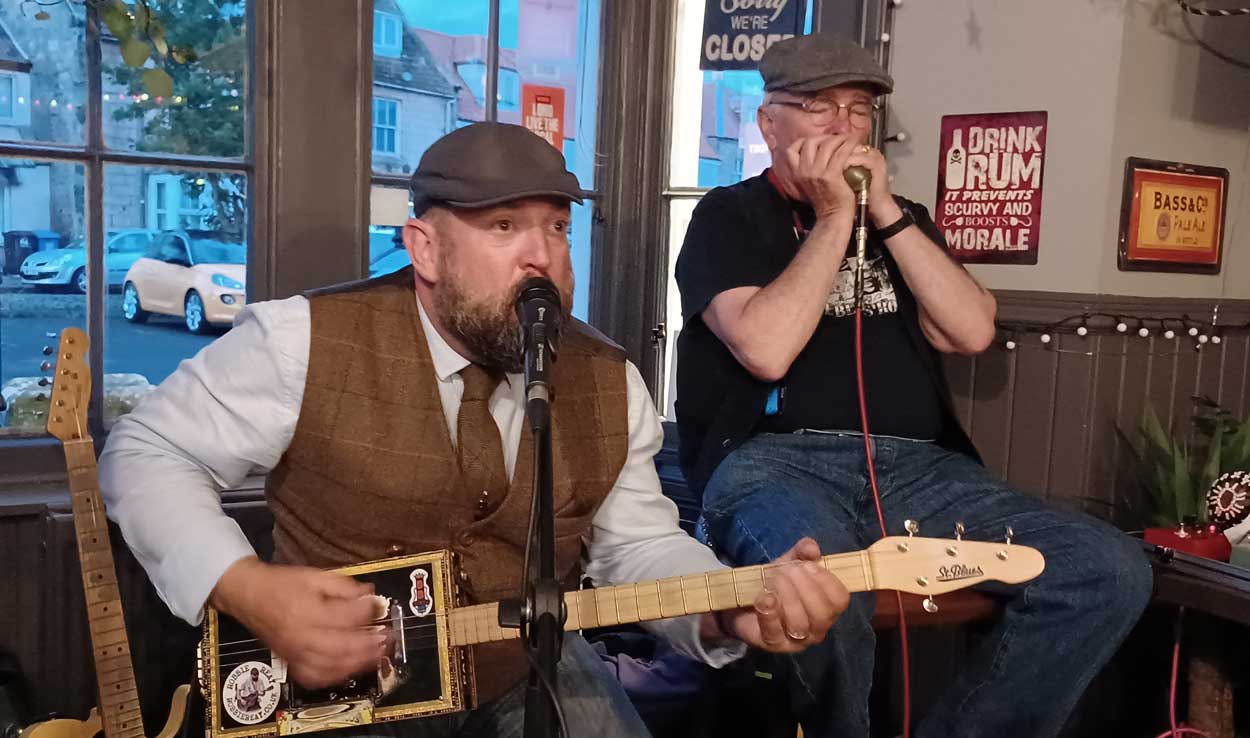 Seeing you play live, there's always that fun element to your presentation?
This is always the first rule in the band. Above everything else, we have to have fun and there are no egos. The audience is there to see and hear a band, not individuals going off on a half hour solo! That seems too indulgent. I think it's important to connect with the audience. You get hard experiences in life you want to go out and have fun and other people to have fun. When people are paying their hard-earned cash to go and watch a gig, I want them to have fun. I find it humbling. When someone comes up to me and says when I saw it was blues, I wasn't interested because I had a concept of what blues was. I think it was the party music of its time and I convey this in my live performances. It's important not to forget history, especially America and slavery but it's important to bring the positivity out of this music style. It was the roots of the music we hear today. I think the blues will never die, it's real and from real people! I wrote a song called Up And Down, it's a song that people can relate to and sing along with.
What other projects are you currently involved with?
I started writing a book about influences. That's halted now. I have a new album in the process, not got a name but hoping to have it out soon. I usually end up adding about fifteen tracks. When I was in Mississippi, one song I wrote was Mississippi Voodoo Queen. I met one on my journey there! You never know what inspires you. The inspiration for the last album came from pre pandemic and I like to road test songs, that I'm starting to do. This gives me a flavour of how the public like a song or how I do.
Do you have a preference playing festivals or intimate gigs?
I like Festivals in terms of sound and lineups. You get Sound Engineers as well! Personal, intimate venues I'm passionate about as well. You get up close and personal with people and afterwards they come and talk to you. You're on a bigger stage at a festival, so it's important to do both. You need to stay grounded. You're not going to do a Festival every day!
Do you prefer being part of the band or playing solo?
Historically it's always been bands with me. Another good piece of advice was for me to go solo. You don't have the organisational side that goes with being in a band. I enjoy the solo gigs. At first, I didn't. I thought this must feel like what a stripper feels like. Taking all your clothes off in front of people…that's how you feel when you're a blues musician. The Repas7 gig I did recently in Berwick wasn't with a full band but raw and stripped back. There you almost have a Festival set up but in an intimate venue.
If you were not a musician, what would you be?
In my previous life I was a pilot. I used to like flying vintage aeroplanes. I considered myself an aviator. I do not profess to be the world's best guitar player nor the best singer, but it works when out together. I would have loved to fly in a jet at a million miles an hour and that's similar guitar wise. I like to hear and feel the music. Saw on a website recently, one for musicians that are not confident and the person who set it up realised it's not about competing with people, and I found that interesting. I came to that realisation years ago. If you keep enjoying what you do, then that's success. For me, you're doing something you love. It's like what BB King said, "If you have toothache" and one of his Aunties put on some blues music, that's soothing to him. I can identify with that. It's beyond barriers and becomes part of you. Seeing someone happy at one of my gigs, that's success. It would be great to play at Wembley, but you must be honest and kind to people, not be jealous of anybody.