Advertisements

Album Review for Holy Moly & The Crackers new album, Take A Bite, which is out on Pink Lane Records.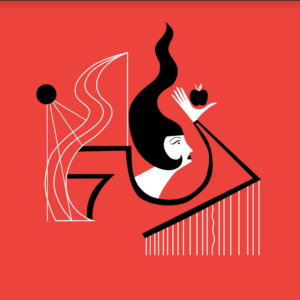 Having achieved massive success on the folk-roots circuit, including major festivals across Europe, this versatile sextet has released its third album which many blues fans will find appealing and refreshing.
Indeed, these talented, innovative Newcastle-based musicians are poised to take the genre in an exciting new direction by adding their unique flavours of soul, rock, indie and gypsy folk to the mix.
The album explodes into action like an old fashioned, riotous blues house party with the jaunty, high energy All I Got Is You, a controlled, pounding wall of sound courtesy of three guitars, drums and accordion overlaid by the powerful, distinctive vocals of Ruth Patterson.
Advertisements

Upside Down, its lyrics inspired by travelling circuses, continues in a similar vein with mesmeric percussion from Tommy Evans complemented by Jamie Shields' pulsating bass. The impressive chanteuse is also the violinist and if Jimi Hendrix had played electric violin this is what it would have sounded like.
Ruth's smouldering, blues-saturated, voice on Can't Get Enough reflects the serious attitude of a woman who knows what she wants and is determined to have it, the atmosphere enhanced by Evan's haunting rhythms and vocal harmonies.
The upbeat, teasing Kiss Me Before You Go highlights the chemistry between Patterson and co-founder of the band, Conrad Bird with whom she shares vocals. Bird also plays guitar and trumpet and it is their combined leadership, exceptional songwriting abilities and musicianship which are central to the band's unique sound. The stunning accordion skills of Rosie Bristow stand out in particular on this track and the magnificently arranged 'Sister', with its edgy, passionate lyrics and series of crescendos.
Ruth's versatility is evident on the angelic sounding ballad, I'd Give It All, even her violin now sounding like a classical instrument. The melodious yet raw, almost anthemic, title track demonstrates an originality which is impossible to categorise: somewhere between The Black Keys and Jack White with an Eastern vibe!
Through With Talking is another no-nonsense, driving blues rocker with blistering lead guitar work from Nick Tyler. The mid-tempo Who Do You Think You Are? is superbly arranged to maximise the impact of the message whilst Naked In Budapest with its repetitive, infectious phrasing has Conrad as lead vocalist telling a fascinating story.
The captivating This Little Light is a nod in the folk direction and tinged with vulnerability and sadness: "I put my arms around you but I know you don't feel the same."
Whilst not a blues album in its purest sense, Take A Bite is a significant piece of creative, dynamic, interesting and original music covering themes, experiences and emotions which are central to the blues tradition.
Review by The BISHOP
Left to right on the photo is Jamie Shields, Rosie Bristow, Conrad Bird, Ruth Patterson, Nick Tyler, and Tommy Evans.
For More Info Go To – Holy Moly & The Crackers