Café Rene, in Gloucester, is celebrating its 17th annual Rhythm and Blues Festival offering an acclaimed musical line-up featuring 20 brilliant acts across seven days.
Monday 29th July to Sunday 4th August 2019, the festival showcases fantastic local, national and international artists from the world of Rhythm and Blues, from brilliant bands to solo performances.
Guests at the event can also enjoy our real ale and cider festival, tuck into treats from the barbecue and hog roast, and sip on tipples from outdoor bars.
The event has consistently been free entry and throughout the week we ask our patrons and visitors to buy a wristband and programme as fundraising takes place for The James Hopkins Trust, a fantastic charity offering support for severely disabled children and their parents in Gloucestershire.
Performances throughout the week include The Keith Thompson Band, Storm Warning and Lewis Creaven at the main bar; with Hired Guns taking to the Green Stage in Greyfriars on Friday 2nd August. Wille & The Bandits will also be performing on the Green Stage on Friday evening.
Also, on the Green Stage, Saturday's line-up includes Jim Crawford, The Swamp Stomp String Band, Built for Comfort, Vincent Flatts Final Drive, The Achievers and The Stevie Nimmo Trio; whilst Sunday features names such as Patrick Nehoda, The Clay Bottom Jug Busters, Lucky Ol' Sun, Troy Redfern, The Worried Men and Grainne Duffy.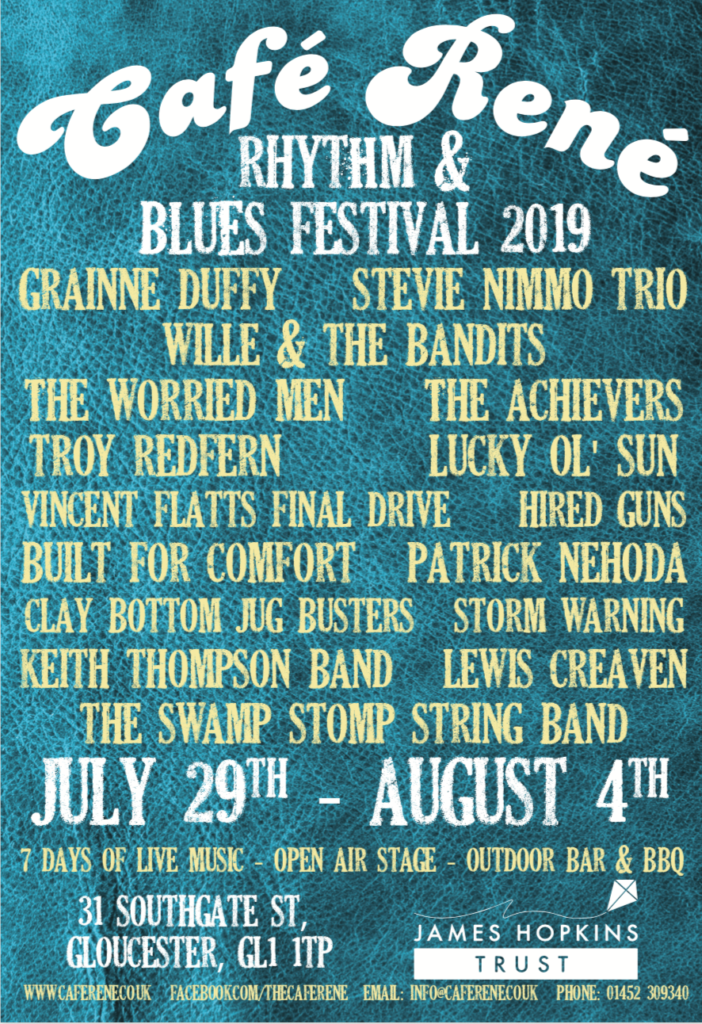 For More Info Go To – Cafe Rene