Advertisements

Misfit of The Blues.
I was fortunate enough to hook up with Harpdog Brown, a consummate blues harmonica player and frontman with an optimistic view on life and blues music in general. He has been on the music scene for almost four decades and for his new album "For Love And Money" he gets down and dirty, and back to his New Orleans roots where there seems to be a family connection for him.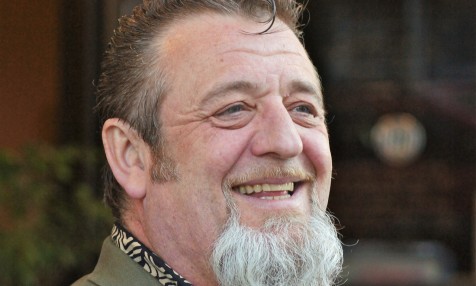 He has been dubbed a "Blues Evangelist" bringing music to the people like a missionary. This and other topics of interest were discussed.
Hey Harpdog thanks for taking time out to talk to Blues Matters it is a real honour. Let's take it right back, when did you first get involved with music and why did you choose the harmonica to play?
I started playing the guitar before I considered music as a career for life. I'm a foster child, I'm a bastard child. My adopted mother directed me to "the Arts". She put a lap guitar on my knees when I was five so I could entertain myself. She bought me my first flat top guitar when I was fifteen and I had three months of lessons.
When I was seventeen I started looking at my immediate future. It didn't look bright! It came down to me being born a misfit and I never found I belonged to a group. I stumbled into music as a way to fit in but I didn't do music to be popular. I did music to be ME. Art is the place for a misfit to go.
When I heard the harmonica it resonated with me. When I was seventeen, I also saw James Cotton, it was about 1977 and he was on fire that night, that was the turning point for me. Nobody in Edmonton Alberta where I was born and raised taught the instrument. So, it was a tough haul to learn the instrument.
I played along to records but matching was difficult. It's somewhere between a white key and a black key on the piano, on the harmonica scale. If I played the guitar, you could tune it to the record. The easy answer is, blame James Cotton!
I conjured a blues band together when I was twenty, I had been playing the harmonica for two years. No one was hiring harmonica players so I sort of hired a band. I forced myself to be the frontman and lead singer.
Harmonica must be the hardest instrument to play as it is all internal. Mouth, throat and wind are important. Being raised as a shy timid boy, they were a good honest Baptist family, but I was raised for disturbing! I am me, wherever I don't look for attention. I was somebody people noticed in a crowd. Natural evolution was music. I didn't want to work in a welding shop for years. I am not academic and I couldn't be a yes man, I'm too much of a shit disturber.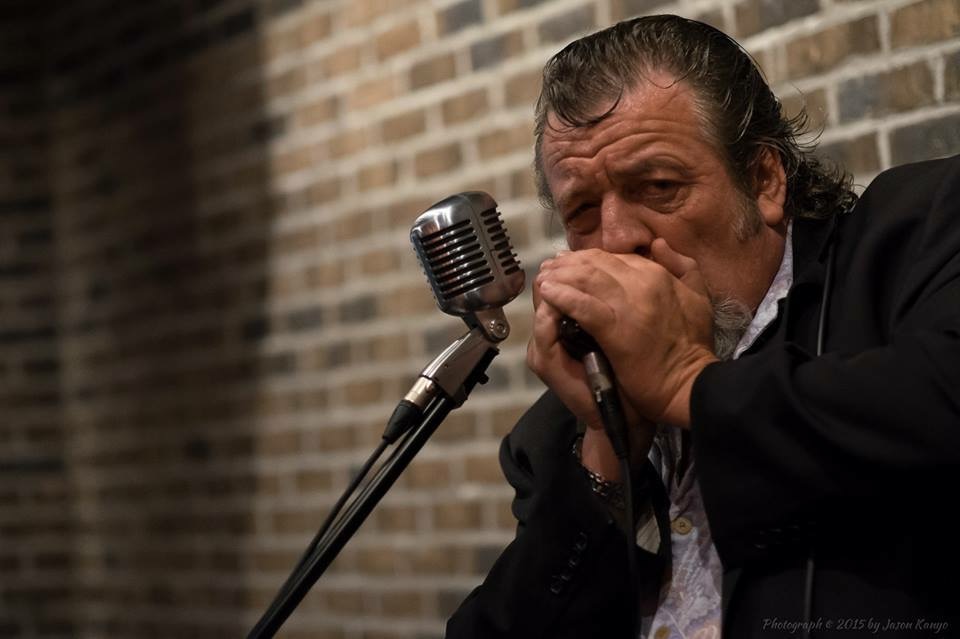 You are always touring anyway…
I was always in this business to travel, not to get chicks or fame or money. I do not find myself bored anytime. That is public enemy number one, I'm happy when I'm busy.
Harpdog, where did that name come from, I heard it was from one of your concerts?
What's Your Real Name? is on the last album. I was sitting with my band in a club on the beach in Vancouver at Mama Golds. There were two young guys sitting in the front row in front of the stage. They took a liking to me immediately. By the third set, I'm chilling with the band at the bar and these two boys started chanting "Harpdog, Harpdog".
It dawned on me "what a handle". I made it legal about six years ago when I had my first divorce. Being an adopted child meant I was named twice in the first few years of my life. I met my birth mother when I was twenty-eight years old.
Totally evolution, most of the shit that happens to me happens without planning. I follow my gut and land on my feet, I don't really have a laid out schedule. I feel more like a missionary, I take blues as nothing but the truth, what better thing to take out to people than life stories, that's what the blues is. The music is the message, not the vehicle. The blues is the message. Today's blues is rap, that is the message of the people. Blues is life how we see it, the good, the bad, and the ugly.
What are the demographics of your audiences?
When I got into this business at age twenty-one, I was the youngest. I quit my band to play with musicians who had more experience and wisdom and knowledge. From then I would look at the audiences and found that not only was I the youngest one on stage, but I was also the youngest in the room!
Since the two boys in my band joined me, I see more youngsters in the audiences digging the sounds. I welcome that and I realise our fan base is dying, literally, so it has to be open to the younger public. I've seen a difference since getting twenty-year-olds in my crew and I welcome that.
Talk about the new album For Love & Money. How did this come to be and how did you get the band together?
Dave Webb my piano player and myself played locally but wrote a book of songs I was doing with another piano player in Alberta. I was playing, a dive bar. This is where I met the young players, Skye Lambourne on trombone and William Abbott on clarinet. They asked to sit in with us.
I could not believe the language skills these young men had, they played like the horns I used to listen to, from say Jack Teagarden and that school of jazz. I found out that when they were seventeen they drove from Vancouver to New Orleans to hear their instruments from source. They busked to buy a van, these guys inspired me.
Zoom back to the 90's when I met my birth mother. She put together my family history on her side, we are third generation New Orleans people. I got a connection with that sound but didn't know it. When I found out about it, it didn't surprise me.
I refuse to hunt for people; I always find the wrong thing, just like women. I took Skye for a tour, that was the turning point. These guys gave me wind under my wings. I dug what I was doing on the last two albums, but it limited my vocabulary as a harp player and vocalist.
If I'm painting, I'll stick to the colours of that painting. I'm a show-up, not a show-off. I show up with all the personality I have, but don't go over the top. When I play classic Chicago blues I'm not overstating it. Rock & Roll, is self-indulgent, blues is not! The last two albums were understated for a purpose.
With this new album because it's based on a New Orleans style there can be more scope with colour and texture. There are no rules with New Orleans, it's just music and I love that. I'm excited about the new album, I feel I've just started, I'm fifty-seven years old, technically, I'm a teenager in the blues world!!
The new album is up-tempo rhythmic tunes can you talk about some of them?
No Eyes For Me the opening tune is the oldest song I have written, it was a no-brainer to start the album with that. It stands the test of time. Love is love, but there's always going to be a scenario, where you have a glad eye for her but she has none for you! The variable of the friend zone is in the meaning.
They were all my choices. It comes down to no one telling me what to do, this is my circus. I take people's advice, but I'm the spokesman, the voice, I'm not a sideman instrumentalist. If I don't eat fish you won't see me selling fish.
The covers I chose were lost classic songs. It is my duty to educate. I'm not the sort who could compile a top forty blues songs. I can communicate and enlighten somebody. Turning people onto songs by Amos Millburn and Wynonie Harris, that's my forte, I like to educate! I picked songs that we truly perform and own. The song, The Comeback that we perform, I thought it was a Wynonie Harris song, but it was Memphis Slim! Just like Wynonie's Buzzard Luck that was made at Sun Studios' I feel Satchmo and Dr John in my bones.
It takes a lot to retrace your own steps in terms of reflecting on life, you must be proud of this album?
Honestly, Colin, I only get reflecting times when I'm driving alone. I might travel for thirteen hours. I rotate life, I think about the past then. I feel my life is like a fast-moving train. There are times I get off the train and lick my wounds for a while. But, on that week off, I'm in conversations. I fly by the edge of my seat. I'm a passenger, which is where I still hope I am, in five years. This life forces me out of the cage and onto the stage, to do something for someone I don't even know.
Many times I force myself to go to work but I never regret it on my way home. I'm going to places who employ staff and in a crazy way, this life of mine keeps the wheel going.
When you were twenty, and starting up, what was the Canadian blues scene like?
Not much, there was The Downtown Blues Band, they are still running, it's their fifty year anniversary this year. In the early Eighties, The Powder Blues Band came out of Vancouver. Buzzard Luck was on their first album. There were a lot of American bands that toured.
It was not a good financial plan to have a blues band back then! I welcome the tough times, it strengthens the hurt. When I was in Junior High there was a phrase "when the going gets tough, the tough get going". I realised later, the weak jump ship to make an easy dollar!
What does success mean to you?
I'm living within my means. I'm not lacking in anything, I've got my mobile home. Success is, what do you see when you look at yourself in the mirror? I'm not a sell-out that's a success. I like the thought of being more creative. I was born for this. I wouldn't mind working nine months solid, with three months off. I'm living a good life, I have no regrets.
I define success at a personal level. I'm not materialistic; it's not about having new toys, it's important to be practical. I was born too old to be a rock star. The Rock & Roll world is a sprint; the blues world is a marathon. I'm in this until I can't. It's about the people! It's all about marketing sometimes. People will pay hundreds of dollars to be part of thousands of people but won't pay twenty-five dollars to be in a crowd of hundreds listening to someone who really cares.
A lot of these rock stars are not approachable. Money is just a means. Without love, money is useless, that is what matters. When I get up on stage, for me, first it's me exorcising my demons. It shares my need to be needed. Going to work eliminates my demons. I've been to some dark places!
I had a Scottish welding teacher and the sessions were intense. During the afternoon session, we'd try to get him off topic. One day we brought up politics. He said the only way you can get honest Politicians is to line them all up and shoot every second one of them. I thought as barbaric as that sounds it would probably work!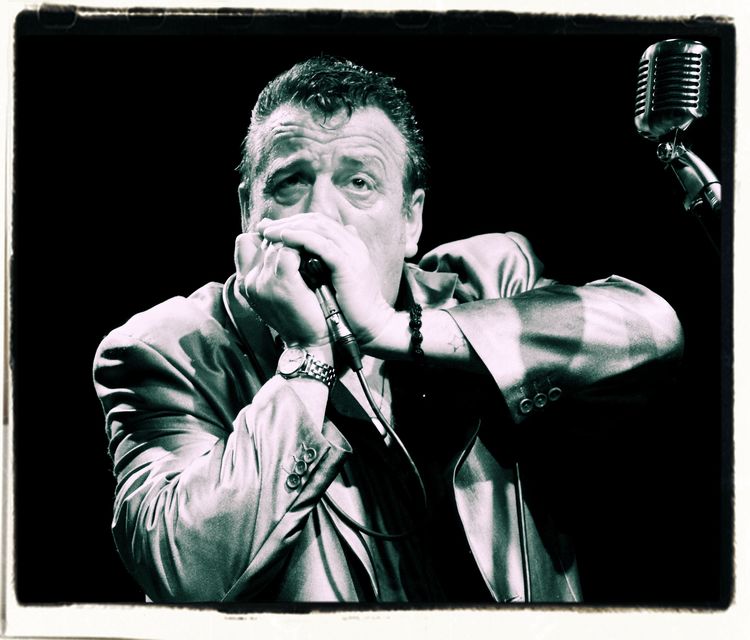 Getting back to music, what would you say was your greatest achievement in music?
Being able to sustain a meagre living out of what I do. Being able to be gainfully employed with a guy I get along with (That's me!). Here's a joke that sticks in my craw. What do you call a musician without a girlfriend…homeless, is the answer. I say no, that's what you call an instrument owner! If you're a musician you're making a living.
It's a place I stumbled on that I like. I am detached, I don't have a family. When I'm out of your space I won't miss you, and this feels balanced in a crazy way. A lot of musicians can't do this. I go six to eight weeks without seeing my home. It empowers me to live the life I did not choose!
I'm the happiest blues guy I know, and you will ever meet! I am the ultimate worker and I care about my crew and the people who come to the shows.
If you were not a musician what do you think you might have been?
I'd be in the people business. I have healing hands, I may have done some physical therapy, say a Masseur.
Anything you want to tell Blues Matters readers about you that they might not know?
I somehow became the first ever electronic bingo caller in Canada! This masseuse I was living with, her manager had the lease on the main street in Vancouver of a Legion Club, and I went to this Bingo Hall.
The first day they gave me the bingo cards, so I gave them out. I was standing beside the woman who won this particular game, I grabbed the card and thought that PA sounds shit, I'll holler the numbers and verify it, and give the woman her winnings. I was then made the Paymaster who verified and paid the winners. Then I got into the routine, the regular caller went off sick, and I got to do that job! The ladies loved my voice. BC Lottery had got involved with electronic bingo. They trained me and there you go!
Well, we'll wrap it up there; it's been a pleasure talking to you, thank you!
All the best, goodbye now.
Interview by Colin Campbell
For More Info – HARPDOG BROWN
To Pre-order For Love & Money click HERE