FIRST CLASS BLUES BAND Brand New!
Acoustic Music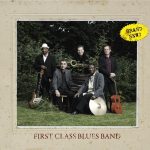 The First Class Blues Band was a big name on the German blues scene in the 90s, a mixed group of German nationals and American ex-pats. The individual members eventually went their separate ways, though all were still closely involved with the blues – so it was no great surprise when the band members decided to reunite and this recording is the first tangible result. It does show just what we have been missing. Pianist Christian Rannenberg should be familiar to anyone who follows the blues in central Europe, guitarist Jan Hirte is a fixture on the Berlin blues scene, and sax and harpman Thomas Feldmann is a sought-after session musician. The two Americans – bassist Kevin DuVernay and singing drummer Tommie Harris – have worked together for around 30 years and it shows in their ace rhythm work. DuVernay's grandfather played bass in Lloyd Price's band, a fact acknowledged by Kevin's vocal on the fine version of Price's Lady Luck on this CD (all the members have at least one vocal outing). Harris is an excellent singer, tackling three numbers – more than any of the others. Rannenberg also sings a couple of numbers – as well as you would expect of someone of his vast experience.
Stylistically the CD runs from hard Chicago blues to poppy old time R and B, with an Albert King flavour on Breakin' Up Somebody's Home and with more than a nod to Louisiana on several numbers – try the cover of Clifton Chenier's Zydeco Boogaloo for a fine bayou sound. Overall this is one of the best European blues albums I have heard for a while and it is certainly worth checking out.
NORMAN DARWEN