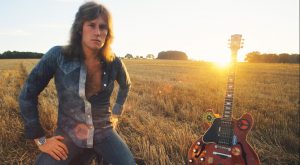 Ground breaking new digital age platform Digital White Label uniquely links music, artists and fans. The first release featuring Alvin Lee keeps it in the family. You can see just why Alvin Lee is the debut artist for Digital White Label here.
Digital White Label was launched in May as a brand new digital fan club for music lovers where artist and fans can come together like never before. The project is the brainchild of Jasmin Lee, daughter of the celebrated late blues-rock legend Alvin Lee, one of whose final accolades was to be nominated by Gibson guitars as the greatest ever exponent of its ES 335 model, ahead of Eric Clapton and BB King. Alvin was well aware of how the digital revolution was changing the musical landscape, speaking up about the injustices for artists as small royalty percentages and illegal downloads slashed their income.
Jasmin Lee is studio manager and responsible for artist management at London's Dean Street Studios. She is honouring her late father's memory by making him the first artist to feature on the Digital White Label, rapidly becoming recognised as 'the next generation of fan clubs'. Jasmin has been working with her mother, Suzanne Lee-Barnes, and Alvin's widow, Evi, to deliver a project dear to her father's heart. Jasmin commented, "We started pulling this together with dad before he passed away and he really liked the concept, but now myself, Evi and Suzanne have taken the reigns with this and it has become a commemorative release where we can go a bit more into Alvin Lee the person."
Digital White Label represents a unique new deal for both artists and fans, providing a single portal of opportunities for fans to get closer to their favourite artists. For just $25 (£15) per artist per year, fans can follow their favourite artists on a year-long campaign where they will be given exclusive material from an unreleased collection of audio tracks, and much more. All tracks are downloadable as MP3s and will play on all media types. The first select footage to be shared on the Digital White Label is from the live performance of 'Alvin Lee & Co. Live From The Academy of Music, New York, 1975.' Throughout the campaign, fans also receive access to a host of other treats not available anywhere else. Videos, pre-sale gig tickets, rare photos, merchandise offers, anything the artist wishes to share. Fans using Digital White Label will be the first to know about everything that's going on with the artist they're supporting. Subscribers gain access to an artist's exclusive DWL artist page which gives information about the latest news and developments, and in some cases an interactive blog.
The artists will get a far better deal than ever before, receiving 80% of the income directly which is a massive percentage in the music industry. Hosted by Tunehog, an exciting new music service and discovery platform, subscribers automatically benefit from a Tunehog account. Digital White Label provides a much-needed way of maximising the earnings for artists instead of them having to give away so much for free. Digital White Label does not acquire rights from the artists which mean that they stay in control of their work. For future campaigns the more typical scenario will be that the subscribers follow a work in progress, experiencing the music as it is created and possibly having some input along the way if the artist is so inclined.
Signing up is via the chosen artist's social media sites or directly through the http://digitalwhitelabel.com website. This can be done at any time as the material distributed already will be forwarded to the subscriber. All of the tracks and downloadable content can be retained at the end of the year.
The intention is that fans who support their favourite artist through their Digital White Label campaign will be part of an exclusive group of followers whose loyalty is finally rewarded. This makes it fair for the artist, a great deal for fans, and it brings artist and fan together like never before because it enables the artists to deliver their work in exactly the way they see fit. In this new brand of fan club the artists feed content directly to their fans and maintain communications with them.
Alvin was beloved by Blues Matters magazine and to this day regularly appears in our pages. Among our writers, The Bishop was a particular fan and, like us,  he welcomes Digital White Label.
Links
http://digitalwhitelabel.com/faq
www.facebook.com/digitalwhitelabel