BAD BRAD & THE FAT CATS Take A Walk With Me
Independent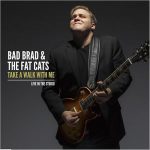 A Colorado based young band with their raw, powerful and energetic mix of Chicago blues, New Orleans Zydeco and West Coast surf music which was recorded live in the studio. Opener Take A Walk With Me is a raucous Elmore James rip with that familiar chiming guitar riff and rough edged vocals accompanied by thunderous bass and drums. Leghound is a walking pace boogie shuffle with a good guitar solo from Brad Stivers and tasty harmonica from Nic Clark. Ego Trip is a lengthy boogie workout reminiscent of Hooker or perhaps Slim Harpo's Hip Shake especially as it features fine harp riffing from Clark. Take It Easy is a loping Texas shuffle which does what it says on the tin and is followed by the fast and furious Going To The Country. Headin' Out is a coruscating blues/rocker which is followed by the lowdown dirty slow blues Lucky Man where Stivers builds the tension with his emotive vocals and then eventually releases it with his anguished guitar work. Drummer Alec Stivers kicks off Other Side with a New Orleans second line beat before brother Brad joins in with lovely slide guitar riffing and strong vocals.
There is a steady rolling Jimmy Reed groove to Runnin' Me Down with rumbling guitar and sly harmonica fills from Clark. It is easy to see why this band are so popular on the live circuit with their mix of styles and fun approach. Guest Dwight Carrier gives See My Way a Cajun feel with his accordion. Some strong guitar riffing and rough vocals light up the driving Man On The Move. A rattling snare drum leads the way on Train Down South and then brother Brad shows off his speedy, but dextrous, guitar licks as the song rushes along to the climax. The album closes with UMA an unlikely mix of Texas blues and 60's surf rock which works like a dream and rounds out this excellent, varied and fun album.
Fire up the barbecue, pour a few cold beers and get some friends round for a party. They'll love this one too.
DAVE DRURY