Edinburgh Blues And Rock Festival – Edinburgh Corn Exchange – Saturday 22nd September 2018
This was the third of its kind, but the first, fully run by UKBlues Award-winning Edinburgh Blues Club.
The venue was The Corn Exchange which usually has attendances of up to two thousand people. Not the case with this event but what a spectacle it was. Great value for money, wonderful sound and lighting and catering what more do you need.
It was a well-run event enjoyed by an enthusiastic if sparse crowd to begin with. The daunting prospect of starting the whole show rolling was left to Charlotte Marshall and The 45's, a young local band who did a great set full of New Orleans rhythm, funky soul, and downright dirty blues tunes.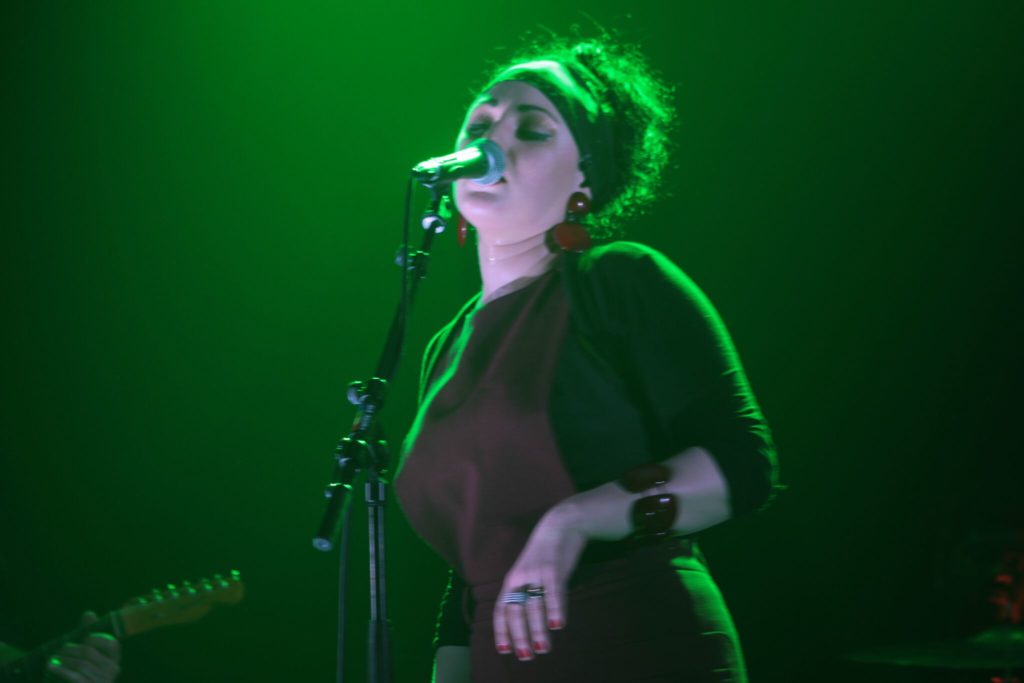 A seven-piece group with a great horn section. But the front person Charlotte was the star oozing class and daring on such songs as "Mama's Spring Cleaning" which was delivered in a very sassy way with the band underpinning her great vocals.
Saxophone player Gordon Dickson's solos and boogie-woogie piano playing by Tim Brough were also highlights. More suited to a late night cabaret style feel it still worked at 2.40 pm on a Saturday afternoon.
The up-tempo rag "Bootleg Liquor" also had hidden primal tones and is a real crowd pleaser but more for toe-tapping as opposed to people getting out of their seats to dance.
Lots of passion soaked lyrics on "One Last Kiss Goodbye". The band certainly were in full swing and this was summed up by Charlotte on "Crazy About My Boy" with the funky drum beat she said, "It sounds pretty damn good". The consensus would be a positive response from the audience.
Another mostly Edinburgh based band plied their wares on stage next. Enter the stalwarts of Scottish rhythm and blues genre The Jensen Interceptors, a popular choice and they gave a great value, first class, high octane performance.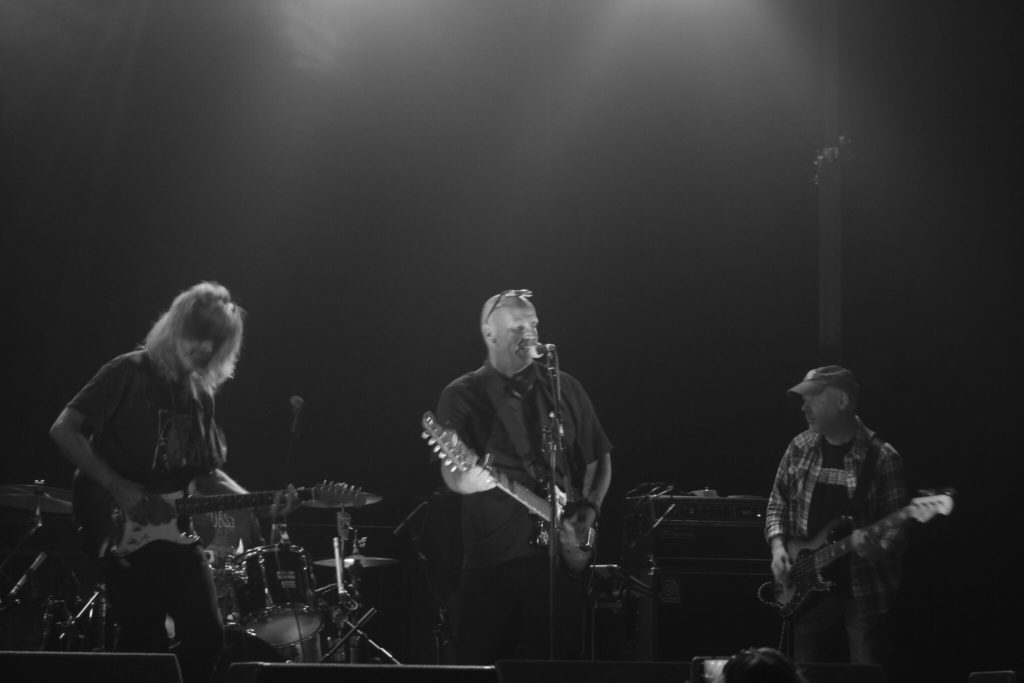 Fronted by Gary Martin who plays a mean harmonica and guitar shuffle, these boys come at you like a steam train and take no prisoners. John Bruce was outstanding on lead guitar exchanging licks with Gary at times and giving a full-on performance on the amazing "T Bone Boogie".
A five-piece who really know how to put a show on. Opening with blistering vocals on "She's Dynamite" the set was interspersed with great musical tones and keyboard player Richard O'Donnell exuding professional and intricate playing that left the audience transfixed, a real treat.
"Whiskey Headed Woman" was this reviewer's particular favourite, a great cover of the Sonny Boy Williamson track, great sound. Finishing with the appropriate "Outa Here" this was a consummate performance.
Next up was the powerhouse trio The Mitch Laddie Band from the North East of England. Fronted by Mitch Laddie on vocals and lead guitar with Rhian Wilkinson on funky bass and Matt Connor on drums.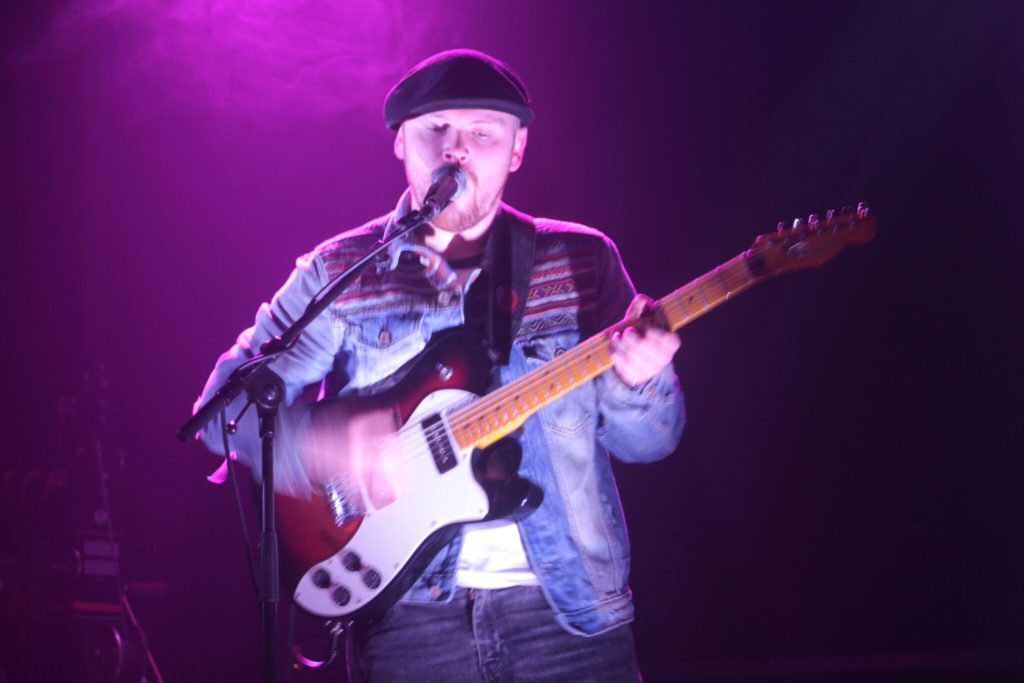 They brought an eclectic mix of songs, styles, and arrangements, from rocky blues to pure funk and back again. Really something for any music lover, not pure driving blues but there were many moments of reflective soul and what a sound from a three-piece outfit.
Another young band full of energy and Mitch Laddie taking it to the maximum on the bluesy rock take "Believer". "Get You Back "had lashings of intricate fret playing with a jump joint feel.
Then slowing the pace down on Bill Withers "Use Me" certainly made for great entertainment and the band certainly looked tight and they were enjoying themselves.
The lyrics on "What's A Man To Do" certainly show off the mastering of songwriting abilities of Mitch Laddie and a sweet vocal tone and again some brilliant fretwork. A highly talented band that put their heart and soul into their performance and the crowd was very appreciative.
Next up were the very popular Edinburgh band The Rising Souls who really upped the noise level in the concert hall, they rocked the place and had a lot of the audience up on their feet dancing and hollering.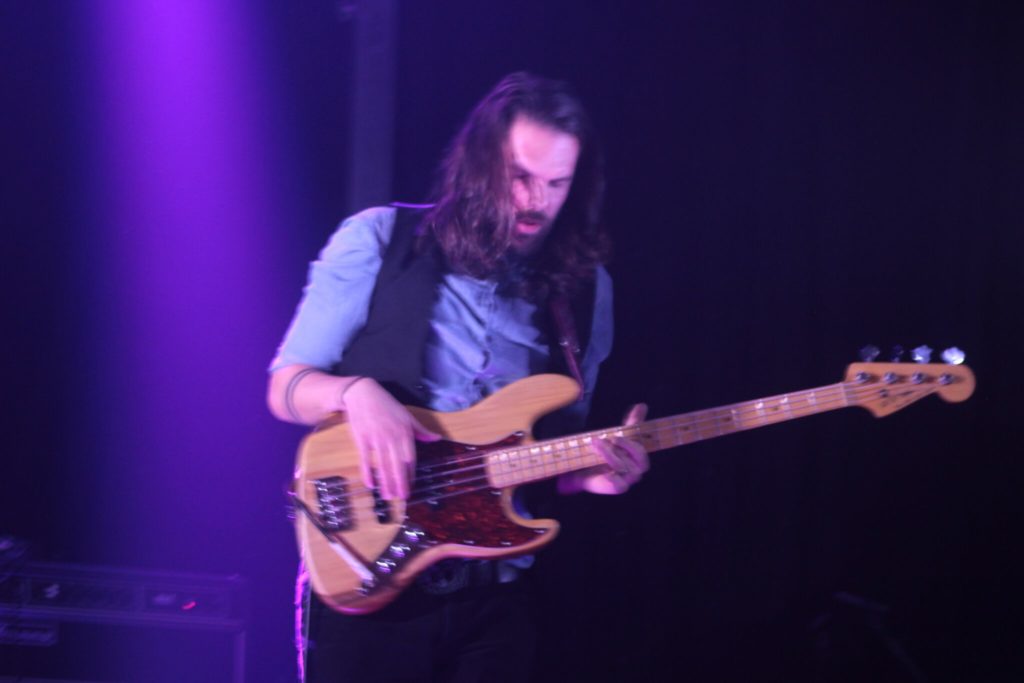 They are real crowd pleasers, with heavy influences of older bands such as Led Zeppelin and Free, but they reinterpret the blues and put their own stamp on it. Lead by the flamboyant and effervescent charismatic lead singer Dave Archibald, whose vocals are an eclectic mix of Frankie Miller washed down with a shot of Paul Rodgers.
His range is terrific and his stage presence is phenomenal. He has a bourbon soaked raspy vocal with that Scottish twist which is something very unique but ultimately powerful, how he kept his vocals intact throughout is a revelation in itself.
Drummer Reece Baird, bassman Roy "Kelso" Laing and virtuoso guitarist Oscar De La Cruz finish the line-up. They are a well-heeled unit. Opening with the grungy raspy "Set Me Free", the songs just kept coming interspersed by some interesting narratives. "Walk On" was a particular pleaser, funk personified! They left the crowd wanting more. This band has a very bright future.
Transport was a bit of a problem in Edinburgh and for the surrounding district and this affected the times between the two headline acts but the audience was very patient and it just added to the air of expectation.
Enter, Dana Fuchs and her Big Soul Band to the stage. A great, mostly standing ovation greeted the band and then Dana got straight into action extolling the virtues of kicking the shit out of this place, and wow she raised the bar to a phenomenal degree.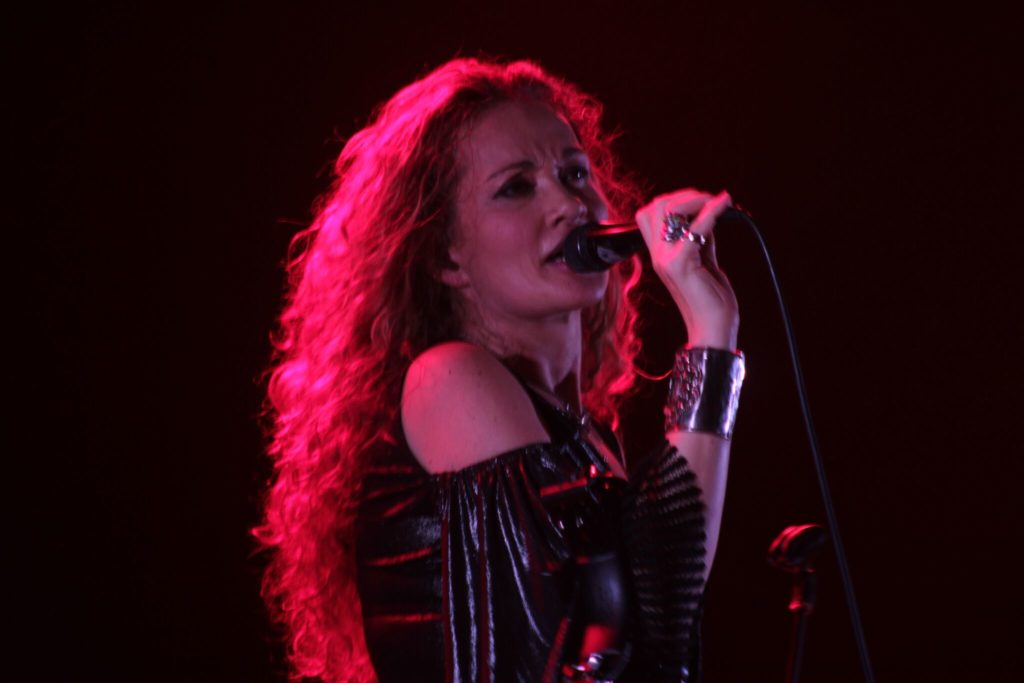 A masterclass of a band at the top of their game saw them play most songs from the newest album Love Lives On which was recorded in Memphis.
From the opening note of "Ready To Rise" the venue was buzzing and rocking to a Stax style beat and a mix of highly polished tunes. Introductions to songs like "Callin' Angels" were very personal and showed a real bond emotionally with the audience, her trials and tribulations of recent family losses are very fresh for her and underpin all her vocals.
She is one true blues singer who can keep her cool even in the hardest to sing vocals, with the horn section mixing it with stomping keyboards on "Faithful Sinner".
Her cover of Otis Redding's "Nobody's Fault But Mine" gets top marks in every department; Dana has stunning vocals and sheer iconic stage presence, even when she is sitting on the stage listening to the wonderful saxophone solo by Aaron Liddard, duelling with the funky tones of Walter Latupierissa. This song turned into a funk jam, just sublime.
This band was rocking, as noted on the slow burner "Sittin' On" with a slot for Simon Finch to show his trumpeting abilities.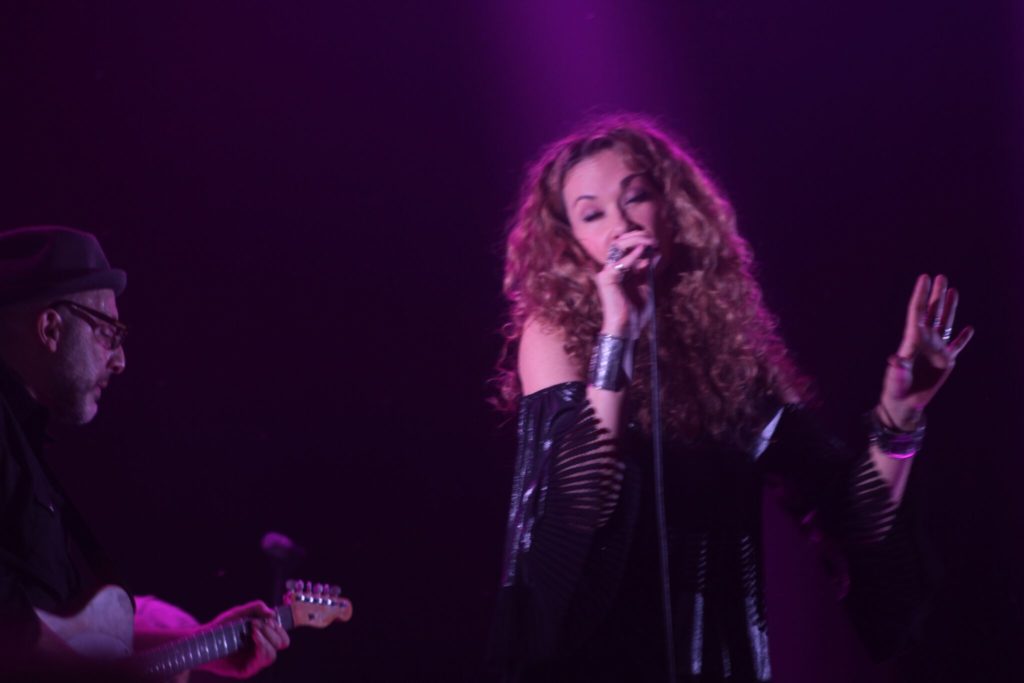 Dana's main sideman Jon Diamond shone throughout the set with fine guitar solos as on "Sad Solution". "Sedative" was a particular favourite and extolled the virtues of Dana's sultry vocals, she made it clear the song was not about sex, in fact, the total opposite, it's about night sweats and anxiety proving her persona off stage is similar to that on it.
"Long Long Game" was what she stated was her whiskey song and dedicated it to her first time in Scotland, this turned into an absolute blinder of a final track, a real uplifting anthemic tune, with more of the audience coming to the front of the stage to appreciate someone who is undoubtedly the real deal with tides of emotion.
Ah… but that wasn't the last. For that, she paid tribute to one of her influences Johnny Cash, where she sang a stripped down version of "Ring Of Fire" with much audience participation. She played acoustic guitar on this stripped down version, a perfect finishing number, class shines through as well as the love for this band.
Ten Years After have so much of a stage rig that it did take a while to set up but it gave people a chance to get their collective breath back after the previous act.
Ten Years After may not have any original members left but the introduction of getting Marcus Bonfanti to be lead singer and guitarist is a godsend. His enthusiasm and verve ups what overall was a wonderful set celebrating fifty years of Ten Years After.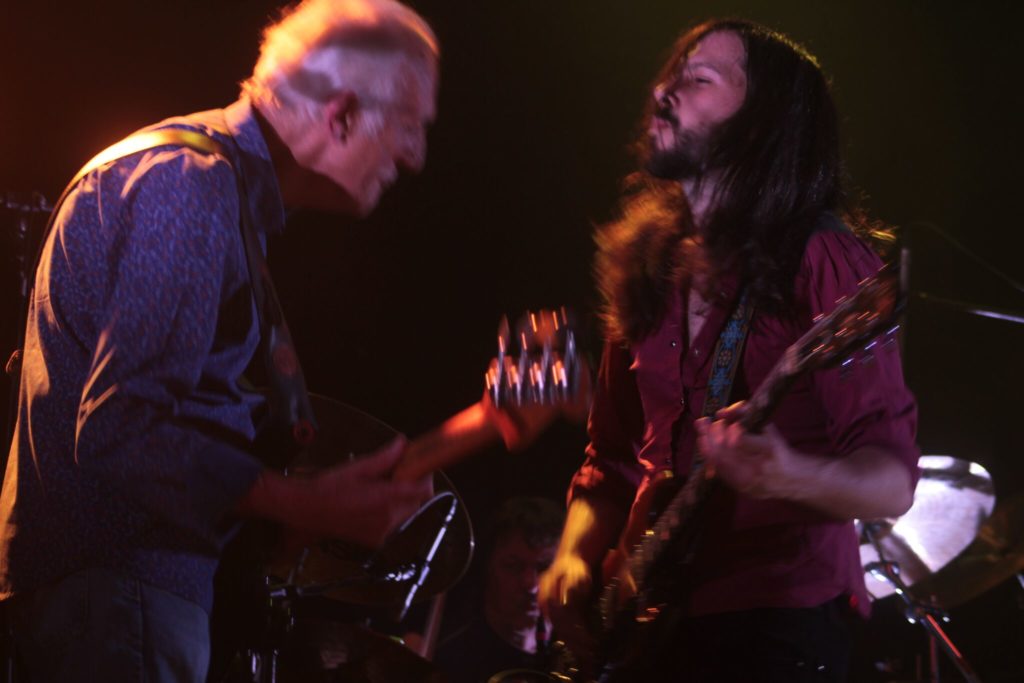 Thankfully though they were no tribute band and they had the crowd in the palm of their hands.
Starting with "Land Of Vandals" Marcus led the way with a swagger and exuberance, not to mention a stunning guitar dual with Colin Hodgkinson who still can lay some heavy bass on you, stealing the show at any given moment but with a steely look, just mesmerising, he even did a solo bass and did vocals on the Robert Johnson tune "32-20 Blues".
"Hear Me Calling" had more than a touch of a psychedelic rock feel and saw the band get into an attacking groove.
Tempo dampened with unplugged acoustic takes to "Portable People", "Don't Want You Woman" and "Losing The Dogs".
"Say Yeah" was a highlight, with a catchy riff and piano backing from Chick Churchill. That ever-present drum solo went to Ric Lee on the tune "The Hobbit", giving the rest of the band a needed break. If that's your thing then this was a tremendous drum school.
"Love Like A Man" was a slow burner and even incorporated "Sunshine Of Your Love" a real scoop.
Another definite highlight was the interplay between Marcus and Colin on a stunningly rocky "Good Morning Little Schoolgirl". As was the heavy tones of "I'm Going Home" which had a quick-fire medley of "Blue Suede Shoes" and "Hound Dog".
"Choo Choo Mama" finished the set to a great ovation by an appreciative audience.
Ten Years After still are a force to be reckoned with on this showing, a real treat to get them to Scotland, not played here for a long time.
A really eclectic mix of acts, some surprises too, and a real success, a day of great music and passion for that music, a real treat enjoyed by all who came.
Review by Blues Matters! writer Colin Campbell
For More Info on UK Blues Club of the Year 2018 go to – Edinburgh Blues Club