Busting out and cutting loose – after numerous lockdowns and global travel restrictions, Debbie Bond and Radiator Rick will be flying out of Alabama to France and the UK for their 25 show tour. The Alabama based musicians are thrilled to be back on the road, to support their newest release "Blues Without Borders."

During the pandemic, the pair produced their latest internationally critically acclaimed album, "Blues Without Borders." The project successfully charted, upon release, on the blues and roots charts in the US, UK, and Australia.
Both musicians have strong ties to the UK. Debbie, though born in California, lived much of her childhood in the UK, Europe and West Africa. She moved to Alabama in 1979 and connected with the deep blues culture there, sharing her band first with the blues legend Johnny Shines and founding The Alabama Blues Project. Later it was through Willie King's band that she met London Born "Radiator" Rick, blues meister on the keyboard and harmonica. Thus began a now two decades long collaboration in love, life, and music. The two have backed the likes of Alabama blues musicians, Eddie Kirkland, Sam Lay, Little Jimmy Reed, Shar Baby and so many more. Immersed in this traditional blues culture, and the soulful sounds of Muscle Shoals, their original songwriting steeped and flavored Debbie's soulful guitar and vocals and Rick New Orleans drenched swampy keys and harmonica. Together they created their own original sound heard on this new release Blues Without Borders.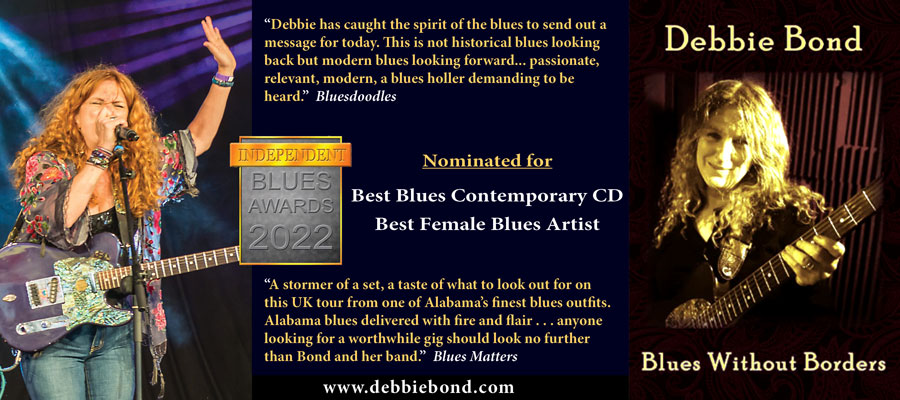 Blues Without Borders reflects this stylistic mix of the pair's influences, including Muscle Shoals soul to traditional blues and Americana. The project is also borderless in that it was recorded internationally during the pandemic, including in studios in muscle shoals and Tuscaloosa Alabama as well as Birmingham England – including US and UK musicians with whom they tour. Studios and musicians collaborated internationally to create a stunning album that addresses thematically, love, loss and global challenges we are all facing. Debbie says "I sure have missed our international music community. Music is medicine for the soul and I love the power of music to bring us together – we all need this more than ever. I am dying to get back on the UK and French blues hiway!"