When UK blueslady Dani Wilde was a kid she kicked off as a drummer, rattling along to her elder brother's guitar work. Then, aged around ten or eleven, she was already seemingly hooked into music.
Soon afterwards, however, she became increasingly aware that what she most wanted to do was sing…and write songs of her own. As a result, she switched allegiance and swapped to guitar, a move that has left her happy, honed her writing skills and opened many doors in the music world.

Still a relative youngster, Wilde studied music at university, and now also teaches students, while always working her butt off with her own career and recording projects that simply swallow her time these days.
And with the summer festival season about to explode on her horizon, she is looking forward to hitting the road again, and excited to be once again playing at one of Europe's main music venues, London's 100 Club, on May 28th, a venue noted for quality blues throughout the world and one that she last played many years ago.
Currently working on a recording project which '…..might be an EP or an album. We just don't know for sure yet,' Wilde has paid her dues recording for many years with German blues-rock label, Ruf, where she took to the international blues highway with the famed Blues Caravan tours alongside many other Ruf artists like Samantha Fish and Sue Foley.
More recently, she recorded with US blues label, Vizztone, where she found the freedom to develop and grow helpful and positive. Today, she is an independent artist but acknowledges that could change again if the right deal turns up.
Wilde recalls hanging back-stage with the legendary, late blues giant, Johnny Winter, when sharing the bill on a US tour. 'It was kinda amazing. I was on the same bill in New York and I thought this is a once in a lifetime opportunity, so I met him and hung out with him back-stage. He was great, warm and friendly, though he always sort of looked out of it a bit,' she recalls, before adding: '….A week or so later, I was at a festival in Spain and Johnny was also on the same bill. He recognized me and asked me to hang out with him again.' This was around 2011, I think.'
Nowadays, Wilde is happy to switch between acoustic and electric guitars and admits to having a love for most music from Americana and country through soul and gospel to blues itself. Good music is really what it's all about and she is happy to range far and wide in pursuit of quality and chasing her personal musical passions.
Looking back at her own favourites and influences, Wilde confirms many of the usual greats are in the line-up: 'Albert Collins; Peter Green; Bobby Blue Bland; Susan Tedeschi; Aretha Franklin; John Lee Hooker,' and a couple that might surprise some: 'Sam Brown and Whitney Houston.' Some she admires for the music overall, the voice, the musicianship the whole package and others for the song-writing and sheer quality of the performance.
It comes as no surprise to learn that the late B.B. King also features in the mix but with a delightfully enviable twist: 'I was in Washington DC once, visiting US TV guy, Bill Wax, at his home for an evening meal. He asked if I'd like to play his 'Lucille' guitar. What he gave me was one of B.B.'s own, personal Gibson Lucille guitars. And he laughed as he told me he hadn't even changed the strings since King gave it to him.' Now there's a thought!
Wilde and her band will be headlining London's 100 Club on Tuesday, May 28th, supported by Matt Pearce and the Mutiny, and Ainsley Lister's Blues Storm.
Article By – Iain Patience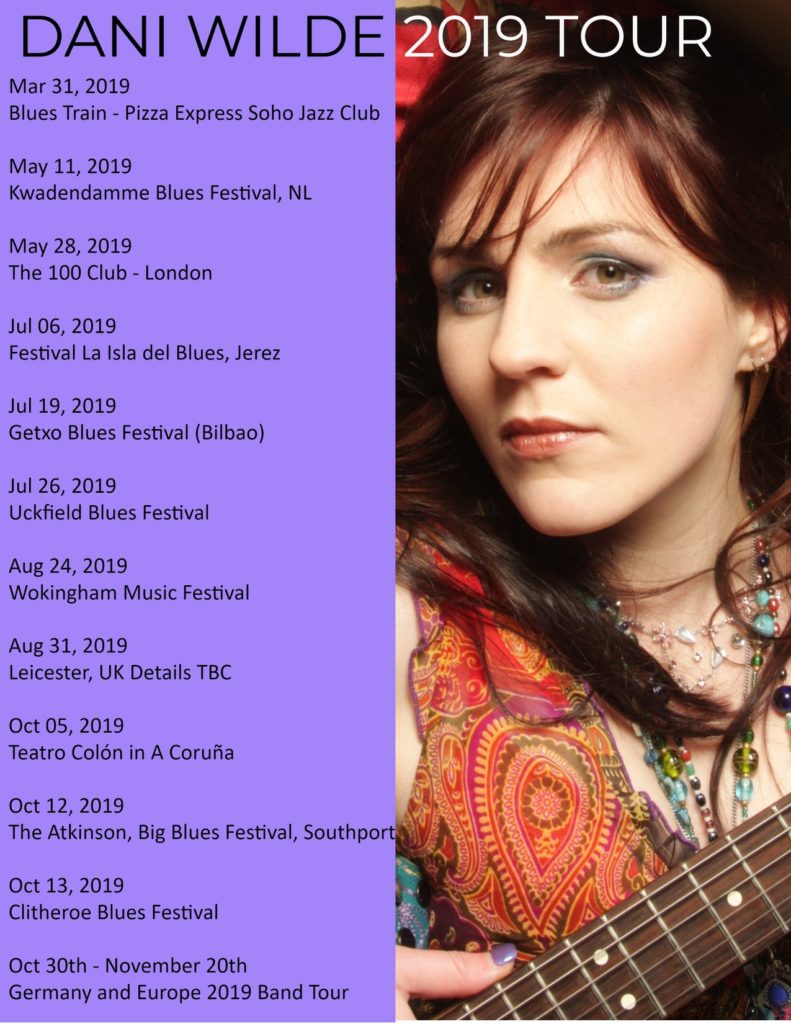 Dani Wilde is also a regular writer for Blues Matters magazine and has her own feature called Phenomenal Blues Women.
For More Info – Dani Wilde