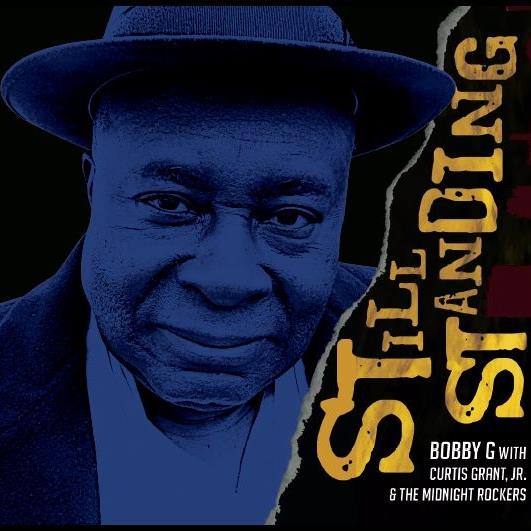 What a find! This is pure blues, no hybrid here.
Unbelievably, this is Bobby G's first feature album, laid down at age 73.
There's a wealth of living in his singing. The backing music is superb, usually, lead guitar over a walking bass.
This is also the debut album for this label; one can only hope for more CDs of this quality.
Perhaps in deference to Bobby G's many years of living, the first song, the title cut, describes a life without regrets.
"I'm still standing/I'm standing here to tell you/I wouldn't change/I wouldn't change a thing," he sings, and he sounds like he means it.
The musicianship of Curtis Grant, Jr. & The Midnight Rockers is stellar, sparkling clean and bluesy as hell.
The guitar work is sometimes reminiscent of the great soul guitarist Steve Cropper.
But more often, as on Good As Gold, a beautiful slow blues love song, it's evocative of B.B. King.
Ball And Chain features a more B.B.-style guitar over a walking bass that will have you groovin' across the floor.
Love Love Love has a more hard-ass feel, featuring a propulsive guitar line punctuated by hand claps.
By contrast, Little Bitty Woman, about the singer's tough little woman who gives him everything he needs, is almost entirely bass-driven.
Definite shimmying material. As a blues singer, Bobby G is the real deal.
You can hear it in every syllable he sings. He grew up in Mississippi and it shows. "Feels so good to be back home," he sings in the closing track.
And let me tell you, it feels just great to be back home in real, deep blues.
All 10 songs on the album were written or co-written by the producer, Johnny Rawls, a guitarist, keyboardist and singer in his own right.
So, while there's variety here, there's also just a bit of sameness to the album's 10 tracks. But no matter. I could listen to this stuff all day.
M.D. SPENSER
For More Info – Third Street Cigar Records
You can buy this album here –