New York's hottest blues club The Iridium will now be featuring Blues Matters! 
We have proudly sent over to the US, 400 magazines, fliers, pens, and pop up banner (pictured below) all with our BM logo, to be distributed and displayed at blues gigs in The Iridium.
Blues Matters! Magazine was founded by Editor-in-Chief Alan Pearce (pictured below) who has been championing the blues since 1998 with the first edition going to press in April 1999! Blues Matters specialises in blues music from all over the world and is a double inductee into the Blues Hall of Fame, has received three recognitions in the USA for continued dedication to the blues, and received an award for Keeping The Blues Alive from The Blues Foundation. Also, winner of the European Blues Awards 2017 & 2018 for 'Best Publication'.
The Iridium is a musical landmark famously known as a destination for intimately experiencing the best rock, jazz, and blues artists in the world.  Over the last 20 years, The Iridium has built up a reputation for attracting iconic instrumentalists and vocalists seven nights a week, and as a result, has grown in the diversity of its music offerings as emerging songwriters seek to join in the room's rich history of music discovery.
Among the superstar acts that have graced The Iridium stage are Les Paul, who played weekly at The Iridium until his passing in 2009, Jeff Beck, Steve Miller, Buddy Guy, Joe Walsh, Zakk Wylde, Joe Satriani, The Rolling Stones' Mick Taylor and Charlie Watts, Max Roach, Michael Brecker, among many others.
Today, in addition to its consistent draw of legendary rock guitarists and jazz and blues musicians, The Iridium regularly showcases next-generation talent spanning a variety of genres including folk, indie pop, alt-rock, R&B, cabaret and world music.
Les Paul, revered as a pioneer in electric guitars and music recording, has influenced The Iridium becoming one of the only NYC concert venues to double as a live recording studio boasting its own music label – IridiumLive.
Since 2011, notable releases on the IridiumLive label have included Grammy-winning guitarist Albert Lee's 'Live At The Iridium' and 'Les Paul Trio And Friends: A Jazz Tribute to Les' featuring Les Paul's band performing with special guests Nels Cline of Wilco, jazz guitar legend Stanley Jordan, Jane Monheit, and Bucky Pizzarelli. Jeff Beck's Grammy-nominated 'Rock 'N' Roll Party Honoring Les Paul' is also among the historical recordings at The Iridium.
A 180-capacity venue centrally located at 1650 Broadway, The Iridium is available for private events and offers upscale contemporary cuisine along with one of the finest wine lists in the city with its 450-bottle cellar.
For More Info on Shows etc  – The Iridium
Walter Trout will play The Iridium on 8th & 9th April 2019.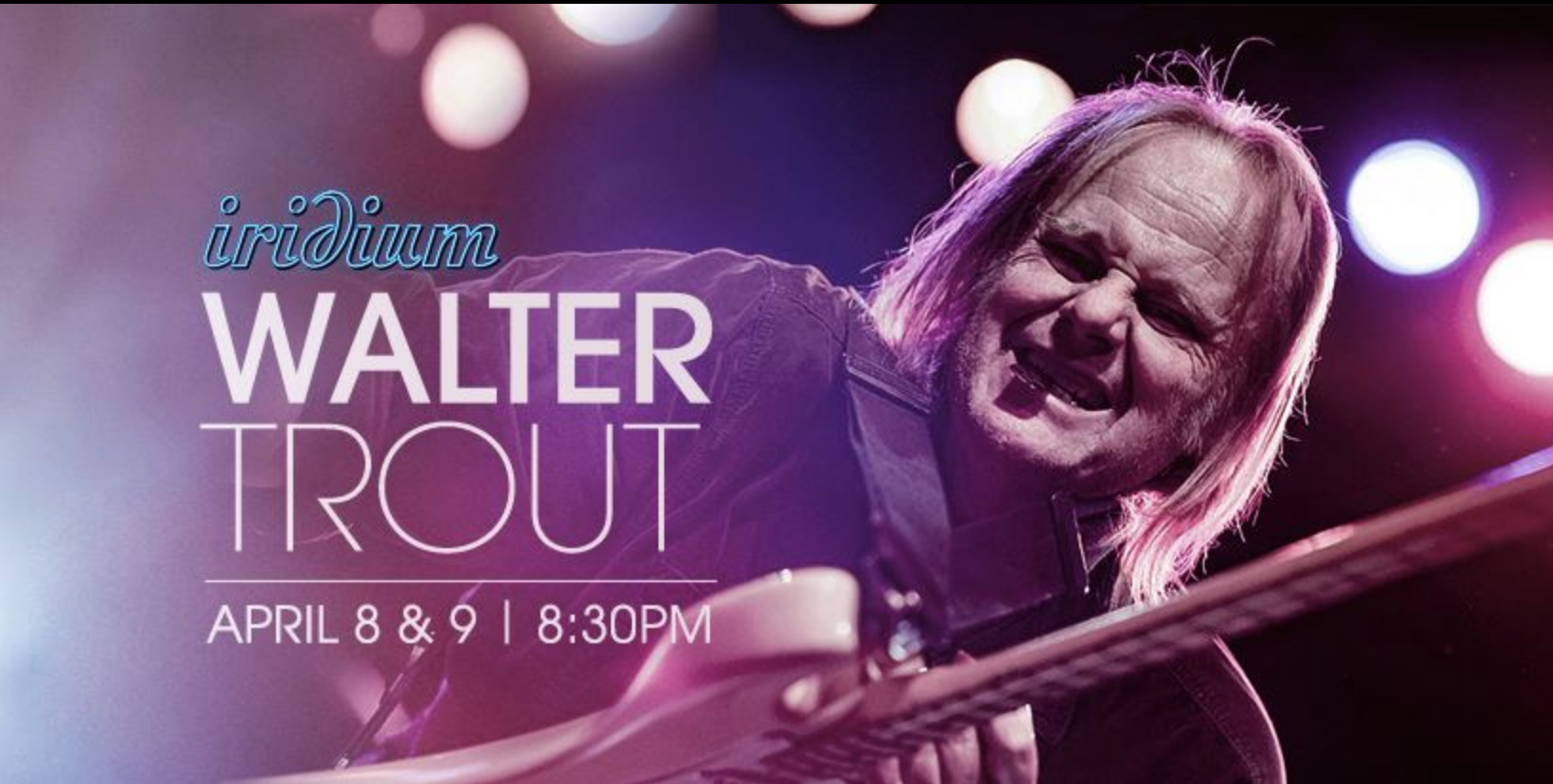 Walter Trout is the beating heart of the modern blues-rock scene. Respected by the old guard. Revered by the young guns. Adored by the fans who shake his hand after the show each night. After five decades in the game, Trout is a talismanic figure and the glue that bonds the blues community together, at a time when the wider world has never been so divided.
He's also the only artist with the vision, talent and star-studded address book to pull off a project on the scale of We're All In This Together. "It was quite a piece of work to get this record together," he admits. "But I guess I have a lot of friends, y'know…?" Before you even hear a note, We're All In This Together has your attention.
Drafting fourteen A-list stars – including Joe Bonamassa, Kenny Wayne Shepherd, John Mayall and Randy Bachman – and writing an original song for each, Trout has made the most tantalising album of the year and found solace after a run of solo albums that chronicled his near-fatal liver disease of 2014.
Then with his latest album, long-standing fans have given up trying to second-guess Trout's next move. The tracklisting of Survivor Blues is a window into the 67-year-old's fast-moving backstory, chronicling a five-decade career whose one constant is his deep love of the Blues. Opener "Me, My Guitar And The Blues" tips a hat to cult hero Jimmy Dawkins, whose records Trout devoured while cutting his teeth as a '60s axe-slinger in New Jersey.
"Nature's Disappearing" nods to his celebrated '80s tenure in John Mayall's near-mythical Bluesbreakers. In-between, you'll find cherished favourites from a lifetime's listening, with songs that caught Trout's ear at key junctures in his journey, from backing up John Lee Hooker in the '70s, to bringing the groove to Canned Heat in the '80s or breaking through as a solo artist in the '90s.
Check out the album trailer below…
For more info on Walter Trout please click here
For more info and dates on blues artists appearing at The Iridium please click here 
Scheduled to perform so far are, Duke Robillard, Dana Fuchs, Bob Margolin, Quinn Sullivan, Otis Taylor, The Nighthawks featuring Billy Price, Kim Simmonds & Savoy Brown, Roomful of Blues, Joanne Shaw Taylor, Deanna Bogart, Chicago Plays Stones, Matt Schofield, Albert Cummings, John Mayall, Ronnie Earl, and Sonny Landreth.