Advertisements

YORK BLUES FESTIVAL – 2nd April 2022  
The Crescent Community Centre, York
Words & Pictures: Colin Campbell
Well, it was time again to go to the wonderful city of York for a Blues Festival, second time in a year. Last one being in July due to rescheduling through the dreaded pandemic. April is a better month to have this event as this time it did not clash with a horse racing day, alas depending on taxis for transport this is a different subject. That out of the way, this must be one of the friendliest and sociable of events on the UK Blues circuit. Extremely well organised, great atmosphere and Sound Engineer needs to be credited also. The venue is easily accessible and there was a lot of seating available and dancefloor which was used well. A rapt audience enjoyed the occasion and looks forward to the fourth Festival in 2023. The slickness of changes of sets was seamless, the large crowd not having to wait too long between bands.
There was a total of eight bands and for the ridiculously low price for tickets, this was immense value for money. The bands could all be headliners in their own right although the last band Redfish Blues Band appeared to be one of the crowds' overall favourites. The music was so good, distinctive styles ranging from Delta and traditional blues to blues rock, soul, funk, an eclectic gumbo of national talented musicianship shone throughout the day. Suffice to say this reviewer enjoyed everything about the Festival.
Enough, onto the music! First band on stage, always a tricky spot to take opening up a Festival was the Tim Green Band.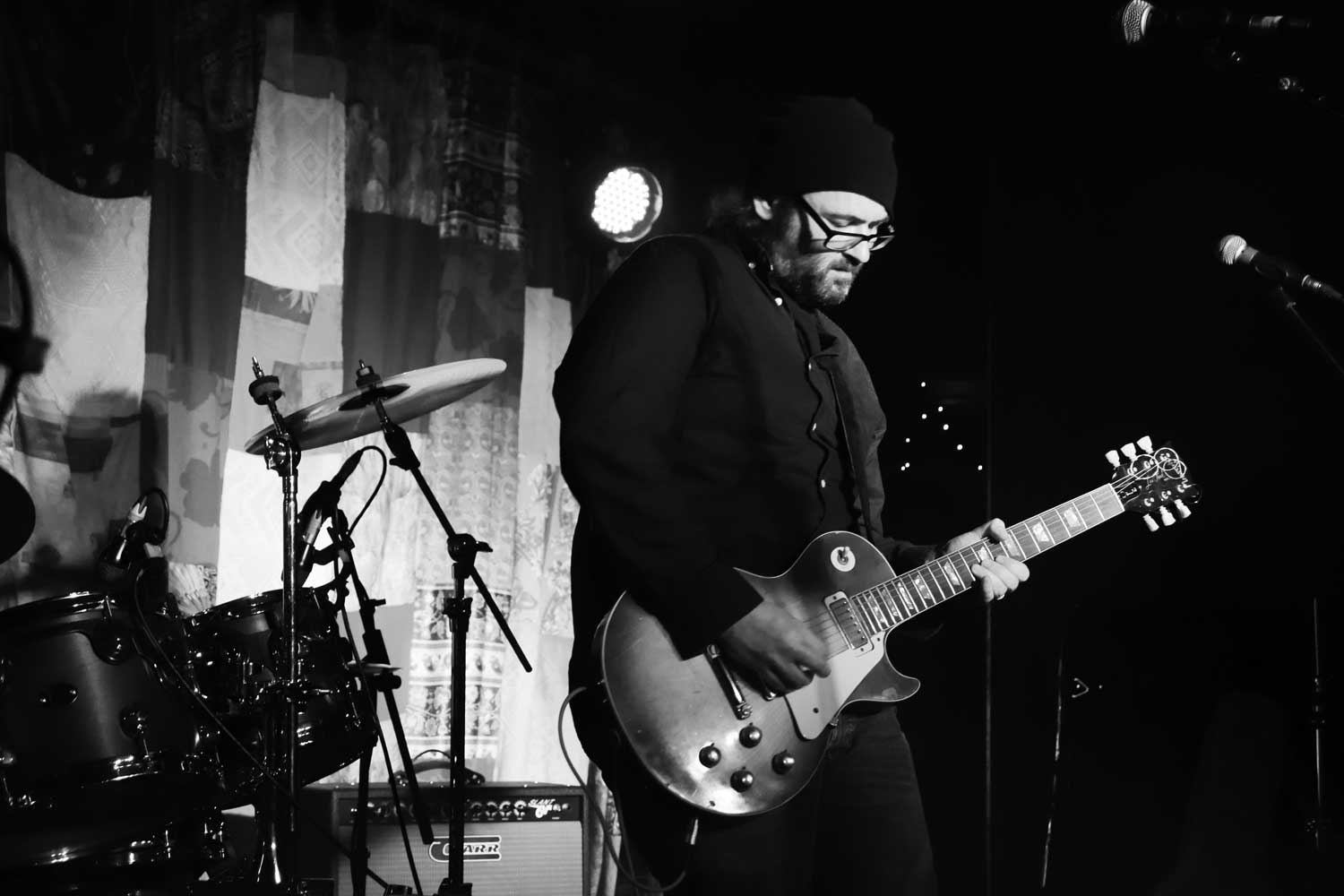 They are a three-piece outfit with vocalist and lead guitarist Tim Green interplaying well with the rhythm section of bass player, Ruth Graham and drummer Alistair Boyd-Meaney
There was great rhythm to this band, who chose some originals; Something About A Woman, and Bone On Bone and exceptionally good reinterpretations of classic blues inspired tunes, particularly eerie Green Manalishi being a highlight, same with a great bluesy version of 3 O'Clock Blues. Also upbeat with scintillating guitar tones on Every Day I Have The Blues. Talented musicianship throughout, there were homages to Stevie Ray Vaughan and the last song was a superb version of All Along The Watchtower, particularly mellow and soulful rendition, a difficult song to reinterpret but they had their signature to this. Strong vocals overriding a fantastic backbeat. A great opening act, appreciated by the crowd and immensely popular, a commanding performance of different musical styles.
Next on stage was Dust Radio who in this guise assembled as a four-piece outfit.
Led by superb front man, vocalist and extraordinary harmonica player Paddy Wells, Tom Jackson on guitar, Stu Baggaley on bass and on Cajon drums Mick Newsome they also brought an eclectic mix of sounds and also original songs such as Shotgun Shack, then came some great blues vibes on Big Legged Woman that got the toes tapping and people dancing. Another original, Backslide had a more rootsy take showing the band's mellow side. Harmonica and guitar driven tones added spice to Fault Lines. The outstanding track was Walk On Guided Splinters, which touched being trance like voodoo blues style, very atmospheric. There was a Bo Diddley vibe to Dead Man's Crawl and Tom Jackson playing some mean guitar licks, this also noted later the track Who Do You Love, a real crowd pleaser. Another self-penned one, South Of Nowhere with great slide, had an upbeat feel, yet raw edginess to this one, a slow-paced ending to the song just nailed the true feelings on the tune. The last song, Shotgun Shack had a driving bassline a good set by a passionate, intense band who have that feel for what they are delivering, very entertaining.
After another quick change it was time for the third band to ply their trade on stage, the wonderfully talented Jed Potts And The Hillman Hunters.
Jed Potts and The Hillman Hunters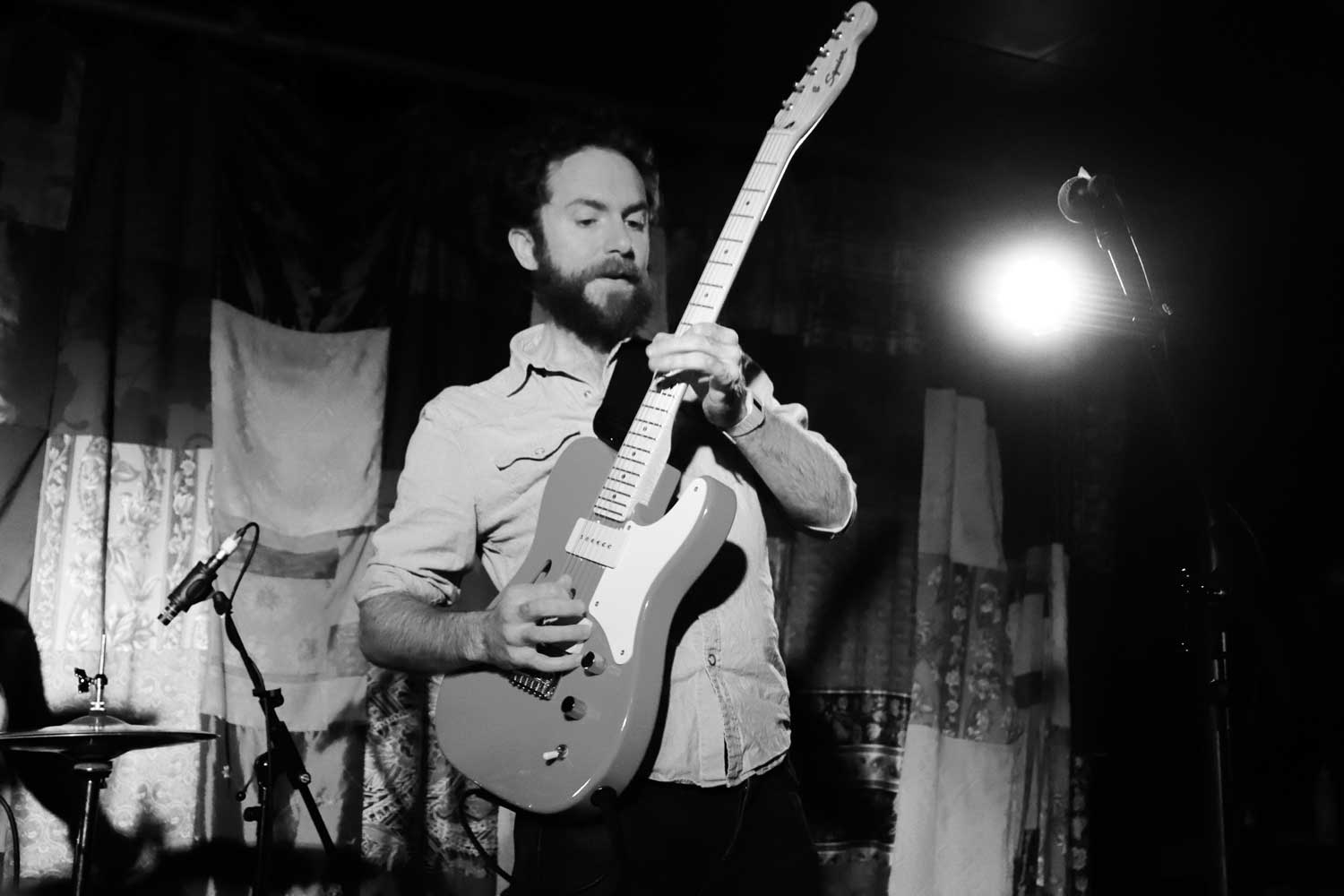 Well known in their home environment around Edinburgh, Jed Potts on lead vocals and guitar, Charlie Wild on bass and Jonny Christie on drums gave a five-star performance with such enthusiasm and pace to their performance, you just could not help to be impressed by the overall tight chemistry between this trio. Mixing a lot of new material and some standards they rocked the Crescent. Songs like Swashbuckling just shows that tempo and rhythm is everything in a performance. There is a lot of humour in Jed's lyrics, especially with the murder ballad It Won't be No Use, even referring to Trevor Jordache from Brookside. The three musicians had fun, and this poured over an adoring crowd. Jed asking them to move forward and just very inviting which made for an excellent set. There were some great instrumental tunes, including Effing And Jeffing. Juicy Fruit had a pounding groove, wonderful interplay here with Jed and Charlie. Crowd up dancing really enjoying the tunes. They varied the styles with the countryfied, To The Mountain. Where's Your Man was bass driven fun and vocals delivered in a Chicago blues infused style, then they got into a groove and when there they just put shivers down the listener's back. Splashdown, another original had a great vibe. The final song epitomised what a solid band they are, the tune had Southern rock vibes mixing with explosive guitar work, The Fastest Outlaw, a hard-working band, brilliant live performances, catch them when you can. Certainly, proved to be one of this crowd's favourites. This performance will surely enhance their reputation, an astounding set, pacy, crowd pleasing, fun and what live music is all about!
To follow this trio, there was another one, this time there was a more mellow and relaxed vibe, a stripped back blues performance by The JuJubes.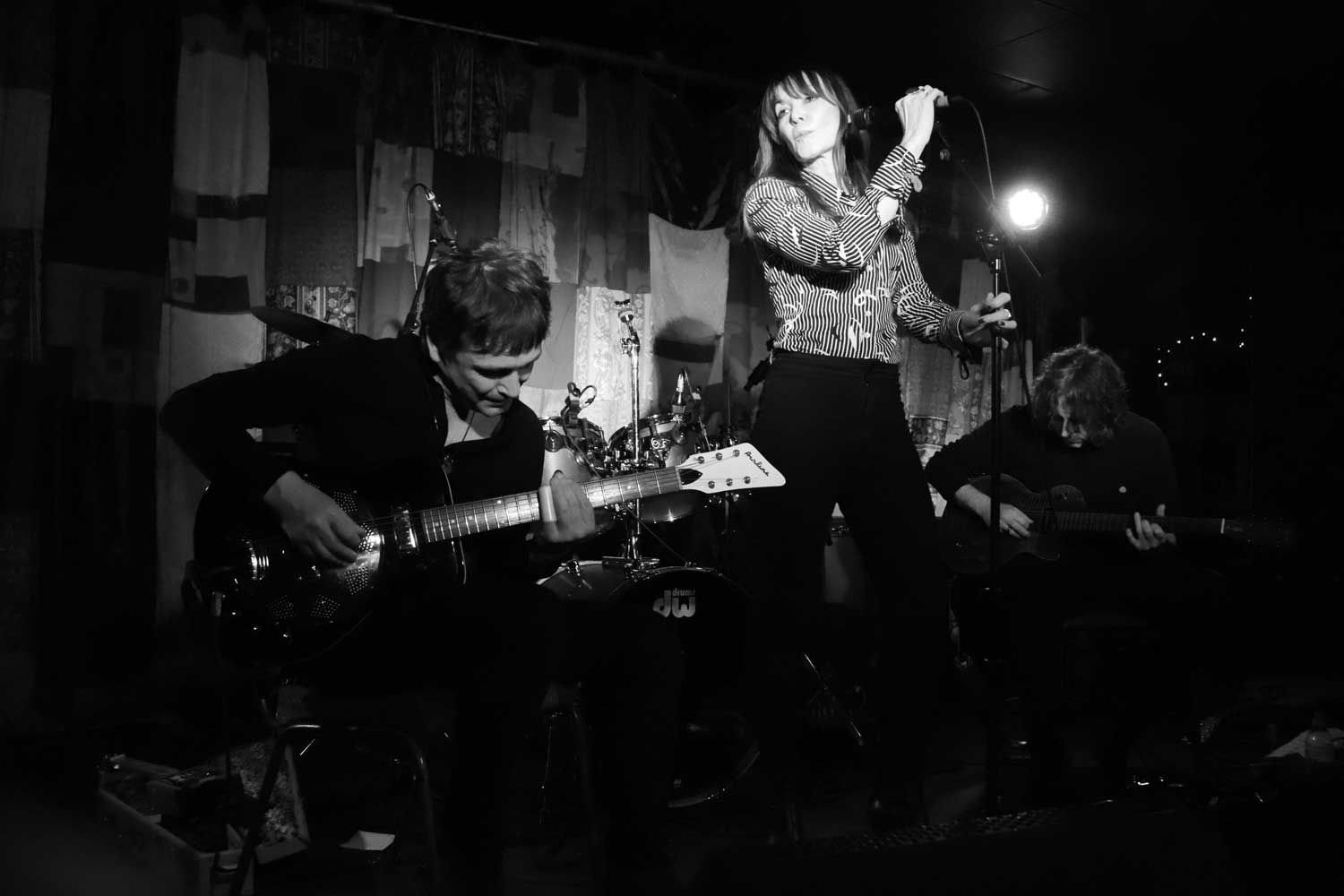 A trio of London based musicians comprising of lead singer Nikki Brooks, Sandy Michie on guitars including box guitar and electric and Pete Sim on blues harmonica and guitar. They served up an impressive set of tunes mostly in a traditional blues way but putting their own stamp on the genre. Make Me Cry started proceedings, the complete set amplifying and bound together by the sultry and amazing vocal range of the lead singer adding to a rawness in sound, this trio packs a punch. Preaching Blues was delivered in subtle tones of mellowness. Then you get, Hurts Me Too with pulsating rhythms and harmonica tones. You're Gonna Be Sorry was a particular stand out, a song from their acclaimed debut album. High Fever Blues was another, this engendered some crowd participation. Sandy played Cigar Box guitar on Devil's Gonna Get You keeping a great tempo. A band for the blues connoisseur indeed Their take on Son House's Death Letter was stunning, the interplay between the guitarists was mesmerising at times, and the vocals haunting yet sultry, another talented group to watch out for. Raw genuine blues played from the heart.
Audience anticipation was raised about an up-and-coming blues band from Scotland called Blue Milk, they have been making waves in the Scottish blues scene recently to the extent that in June they will be opening for Christone Kingfish Ingram at Glasgow.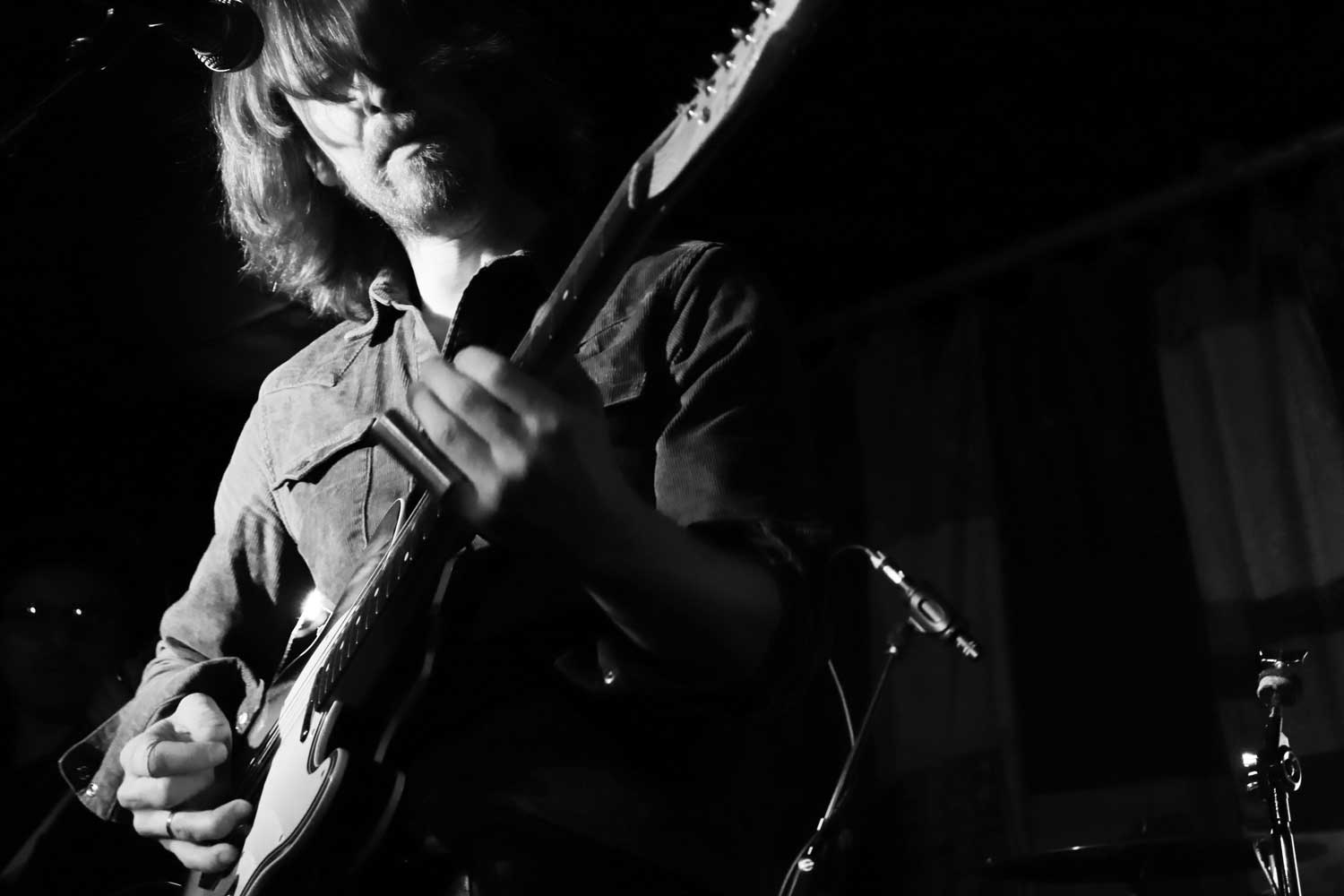 This band is simply electrifying live, they appear as a sort of indie looking band, but they bleed blues to its core. Today they came down from Glasgow and simply rocked the stage. Youthful exuberance, powerful yet melodic sound, charismatic lead singer, guitarist and one of the best drummers around the scene today just made for an entertaining set, this is a band that just keeps giving. They are Jonny McGiffen, lead singer and guitarist, Ike Malinki, bass guitar and backing vocals with Taylor Whyte on drums.
A four-piece unit that just channel their feelings for the blues genre. Starting with Hard Way To Fall, they hit the stage running. Coal In My Fire was delivered with gusto and the backbeat to Can't be Satisfied was smouldering. Devil's calling and the foot tapping Moonshine continued a steady pace until they got more energy to enlighten Black Magic Woman, a sublime take on this tune. Street Rolling man was no holds barred energy. They finished with their rendition of Elmore James' Dust My Broom. What a performance, influences galore, some Ry Cooder in there, Hill Country blues they encapsulate the spirit of the blues genre with their own twist and panache, such a great live band, taking the blues from a younger fresh perspective, so powerful.
This is a Blues Festival with its own house band DC Blues and if you are as talented as Paul Winn and Ben Darwin co-hosts why not highlight your own band.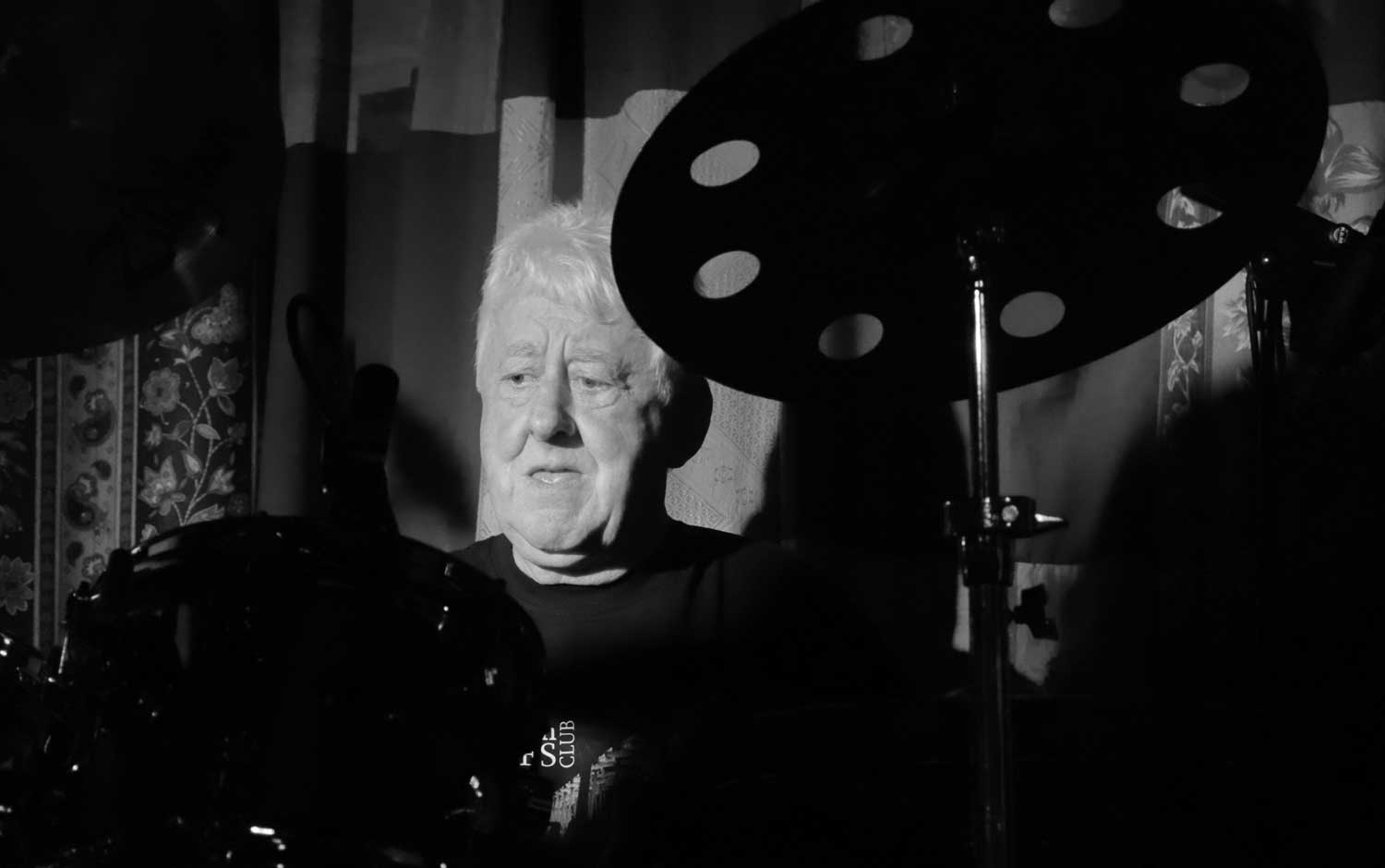 Not only are these two high class musicians but they also have a radio show, Blues From The Ouse broadcast locally on York Radio. They had over seven hundred applicants to play this prestigious event, how they managed to whittle it down to eight is a mammoth task in itself but it worked and great thanks to them and fellow organisers for making this such a success! Their band took the stage to great applause from local supporters and new ones. The band comprise of; Paul Winn, lead singer, harmonica player, Ben Darwin, bass player, Stephen Brandon on Hammond organ, Lloyd Massingham on guitar and Paul Thompson on drums. Together they sound impressive and put on another impressive performance, mixing all things blues, adding fun and lots of Yorkshire humour references throughout the set. Paul is a great frontman and gels this outfit well on stage. Opening with Bac To You, they mixed lots of styles. Rollin' & Tumbling was particularly impressive, the drumming superb. You Mind My Business was in your face rocking blues just superb. Tempo slowed down for Bitter Man, which was a slow bluesy number very atmospheric, taking in a smoky vibe here. Something Funky, did just that and had the dancefloor boogie feel, Ben particularly adroit on the bassline. The interaction between musicians was excellent each really looking they were enjoying every note of every song, and this reflected on the audience reaction, they upped the happy ambience in the building. I Can Tell was just pure maximum Yorkshire R&B an absolute delight. They finished with an original called Nervous Fella, thus ending a most enjoyable set, hard bluesing at its best, a cohesive band of top-class musicians, what is not to like.
The sound level in the building must have been racked up to eleven because the next band Five Points Gang delivered blues rock to the fore.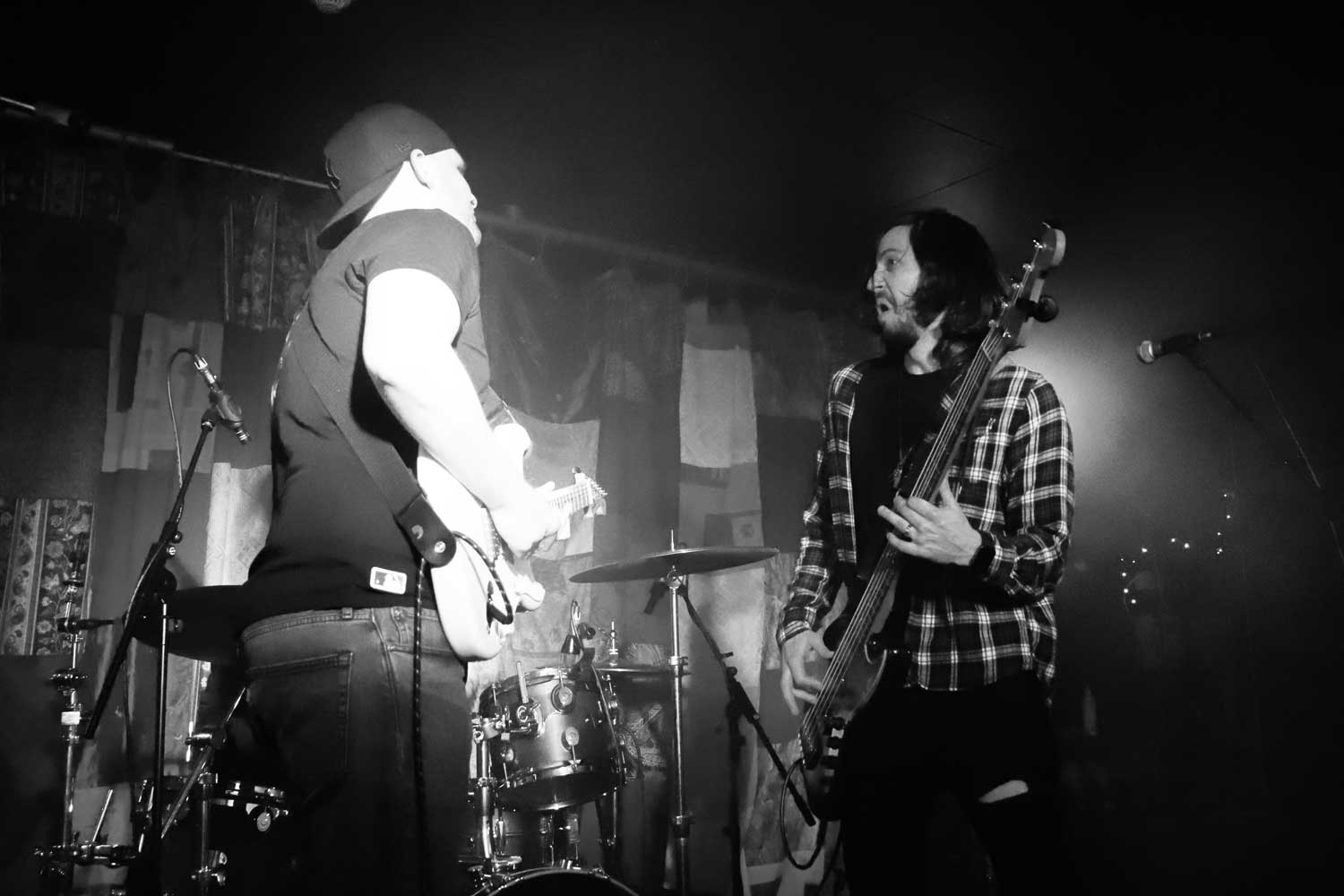 A major powerhouse trio, they consist of Joe Pearson on lead guitar and vocals, Dinho Barral on bass guitar and Gaet Allard on drums. They played a stunning set, again like earlier bands, their enthusiasm and joy to play music to a packed crowd shone through their whole performance. All in All, was a great tune, had the audience acknowledging this is a tour de force to be reckoned with. Sure, they are reminiscent of previous blues rock influencers like Cream and Jimi Hendrix, but they put their own mark on this much played blues category. What Kind Of Man is a lower tempo tune from their acclaimed debut album, with Joe testing out his guitar chops. What a brilliant bass player Dinho is, especially noted on their interpretation of Superstition peppered with full on funky rhythm. They work the stage, and the crowd goes with them, they suck the listener into their big sound, this is noticeable on Out Of Sight and the reflective tune Change In Me. They finished with their anthemic All Points Bulletin with the emphatic chorus, we are the five points gang, yes, they are here and when you see them in a venue, they can rock like there is no stopping them. High octane set, just light fuse paper and stand well back, an exceptional performance.
The day had gone quickly, so engrossed in the music and all-round camaraderie at this event that it was sadly last act time but what a top-class band to finish with. The Redfish Blues Band filled the stage, looking dapper and eager to go.
The lineup was Christian Sharpe lead guitar and vocals, Rod McKay bass, Martin McDonald, guitar, Steve Harrison on drums and Steve McGuckin on Hammond organ. They rocked out on every song they played making this a superb finale. This is a band that are constantly evolving and reinterpreting the blues and blending it to their own unique formula, akin to blues alchemists. They brought joy and pleasure to a rapt audience, this is again what people come out for, it is the connecting force between band and audience and the characters in this band exude a togetherness and warmth and appreciation of that human need of togetherness which blues music at least for this reviewer is the essential component. Starting with Tell The Truth, the band gently got engaged with the audience. Then it was time to party with the quirky Tuff Enough, Christian can work a crowd as well as he can the band! Another dance number, See See Baby followed and the interplay between guitarists was incredible. The next tune started with the mesmerising Hammond organ tones to Ain't No Love In The Heart Of The City, a real crowd pleaser everyone joining in for the chorus. Soulshine was also a favourite, slowing the tempo but very emotive, Christian's vocals soaring through the room. She's tough brought some laconic humour to proceedings. Then the major highlight, Albert King's As The Years Go Passing By. This was so emotive and just encapsulates the feeling of the blues, the band on top form throughout, this was a treat, an exceedingly difficult song to nail but they did this with passion and consummate ease, the rhythm section was immense throughout, just an incredible rendition. Final song of the Festival was the rousing Boom Bapa Boom with full audience participation, what a way to finish, the shouts of "more" resounded after the band left the stage. A brilliant set by a superb blues band what you see is what you get, and these lads just have talent throughout, a privilege to hear them at their best but more to follow, a band not to be missed catch them where you can.
Well, that's another York Blues Festival finished and it was phenomenal. Good luck for the future, well organized, great sound and venue and the audience were very appreciative. Live blues music is back, go out and support live music, that's what it's all about. Until the next time, a big thank you to all involved with putting this wonderful event together!