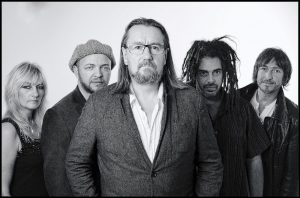 Blues Matters are excited to announce that we have a world exclusive – be the first to hear the new TBelly album "Dead Men Don't Pray"

British contemporary blues band TBelly will tour the U.S. this summer in support of their highly anticipated debut LP, Dead Men Don't Pray, due out on May 26. ​Dead Men Don't Pray is currently the No: 4 album on the global Blues/Jazz/R+B radio charts for April (#2 album in March) and the track "Respectable Man" was most added (#1) radio single for the month of March. The first official single, "Tie It On My Face," premiered on iTunes on March 17.
As former members of Les McKeown's Legendary Bay City Rollers, founder Russell Keefe and bandmates Kevin Magill (drums) and Ross Lardner (guitar) have toured the world and recorded multiple studio and live records. More information on TBelly is available on the band's official website.
With a voice reminiscent of Tom Waits, the Manchester-born Keefe has a distinguished career in music. Rather than rest on his laurels, however, Keefe is clearly focused on what lies ahead. According to Keefe, an unexpected batch of songs fueled his new bluesy direction: "I started writing the songs a year ago, and suddenly this blues style just came out. It suited my voice – and it suited the songs I was writing."
Bass player Riad Abji and backing singer Debs Bonomini fill out the band's roster. Harmonica player Al Richardson is also among the talented musicians on the songs that make up TBelly's forthcoming Dead Men Don't Pray. Keefe explains the process of making the debut: "We set up drums, we set up amps, we set up mics, and we played as a band – just like you're supposed to." He adds that the energy on the record is the sound of "people playing together and having a blast."
Recorded at the Brighton Electric recording studio and co-produced by Keefe and Paul "Win" Winstanley, Dead Men Don't Pray will be released worldwide on May 26 via Cabin Music/ECR Music Group.
TBelly's Summer Tour of the U.S
· Wed., July 29th – Parkside Lounge – New York, NY
· Thur., July 30th – World Cafe Live – Philadelphia, PA
· Fri., July 31st – Solly's Tavern – Washington, DC
· Sun., August 2nd – Capital Ale House – Richmond, VA
· Mon., August 3rd – Republic – Takoma Park, MD
. Wed., August 5th – The End – Nashville, TN
· Fri., August 7th – The 3rd St Dive – Louisville, KY
· Sat., August 8th – Uncommon Ground – Chicago, IL
· Wed., August 12th – Parkside Lounge – New York, NY
· Other dates to be announced shortly!
For more info on TBelly, visit the band's official website at www.tbellyband.co.uk, find them on Facebook or follow them on Twitter