We've been asking some of our favourite blues artists what their top 5 blues songs are – this week we've got Quinn Sullivan with his favourite tunes from over the years…
1) Muddy Waters – "Got My Mojo Working"
I first heard this song when I saw Buddy Guy cover it live on tour. I remember being in a trance the entire time and when I figured out that it was a Muddy Waters song, I immediately went to town and down the Muddy rabbit hole. This song defines everything that's so exciting about blues music. It's an uptempo song, feels timeless in a way, and takes you back to the early 60's. You can almost smell the blues clubs in Chicago and feel that energy through this particular song.
2) Buddy Guy- Sit and Cry (The Blues)
I came across this song actually by accident. I was surfing through old blues music one night and this song came on shuffle. Being so close to Buddy for so many years, I had not yet heard this song by him. I later discovered that this was one of the first songs Buddy had ever recorded. It came out in 1957, before Buddy had released a full length LP. This song defines the genius of Buddy Guy. When you hear his vocals come in on this song, you feel his pain, his energy, and his conviction. Then, when the solo comes in, the chills just flow down my spine every time I hear it. This is why Jimi Hendrix is Jimi Hendrix and why Eric Clapton is Eric Clapton, because of this brilliant and revolutionary, electrifying sound that began when Buddy came on the scene.
I've been a huge fan, like all of us, of BB for many years. I discovered his album "Guess Who?" later on in the game and became deeply affected by his playing and singing on this album. The title track is just pure bliss. It proves that less is ALWAYS more. BB just puts you in that relaxed state of mind with his playing. He had a way of bending the strings like nobody else has been able to do since. To me, that song is just absolutely beautiful. I turn that album up late at night and just go nuts on it.

4) Gary Clark Jr – Bright Lights
Gary Clark Jr. has been a favorite of mine since he came on the scene. I find him to be one of the coolest modern day artists we have. I'm also lucky to call him a friend. When I first heard "Bright Lights" back in 2012, it really inspired me as a musician to not be afraid to move into different territories musically and have a more "free" mindset when making music. He's brought the genre to a more modern place and continues to reinvent himself as an artist.
5) John Mayall and the Bluesbreakers – Steppin Out
As a guitar player, the opening riff to "Steppin Out" just speaks for itself. It's one of my favorite guitar riffs of all time. Eric's playing on that tune really stuck out to me as a young player. The sustain he gets from that 1960 les Paul plugged straight into that Marshall combo amp turned all the way up is just a vibe all the way through. Anyone can turn that record on and be blown away by the playing on that from start to finish. To me, it's one of the greatest guitar tones in music history.
And his favourite album of 2021 so far…
>>> Tash Neal – Charge it to the Game
My favorite album of 2021 so far is an album by an artist called Tash Neal called 'Charge it to the Game.' Tash is an unbelievable musician and songwriter. I first heard about him when I first heard his band the London Souls. I love the writing on his new album and his sense of melody. Definitely one of the best albums of 2021.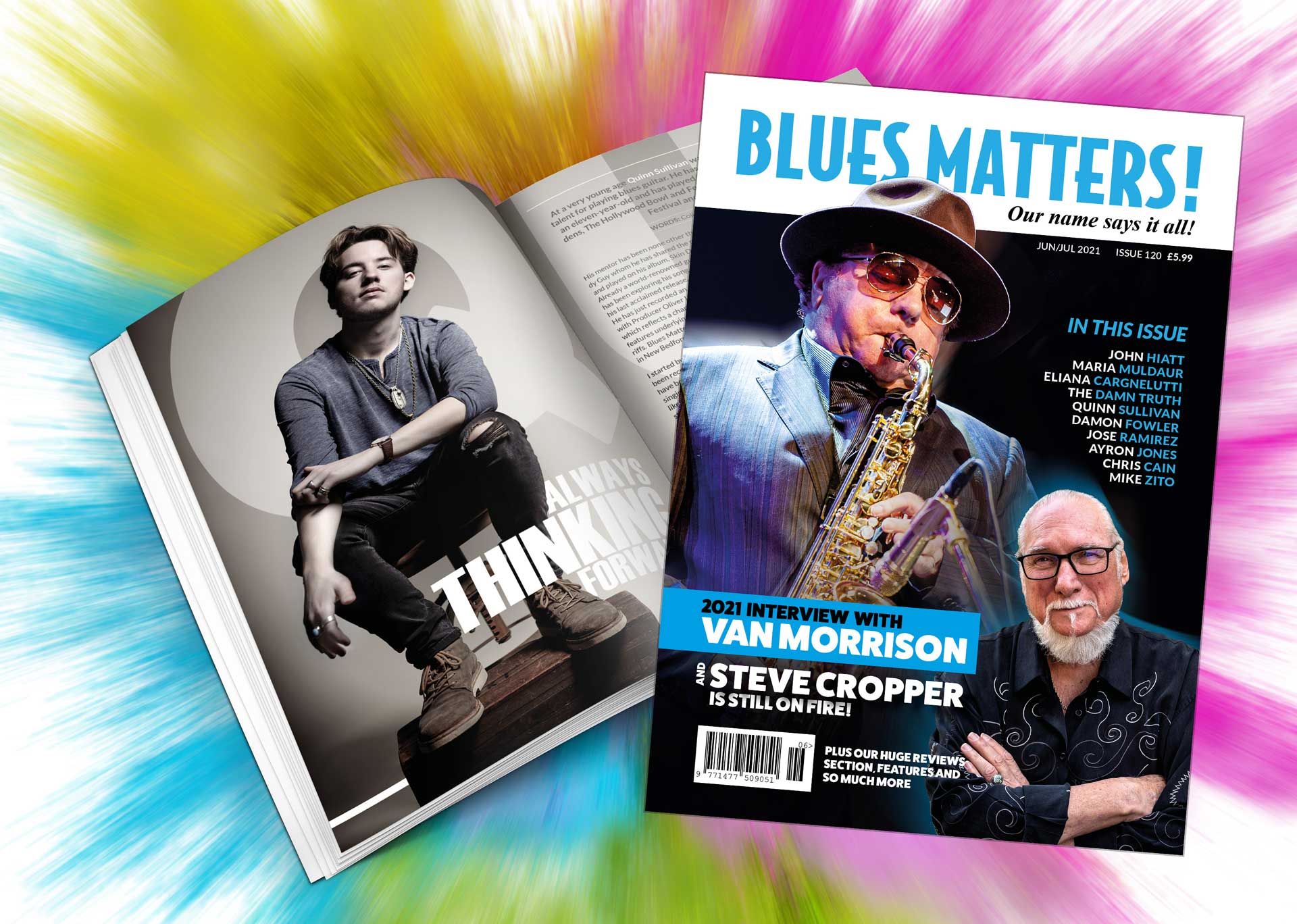 We interviewed Quinn in the June/July 2021 issue of Blues Matters – you can get your copy here and see what he had to say: