THE WATERBOYS Modern Blues.
Harlequin and Clown.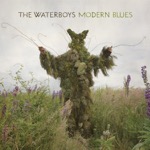 I thoroughly enjoyed this strangely different album. The Green Man featured on the cover is a fair indicator of the contents, both sensual and fertile in concept. Led by Mike Scott, this is an outfit that has been around for many years, undergoing various personnel changes through the thirty or so year's since they first emerged in 1983.
A fusion of Celtic influenced folk, rock and blues music, this release has an almost 1960s feel to it while at the same time carrying echoes of West Coast US harmonic genius and late 80s/early nineties UK rock. A bit of a toe-tapper, self-written and featuring some strikingly unexpected lyrics, Modern Blues fair whizzes along ripping the listener along in the slipstream. Song titles include the inspired, The Girl Who Slept For Scotland – as a Scot, it made me smile – Rosalind (You Married The Wrong Guy) and I Can See Elvis, a tongue in cheek homage of decidedly loose sorts to the old Memphis master.
There were times when I thought I could have been listening to early Oasis, although in fairness this band are probably and palpably more interesting and unique. Production values are high, writing is strong and musicianship tight and excellent throughout this nine-track package. All tracks flow together perfectly, rolling one to the other with ease and genuine class. Recorded in Nashville, this is, for me, a winner in the Americana-ish/light blues-folk scheme of things, for sure
IAIN PATIENCE