THE SIMON KENNEDY BAND Make Up Your Mind.
LOJO Records.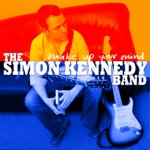 Simon is one of those rare people in music nowadays who want not only to play the blues but, they also want to pass on the message of the Gospel without making the music sound 'preachy' no, he simply wants you to enjoy the music and if you want to appreciate and understand the message within then, it is already there for you in the lyrics. He was born in Dundee, Scotland in nineteen eighty-one and as he was growing up his musical listening choices were the likes of Oasis and Blur or his dad's record collection, which contained a mixture of classic and contemporary blues music ranging from the three kings B.B. Freddie and Albert through to Mayall, Hendrix and Cream; it was an easy choice. By his mid-twenties he was proficient enough on the guitar to join his first band and over time he found his way into not only session work but, also into giving guitar lessons. He formed the band in the last year and they feature; Simon; guitar and vocals, Miroslaw Hodun; organ and keyboards, Carl Taylor; drums, Kenny MacIntosh; bass, Tony Sellars; tenor, alto and baritone saxophones and Jason Sellars; trumpet.
Together they have created ten tasty original numbers. Lord I Pray is a stunning funked-up Chicago/B.B. King guitar and organ fuelled blaster that only stops for a series of soaring and wonderfully screaming trumpet solos. The irresistible, Don't Let Them Turn You Around contains a gritty Curtis Mayfield strutting urban guitar feel about it, whilst, the confidently imperialistic striding of I, Ain't Opening The Door contains pleasant echoes of Led Zeppelin's Trampled Underfoot. The rousing, uplifting End of The Sunrise drenches you in a mixture of blasting triumphant horns, guitar and wailing organ. Recommended!
BRIAN HARMAN