STEVE HILL Solo Recordings Volume 1 / Solo Recordings Volume 1 1/2.
No Label Records.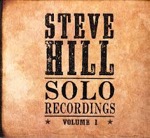 Montreal bluesman Hill won Best Album Of The Year Award back in 2012 with this raw one man band effort containing 12 tracks of rough and ready, bold and mostly self-penned blues. Hill sings, plays guitar, bass drum, hi-hat, shakers and opens with the self-penned stomper Ever Changing World. Love Got Us Blind is a fine slow blues and then comes a cover of Muddy Waters' Honey Bee featuring soaring slide guitar and thumping bass drum courtesy of Hill's left foot. Out Of Phase features slightly downcast vocals backed only by acoustic guitar as Hill laments a lost love. The familiar Jack Bruce/Pete Brown composition Politician gets an interesting funky treatment and Hill lets rip with a fierce slide guitar solo. Gregg Allman's gentle Ain't Wastin' Time No More has a country feel with nice finger picked guitar. Robert Johnson's acoustic Preachin' Blues is followed by the steady paced rocker Comin' Back To You. The album closes with Granted as Hill admits to his lady "I took you for granted, it's my fault, I know".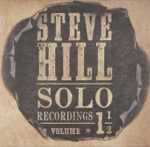 Volume 1 ½ opens with a stonking version of Barrett Strong's Money (That's What I Want) that will blow any cobwebs away. Nothing New is a slow blues that features Hill adding his newly learnt harmonica skills to the mix. Go On is a fiery blues-rocker and this short EP closes with Hill crooning softly on the gentle and wistful acoustic song Long Road. Both Volumes were recorded live in the studio with no overdubs and Hill handles this basic stripped-down approach well and has produced some great blues that hits you straight between the eyes.
DAVE DRURY