STEVE EARLE & THE DUKES Terraplane.
New West Records.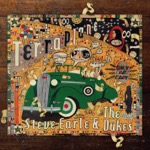 This is Steve's sixteenth album and he has focused solely on the blues, this decision came about whilst he was touring around Europe alone and armed with the skeletal ideas for numbers in his head; they became fully developed whilst in Nashville's famous House of The Blues studio D; with R.S. Field in the producer's chair. Together with The Dukes; Kelly Looney; bass, Will Rigby; drums, Chris Masterson; guitars and Eleanor Whitmore; fiddle and vocals, a fascinating collection of eleven numbers have been meticulously put together evoking the many moods and styles of the blues.
Initially the overall sound that emerges from the speakers is rich, dense and seemingly slow moving especially so with Baby, Baby, Baby where the harmonica led tramping shuffler consists mainly of the word baby but, once you get past that singular word and start to actually listen to the song you begin to appreciate the care and attention to detail that Steve lavishes on this album. On The Tennessee Kid, a sombre and morose, preacher like monologue is delivered to all that will listen, warning all and sundry of the perils of even considering dealing with the Devil; underneath the music swings to a low, darkly brooding John Lee Hooker inspired motif. Better Off Alone, is a slow building number, with a mournful fiddle and guitar reluctantly extolling the virtues of a solitary life after being wounded in various engagements on the battlegrounds of marriage. Acquainted With The Wind, is a mandolin, guitar and fiddle led jolly foot tapper that recounts the tales of a preferred life travelling on the road as free as the wind. King Of The Blues, is a brooding, buzz sawing, guitar slow burner, trampling all in it's wake.
BRIAN HARMAN