STEPHANIE MANNS Fool Like Me.
Independent.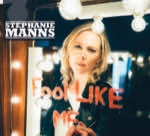 This Glaswegian singer/songwriter has been making waves with her brand of folk and blues-laced Americana, and I am pretty sure that this attention will only increase with the release of this excellent CD, the follow-up to 2014's Come Closer. Her assured, sweet but powerful vocals deliver songs of love and heartbreak in an authentic and often simply beautiful manner. The opening Vincent Black Magic is in itself a pocket introduction to Americana itself, with its fast paced, traditional country styled rhythm supporting Conor Smith's keening guitar work and Stephanie's own pure, high singing. The pace slows a little for Invisible, again with fine guitar work, and pitched perfectly between adult rock and Americana, a successful blend that recurs on Broken Heart, with a little pop thrown into the mix. Walking You Home has a bluesy acoustic guitar accompaniment, leading into the bigger arrangement of Bonnie & Clyde. Fool Like Me has hints of the blues and world music and is a masterful performance, a worthy title track, whilst the melodic Last Train Home makes for a wonderful closing number.
Although Stephanie turns in an impressive performance throughout, guitarist Conor Smith also deserves to be highlighted, though that is not to suggest that the others do not do their job well. They certainly do, and all concerned with this very listenable set should give themselves a pat on the back. Watch out for Stephanie Manns, you'll be hearing her name a lot more in the future.
NORMAN DARWEN