SARAH DUNN BAND You Or The Whiskey.
Audacity Records.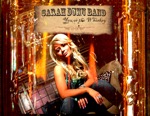 Twenty-five year old Sarah was born in Monet, Barry County, Missouri; as far back as she can remember her home was filled with music, mostly provided by her grandfather playing dextrously on the fiddle also, music by Bob Wills, Ella Fitzgerald and Tracey Lawrence, filled her young life. Sarah was determined on a career in music, so much so that to allow the thirteen year old Sarah to perform in public her mother created a band to play in the clubs of her home town. After meeting and striking up a musical partnership with her now lead guitarist Scotty Fell, they met bass player, Roger Caple and drummer, David Kawika in Tulsa, after playing a few tunes together they found that they had a connective chemistry and resolved to seek fame and fortune through playing the music they loved.
The ten numbers here are firmly rooted in the traditions of Country but, with the added brashness of the twenty first century, the ringing choppy guitar of Finish What You Started shares centre stage with a sawing fiddle, underpinned by powerhouse drumming, all the while Sarah's soaring and dominating vocals lead the way, this pace is continued on Backwoods Party, where a rocking mandolin duels with a rumbustious fiddle, in the background, organ and guitar give fine support. Sing Me Back To Dixie, is a fiddling toe tapper that has Sarah's vocals emotively pulling at the heartstrings. The slower ballad No Promises, concerns a love affair on equal terms, the fiddle and piano swing gently in the background. Ended With A Kiss, is in a similar vein. Anywhere You Go, has a melancholy Sarah reminiscing over a mournful fiddle and acoustic guitar and mournful organ.
BRIAN HARMAN