This Festival is proud to be the largest rural Jazz and Blues Festival in Scotland. It has been running for many years, but this is the first time this reviewer has been. Set in the beautiful Trossachs, Callander is a popular destination for holidaymakers, but this weekend was for live music aficionados and just a treat for the ocular senses.
Run over three days, this must be a difficult task to perform especially during these post-pandemic times. There was an air of expectation and a real buzz about the town as late afternoon arrived and so to artists and followers alike. Unfortunately, this reviewer did not get to see all the acts on show but made a fairly good try. Also, the bands chosen to see were rooted in the blues genre.
CALLANDER JAZZ AND BLUES FESTIVAL 2021
VARIOUS VENUES
Friday 1st October-Sunday 3rd October
Words and Pictures: Colin Campbell
The first artist to see was Al Hughes at a café/diner called Fat Jacks. Traditional blues played in a fine environment, his fingerpicking style and slide guitar playing were excellent. Can't Shake Off The Blues and Sunshine Two-Step particular highlights of a mellow straight traditional blues set. Just the right start to the Festival, sweet tones, gentle vocals and raw stripped back blues songs.
Next, it was a stroll up to the Callander Hostel to see Lights Out By Nine, who Al Hughes used to front, small world the blues circuit. They are a classic eight-piece soul, funk and rhythm and blues band, with the pulse being a three-piece horn section, keyboards and some very soulful lead vocals and great harmonies. The band played tunes from an extended back catalogue of originals, mixed with some carefully selected classic southern soul tracks which were much appreciated by fans and new attendees alike. Their musical styles varied during a very enjoyable set, a very professional and well-polished performance from a great musical unit, who also mix humour on stage, a great connection to an adoring public.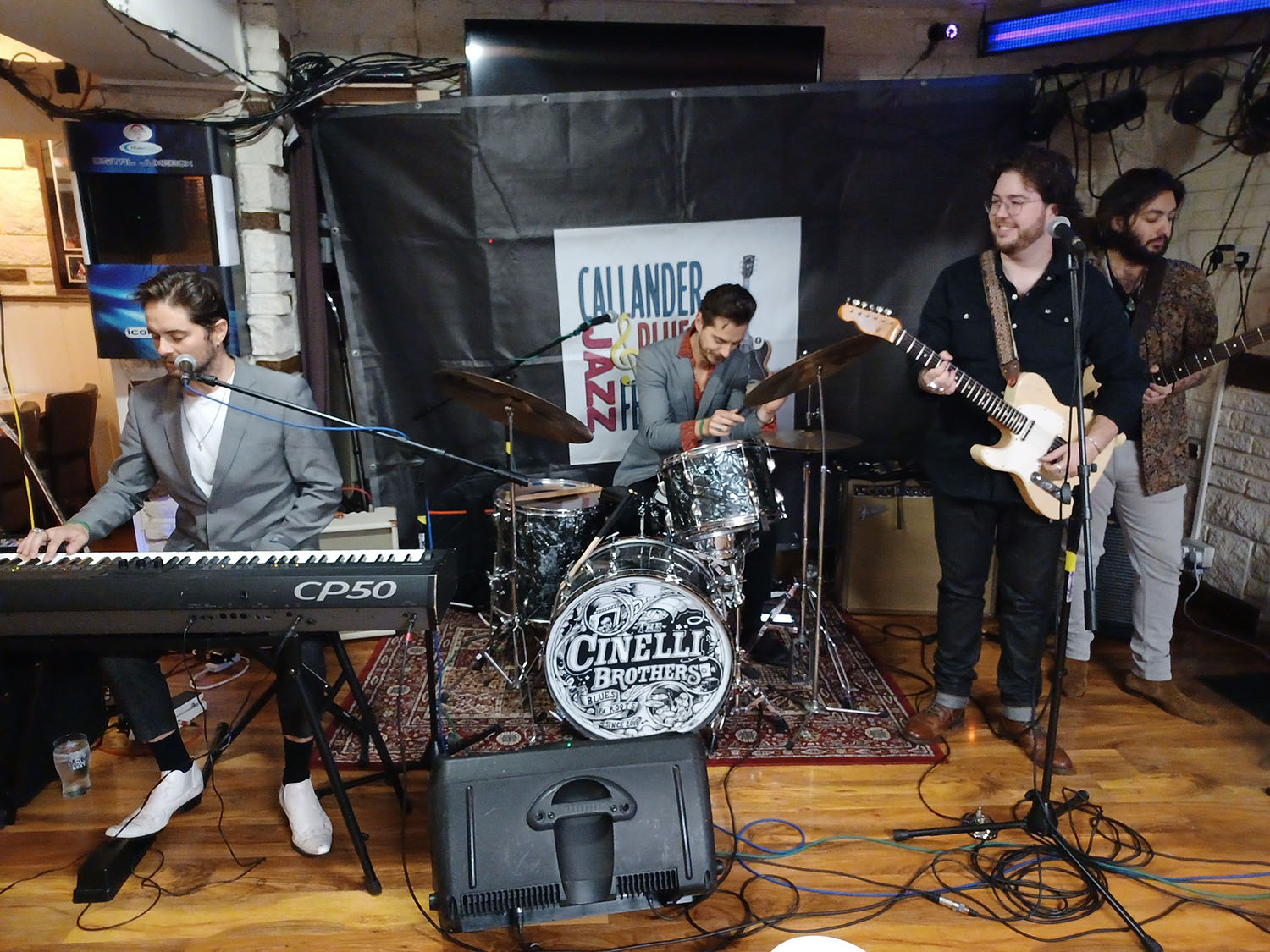 There was just enough time to catch a couple of tunes from Redfish Blues Band at The Waverley Hotel. They were nearly finished their set. The place was full and the new look band with Christian Sharpe on lead vocals sounded excellent as they played some old school blues covers including a fantastic version of Born Under A Bad Sign. Back to blues-based music for them, look forward to hearing new material from them soon.
This is a Festival that just keeps giving, next it was a chance to catch Dom Martin playing solo at Poppies Hotel. This was the highlight of the day, he was just mesmerising. Seeing him in a small intimate setting just takes your breath away. Sitting tuning up, an unassuming figure, but when he started playing his guitar and singing, the Belfast boy was amazing. He has charisma and that cheeky Irish charm when talking to the audience, he is very engaging and so truthful. He makes every audience member think he is singing particularly to that person and when he plays guitar, it is just a connective experience.
He played a lot of songs from his album Spain To Italy, songs of addiction, love, loss and relationships, especially with his father and songs like Antrim Blues and The Rain Came were delivered in such a powerful tone, no words could describe. This artist's star is quite rightly on the rise and is destined for more acclaim and awards, he has that feel for the blues and is evolving the genre with his own interpretation, a stunning memorable set. Nothing could beat this experience of seeing him on a live stage, he is that good!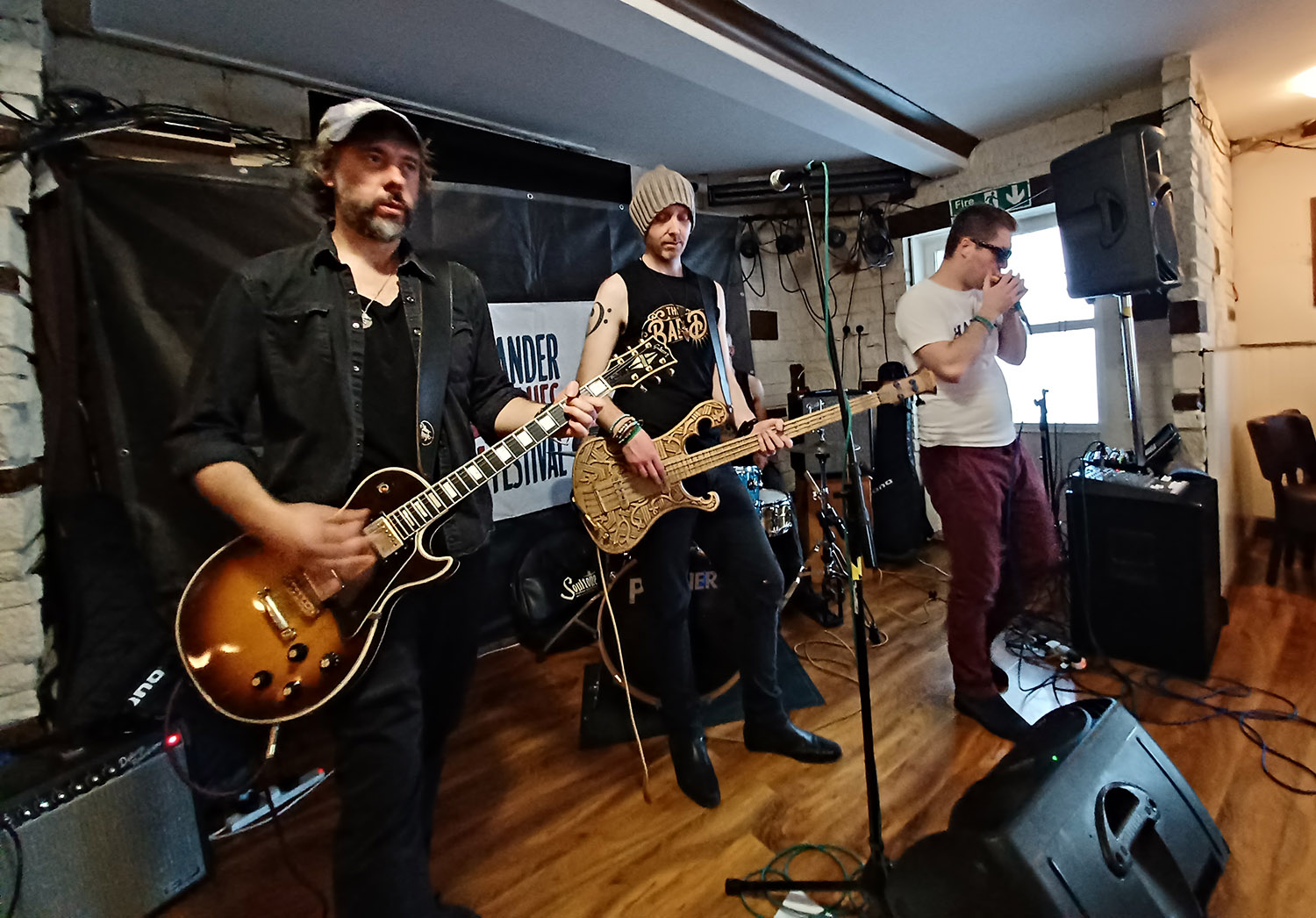 Well, where to go after this one, there was still time to get along to catch The Cinelli Brothers at a packed Waverley Hotel. On arriving, people were already dancing and enjoying the music and the band gave everything they had to make a great night.
They are all multi-instrumentalists and use each other's instruments during a performance. Their style is rooted in blues with a distinct Italian flavouring of electric Chicago and Texas blues styles. A young band they comprise of; Marco (guitar, keyboard and vocals), Tom "JJ" Julian Jones (Guitar, harmonica and vocals), Alessandro Cinelli (Drums) and Enzo Strano (Bass Guitar). What a tight and organised band this is, the chemistry between them is extraordinary.
This was a high energy performance lapped up by an adoring audience. The interplay between the band was amazing and when they get into a groove, this is incendiary at times. Sweet tones, great vocals, just a class act. Watch out for their new album Villa Juke Joint it's a grower. These boys sure know how to work an audience and keep the attention, smart and full of rhythm and blues, a band to watch out for!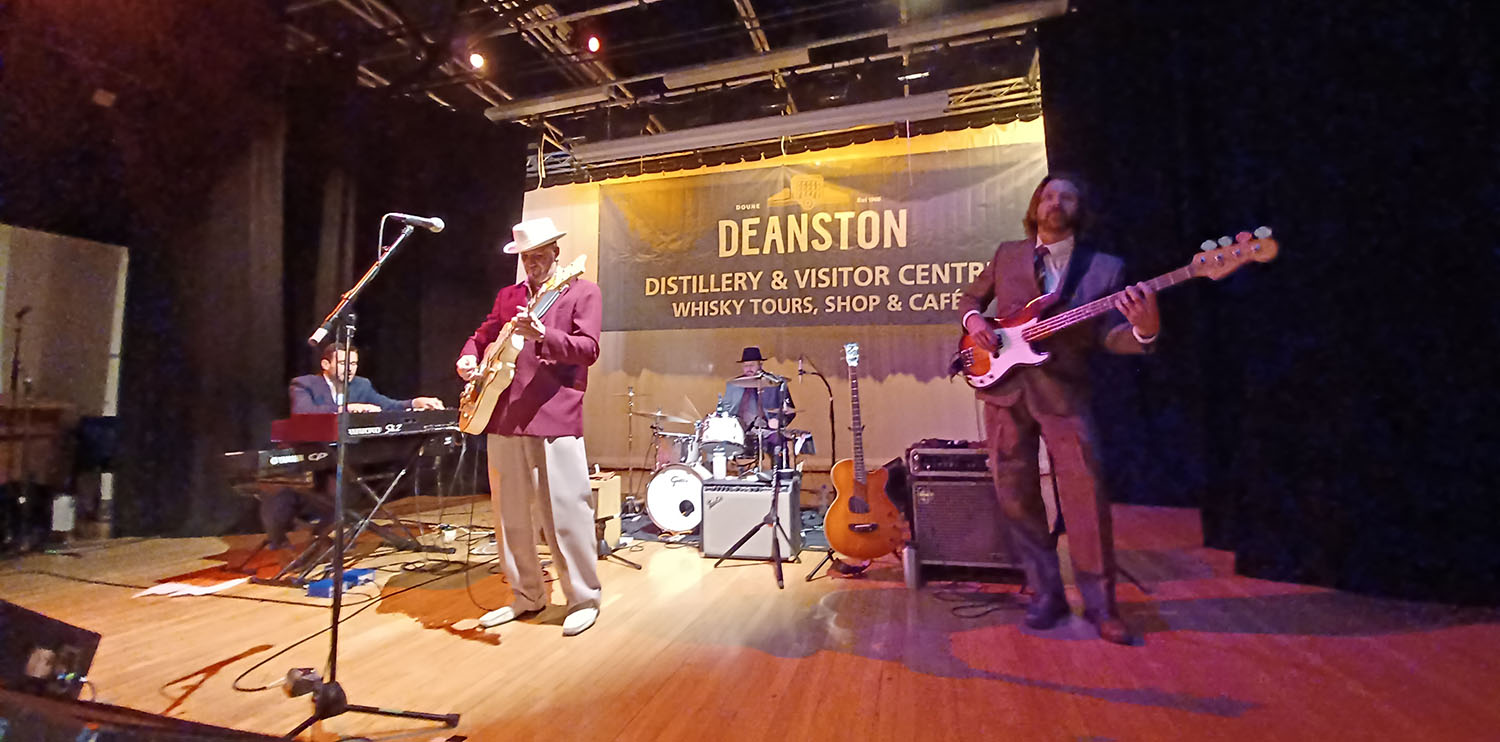 After a late night and hearty breakfast, it was a relatively early start 10 am to go and see Sister Gavin and The Gator at The Club House, an interesting venue, beside a crazy golf course, an outside venue. The weather was kind if a bit nippy sometimes but what a great set this duo put on. They have been wowing the internet with regular live streams on Sunday's today was a chance to see how they performed in a live setting with a few people attending, including Sister Gavin's newly born child! (Adele Gavin, vocals).
Ably assisted by her counterpart Iain Donald (Acoustic guitar and Resonator). They did two powerful sets, mixing mainly covers and performed their latest single Walking Free which was sung beautifully, a real soul-searching song along with some cracking rhythm and blues, stand outs being Love Me Like A Man, Susie Q and Fever. Iain's slide tones on his Resonator particularly punctuating throughout the set. They have a great rapport between them, and Adele's sultry vocals blend well with this musical style, a very pleasant start to the day, raw blues delivered with emotion and style.
Ambling up Callander High Street, couldn't stop myself from popping into Dalgair House Hotel to get another fix of The Cinelli Brothers and yes! they were as good as the previous night, these are hard working artists, a large appreciative audience were blown away by their groove and rhythm and overall stylish performance.
There was crowd participation and just a real buzz of excitement and enthusiasm. On leaving, it started to rain heavily, so made a dash to the McLaren High School to see The Revolutionaires, alas got there just when they had finished there first set. Today they were a four piece, with Ed on lead vocals, storming guitar and deft dance movements, he had his drummer, bass and keyboard players with him, and they rocked the joint. The break was fortuitous as was able to watch the dancers. Previously, Rock Til You Drop had a tutorial Jive Class and when The Revs came back on stage the dance floor was awash with dancers, just a sight to behold.
Roll Over Beethoven is a particular favourite. Unfortunately, being soaked it was difficult to join in! The band was brilliant, Ed starting to get a sweat on took his jacket off and the party got into full swing. The energy in the room was palpable and could have generated the whole of Callander it was so electric, another great set by the band to an already converted audience of revellers!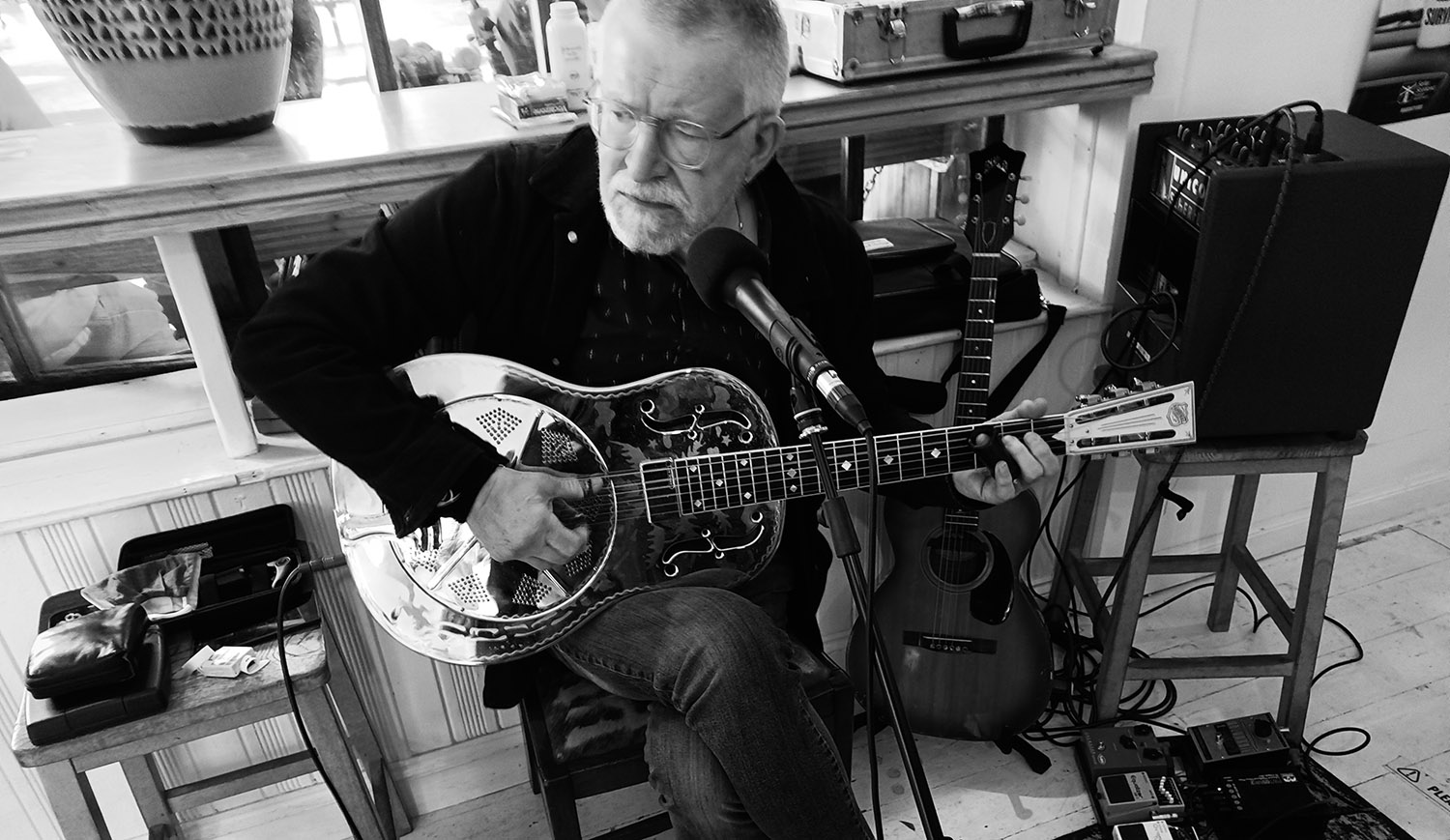 dgaturday afternoon at 3pm was another paid event and another chance to see and meet the wonderful talent that is Dom Martin. This time it was in a larger venue, The Callander Hostel and to a larger crowd. Again, he mesmerized with intricate guitar work, reality tales, humour and pathos. He mixed the set up and again delivered a five-star performance, sneaking in Rory Gallagher tunes and his own compositions.
He has a vocal that is so unique but drawing on the likes of John Martyn. He paid homage to Roy Buchanan with a stunning performance of Roy's blues. On the other spectrum, Spain To Italy was faultless and emotional, it just takes the audience to a specialplace, soaring guitar tones and sweet vocals, really can't say how good this musician is. He now engages with the audience and pours his soul into every lyric and note.
Saturday night, time to get a bit of rocky blues into the system. Only one place to go and that was Dalgair House Hotel to see the all-new line up that is the GT's Blues Combo. Greig Taylor frontman and lead singer has put together a powerhouse selection of very talented musicians; Dave Cantwell (Drums), David Cowan (Keyboards), Brian McFie (guitar) and Nelson McFarlane (bass guitar). Their set was incredible, mixing new original material such as the haunting Ain't Got You with rockabilly numbers like I Shoulda Known, another original. Tears In My Beer was a particular favourite, showing off a great tight band.
The second set was well received by a packed audience and started off with the Gospel infused None Of Us Are Free. Freestyle blues next with Buff's Bar blues and then an interpretation of a GT Boos Band classic, Crucifixion Blues. The Light, a new tune again was delivered well, slow tempo.
Then they exploded into rhythm with don't Believe A Word, the bassline a particular highlight. 3 Chords And Truth was a new one, well received and they finished off with a jamming version of Whorehouse Blues. This was a perfect ending to the set. Loud, energetic, pacy rhythmic, what's not to like about this band. A great ovation at the end summed it all up, what an atmosphere, blues, rock and boogie, phenomenal.
This band is hot property no mistake, catch them when you can!
It was time to crank up the noise level and go and see the Five Points Gang at Waverley Hotel. The place was rocking to the beat when entering the steamy atmosphere. This is a power trio in every sense of the word, they are the real deal and deserve much acclaim. They played a lot of tracks from their debut album Wanted.
They have diverse influences, and this is exciting to hear as their interpretation of blues songs is different and challenging. They comprise of; Welshman Joe Pearson (Lead singer and guitarist), Frenchman Gaet Allard (Drums) and Brazilian Dinho Barral (Bass Guitar). They put on a wonderful set full of bluesy rock tunes, funk and just full-on adrenalin fired boogie. Highlights were renditions of How Long, All Points Bulletin and the soulful blues number What Kind Of Man. Joe even did a walkabout, well as far as he could go, so crammed was the space. Dinho is just a sublime bass player keeping rhythm with Gaet on drums.
They are all so happy delivering their music style, infectious beats, a treat. Also, they covered Superstition and cranked the rhythm to eleven! As Joe says, "Live music is back", if all bands had this one's attitude, blues music will always evolve and feel the benefit. Another great day's entertainment, really spoiled for choice at artists to see and hear.
A late start for a Sunday saw another visit to Dalgair House Hotel to see Bad Day Blues Band. This four-piece outfit are a fantastic group to catch live. A superb mix of bluesy tinged rock and roll with a few twists along the way. They comprise of Adam Rigg (Lead vocals and bass guitar), Sam Spranger (Harmonica), Nick Peck (Guitar)and Herman Moura (Drums). They rocked out on Johnny B Good in particular which got the assembled crowd joining in and it just got better.
They played a lot of songs from their newest album Table By the Wall mixing tempos and vocal styles alike. Lead singer Adam controlled the set with great vocal range and rhythm with drummer. His bass guitar looks and sounds amazing.
Apparently, it was carved in Argentina from one block of wood, which certainly added a real tone to the performance. These boys have a built-in resonance and crank up the noise when needed and have a well-balanced sound. They have great energy and pacy delivery, very enjoyable, another band on the rise, catch them while you can.
Next up, another listen to Five Points Gang at Callander Hostel. A larger venue alas a sparse but enthusiastic crowd saw the band go through their paces, mixing it large and louder than the previous event. The acoustics were such that outside the venue you just knew there was a blues-rock fusion going on! The band rocked out and at one point bass man played drums and drummer played bass, switch was effortless.
Another fine set ended with the anthemic Five Points gang tune, a brilliant set from a truly talented trio. Time was passing so fast and just got the chance to see the mercurial talent that is Sean Taylor. He played a solo set at Dalgair House Hotel. One man, one acoustic guitar and a voice full of emotion and range that just has the listener mesmerised with wonder. This man is such a talented musician and storyteller. He has acquired cult status and really should be more well known. Going to his live events is like a transcendental feeling of warmth and human kindness. He played a lot of tunes from his newest album recorded during the pandemic called Lockdown.
He is articulate, intelligent and his vocal range is something between Leonard Cohen flavoured with Tom Waits. His music is based in roots and Americana, but he knows the blues and performed a truly amazing set. His medley of tunes with Lorca and heartbreak hotel were just sublime, they accentuated the wonderful guitar style he has and rearranging of standard songs. Pure talent shone through the whole performance!
This is in no way is a review of the whole Festival, just a feel for the differing styles of the blues genre. This was a very well-run Festival and considering there still appears some reluctance by some music lovers to venture out to small clubs and bars, overall, this was a well-attended event. Highly recommended, will be back for sure, absolutely superb.