Legendary Texan roots-rocker Rosie Flores has released a Charlie Sexton produced album on 15th February through The Last Music Company record label.
It's telling that Rosie Flores' e-mail handle begins "chickwpick…" In a long and eclectic career of singing, songwriting and performing, no phrase has ever described the San Antonio native better or more concisely.
But now, with the release of her latest album, Flores takes square aim at a genre she has only sampled heretofore. Simple Case of the Blues showcases Flores in a new light, as a seasoned performer steeped in life's uncompromising lessons.
Simple Case of the Blues was a long time coming. I got infatuated with the blues in high school. It was the first music I ever played," says Flores.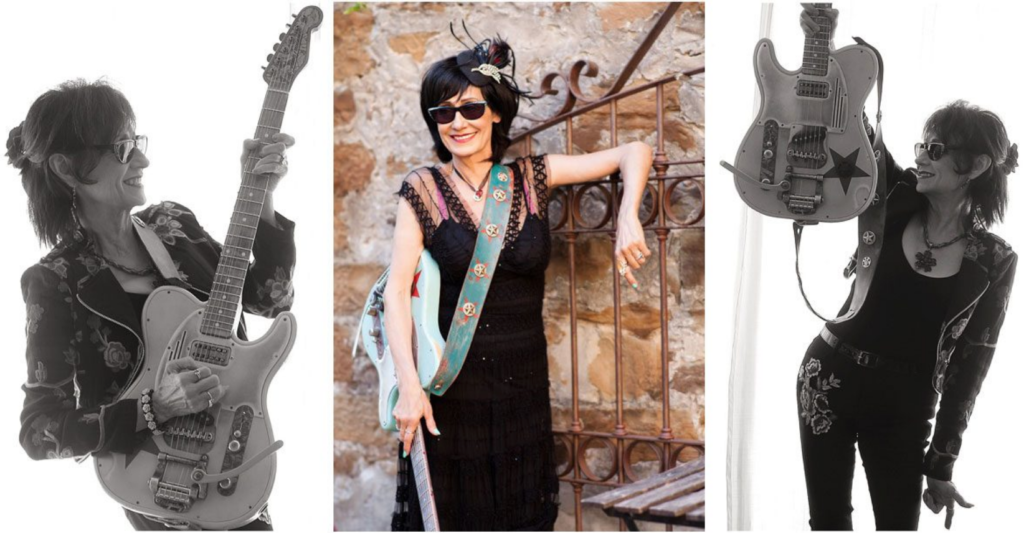 She returns to her roots here as a seasoned performer steeped in life's uncompromising lessons, lending her soulful voice and fiery guitar to songs by Roy Brown, Wilson Pickett, Heath Wilson, and a spate of new originals.
Co-produced by Charlie Sexton (Bob Dylan, The Arc Angels) who lends his hand on rhythm guitar; the album features Flores on vocals trading solos with master guitarist Kenny Vaughan (Marty Stuart, Lucinda Williams).
Rounding out the sessions are Dave Roe (Johnny Cash) on electric and upright bass, Jimmy Lester on drums, T Jarrod Bonta on piano, and Mike Flanigin (Jimmie Vaughan) on the organ.
"This is the music you make when you've come through joy and heartbreak and back again," Flores adds.
Since her early days on the seminal SoCal country scene at the historic Palomino Club, Flores has covered a lot of musical ground.
Over the course of four decades, she got knee deep in punk, before shifting to alt-country, rockabilly – working with originators Wanda Jackson, Janis Martin and Sonny Burgess amongst others – and beyond, including a spell as a member of Asleep At The Wheel.
Along the way, she made history as the first Latina to chart in Country music, won a Peabody Award, and released several critically acclaimed albums. She has been profiled in Guitar World, Premier Guitar and Guitar Player magazines, and is ranked among the top female guitarists of all time.
Flores has released a number of critically acclaimed albums—among them, her solo debut, 1987's Rosie Flores, 1995's Rockabilly Filly, 1999's Dance Hall Dreams, the acoustic live set Single Rose in 2004, 2009's Girl of the Century and, in 2012, the aptly-named, self-produced Working Girl's Guitar for Bloodshot Records.
But Simple Case Of The Blues, recorded in Nashville and Austin (the city she has called home for decades), might just be the best one yet.
UK dates to be announced soon.
For More Info – Rosie Flores