Review: EALING BLUES FESTIVAL 2013, SAT 20th & SUN 21st JULY
The 26th Ealing Blues Festival was properly kicked off by Paul Cox and his crew of gifted musicians. Paul strutted on the Main Stage with his band The Proof as though he owned it. Very soon he had the audience in the palm of his hand. Opening numbers That's The Way I Feel, Don't Lie To Me and Walking On Sunset, all from his previous albums set the pace for the next 90 minutes. Credit must also go to his band, Roger Cotton (keyboards), Mike Summerland (guitar-a star in his own right!), Pete Stroud (drums) and the dapper Nigel Hardy (bass). The set climaxed with cuts from his new album The Proof with Until The Well Runs Dry, I've Got The Proof, Cold Cold Feeling and I Feel So Bad. The festival was off to a blinding start. Meanwhile, on the South Stage the Jules Carter Trio were getting things going with brilliant covers of Cream, Hendrix, Steely Dan done in a Clapton mode but with an original style. Definitely a band to look out for!
Next on the Main Stage were Dale Storr's New Orleans Big Band. Dale is a barrel -house/boogie piano player with a fantastic Louisiana feel. Tunes ranging from Allen Toussaint to Dr John via Professor Longhair certainly brought the temperature up in the big top arena, especially the female brass section featuring Dale's wife Kim on sax
Over in the South Stage, I caught the final three songs from Glorious Fools, a duo consisting of Doug Melbourne and Nigel Appleton doing their interpretations of the John Martyn songbook. Brilliant is all I can say (it made you think about getting the Martyn albums out when you got home).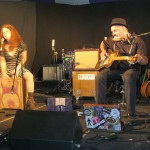 They were followed by the duo Babajack who were the surprise of the day in my opinion, sensational in originality and passion. Becky Tate, with her unique vocal style and auburn hair flowing in all directions, playing hypnotic percussion on her cajon (box drum) with her partner Trevor Stegar on homemade guitars and stunning harmonica. This was their first trip down south and it won't be their last (in fact they will have been at the 100 Club on 24th September). They certainly deserve being nominated for five blues awards this year.
Next on the Main Stage were Northsyde fronted by Jules & Lorna Fotheringill. Jules is a guitarist of the highest quality, full of amazing fluidity and Lorna is the perfect blues vocalist. Their take on Phil Collins' In The Air Tonight was a revelation. Get The Funk Out was different, Mercy from their first album and Hard Shoes showed what a perfect festival band they are.
On the South Stage, The Blue Bishops, a great blues band veering on the R&B side. From the start they had the audience whooping and cheering and going berserk. With 3 stages I couldn't catch everyone, and I missed Ealing band Jump 66 who I was informed wowed them on the Bar Stage with their stylish barroom jump/swing blues.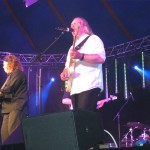 Finally on this hot humid Saturday night, Robert Hokum's (the man behind this weekend) new band The Devil Drives took the stage. They must be the funkiest blues band on the circuit. Most songs were self-penned, The Gospel According To John Lee Hooker, All Play No Work and Don't Miss The Bus – what a way to finish the first day.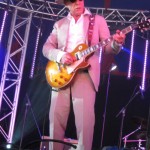 Sunday, first on the Main Stage were The John O'Leary/Alan Glen All Star Blues Review. Kicking it all off was John O'Leary (Savoy Brown, Sugar Kane) with Born in Chicago, followed by Papa George (guitarist extraordinaire) giving us T-Bone Shuffle. Don Craine (Downliners Sect) complete with hilarious anecdotes did All Night Worker. Ali Maas followed with her version of I Just Want To Make Love To You. This girl is also a star in the making. Papa George then did Built For Comfort, he must be one of the most underrated guitarists on the circuit. Steve Morrison set the stage alight with his unique slidework on Baby Don't Go and a blistering version of Up Country. Ali Mackenzie (Birds) and Laurie Garmain (Yardbirds) with their versions of Walking By Myself and Hoochie Coochie Man became a vehicle for community singing. Ali Maas returned with Ali Mac and closed the set with Don't Lie To Me and Got My Mojo Working. Alan Glen (guitar and harmonica), Pete Miles on drums and Glyn Evans on bass must also be mentioned – what a solid backline!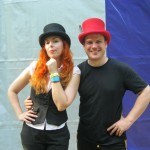 On the South Stage, Rabbit Foot were the big surprise on today's line up. A duo from Brighton – their take on the blues is original, fun and back to basics – tribal blues. Swamp Boogie and Suite 136 were just two of the highlights. Another band to watch out for.
On the Main Stage were Never The Bride with iconic Nikki Lamborn and Catherine Been Feeney. They say they are the rock and roll end of the blues but if you sound like Janis Joplin you must be getting close. They ran through their catalogue which included The Living Tree (which Shirley Bassey recorded), James's Brown's It's A Man's World and Mercedes Blues. They certainly won themselves a new audience this afternoon.
In the bar, Mark Harrison educated a lot of people with his authentic acoustic self-penned blues. The Spikedrivers on the Main Stage with their take on down home in your face blues. Constance Redgrave had me enthralled with her vitality and the slide guitar of Ben Tyzack made the whole thing a real experience. Sam Kelly on the South Stage did his usual kick-ass set judging from the crowd but unfortunately I didn't get to see him and his friends. At this point, due to prior commitment I had to leave, and I didn't get to see Dr Feelgood, which was a shame.
Credit must go to Artistic Director Bob Salmons (a.k.a. Robert Hokum) and Ealing Council for putting together the Ealing Blues Festival  – a brilliant weekend of music, which with 20+ acts, 3 stages and a 2 day ticket for only £8 confirmed its place as not only a Premier Blues Festival, but probably the best value one too!
Bob Bonsey
Links:
Ealing Blues Festival: www.ealingsummerfestivals.com/events/blues-festival/