Advertisements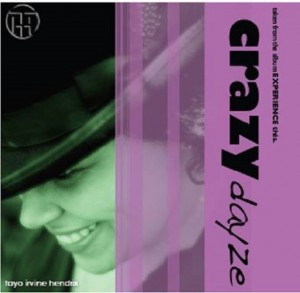 TAYO IRVINE HENDRIX has music running through her veins. Since being given a drum at three years old, Tayo has developed a love of music and a sound of her own that is perfectly encapsulated by her new single Crazy Dayze taken from the album EXPERIENCE this. The syncopated jazz rhythms along with stunning guitar flourishes, an infectious bass line and Tayo's sultry vocals make this an irresistible blues track. Tayo's lyrics are the sort that stay in your mind long after the music has stopped, making this a sure fire hit for the songstress.
EXPERIENCE this is a collection of songs that takes each listener on a journey. The album showcases Tayo's stunning and powerful voice as well as a wide range of musical influences. Alongside the blues and soul elements, Tayo's work as a healer has also helped to shape the sound, bringing mantras to the mainstream and creating an accessible sound. Throughout her thirty years in the music industry, Tayo has had the honour of working with some incredible musicians and this album once again saw Tayo bring together a stellar team. Tayo Irvine Hendrix is a drummer, percussionist, vocalist, songwriter and composer, a true creative who was undoubtedly destined for the musical world.
Her famous name aside, Tayo's music is, as suggested by the album's title, an experience. Crazy Dayze is a perfect introduction to Tayo's musical landscape, and with her zest for life shining through, Tayo Irvine Hendrix is taking back the blues in style. Crazy Dayze will be available for download on iTunes from 9th September.
EXPERIENCE this is set for release on 23rd September.
Advertisements