Podcast: Roger Cotton – A Sound Man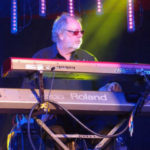 British musician and producer Roger Cotton interviewed in February 2014 in his sound studio in Horton Kirby in Kent, Roundel Sound Studios.
Over a cup of tea and seated by the main mixing desk, Roger talks about his career including as a keyboard player with (among many others) Peter Green's Splinter Group, and producing, meeting or playing with BB King, Buddy Whittington, Larry Garner, Cozy Powell, Dr John, Hubert Sumlin, Otis Rush, Honeyboy Edwards, Roger Whitaker, Tony Hadley, The Damned, Green Diesel, Swinging the Lead, Snowy White, John Mayall, Charlie Fabert, and Jimmie Vaughan.
Roger also talks about his current band, The Proof.
The interview also covers how to get the right sound for albums produced in a studio and recent and current clients including The Sharpees Maximum R 'n' B Band.
Roger also discloses why people keep on giving him bottles of whiskey….
Originally posted at http://nowinfocus.libsyn.com/roger-cotton-a-sound-man