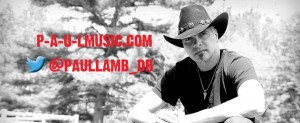 Following our recent blog titled The Americans are coming, we very briefly interviewed one of those Americans as he was about to leave the United Kingdom.
His name took up quite a bit of the interview, for his band is P-A-U-L Lamb and the Detroit Breakdown, which would get even longer if you used the names behind those initials – Paul Andrew Ulysses Lamb. This is at least the sixth year Paul has brought his Detroit Blues-Rock to the UK, and his appearances are welcome, for Paul plays with passion and writes some fine songs. Paul also stands out for his looks, being tall, dressed in black and with a black cowboy hat completing his outfit when we saw him.
We asked Paul about his background, "My father was a teacher. He said, you have a microphone every day. Use it. Make a difference, he always told me. I sing to make a difference, it's my contribution to the universe."
So, what music does Paul play? "I'm  not locked in the Blues box, but I am at the Rock end of the Blues. I can play acoustic too. It's all Blues, when you come down to it."
Certainly the first track we heard Paul play, Stand Up, had a stomping beat and sounded more Steppenwolf than Son House. He can play it slow too, and other stand out parts of the Paul sound comes from the dynamic drumming of Layla Hall. Another music officianado described her when we saw her as "the best female drummer you'll ever see". Then there is some fine bass playing – Paul's bass man pulled off a really classy bass solo when we saw the band play, no mean feat. Finally, we're yet to learn if he means it when Paul sings The drinks are on me, but it is a fast, furious, powerful song and a highlight of his set.
Paul and the Detroit Breakdown will be back in the UK in November. Look out especially for their gig in Wolverhampton at the Robin 2 on the 19th.  Paul will also have a new album to showcase by then. In the meantime, Paul is writing for us about his time in the UK, which should make for an interesting read.
Links
Paul's website http://www.p-a-u-lmusic.com
Paul's Twitter https://twitter.com/paullamb_db
Paul's Facebook https://www.facebook.com/TheDetroitBreakdown
The Americans are coming blog http://www.bluesmatters.comblog/the-americans-are-coming
Robin 2, Wolverhampton http://www.therobin.co.uk