Advertisements

Well, I am sitting here in Stromness situated on Orkney Mainland at the end of what has been a wonderful weekend of music. Due to the storms have had to wait another night to get back to Scotland but that is another tale all together. Suffice to say all involved with the festival had an Orkney blast. Like a child in a sweet shop, I wanted to see every act involved alas this was not possible so will give a general view and opinions on how things panned out….
IMAGES & WORDS : Colin Campbell
First location visited was a public hostelry called The Ferry Inn like all venues this was within UK Blues Festival staggering distance. Playing here was a local duo (Ann McTaggart on vocals and Andrew Want on guitar) called Almost Blue who played an eclectic set that included songs from different decades and styles, including The Kinks, Dead End Street played to a laid-back guitar beat and some good harmonies from female singer and male guitarist.
The opener was Tom Waits Friday Had Me Fumblin' and was sung with gusto and feeling to a small appreciative audience. Nowhere cover, Down In The Hole took us to the church with fine vocal harmonies. Teenage Fanclub's The Sun Won't Shine On Me was wistfully sung to a laid-back rhythm a lovely tune played well. Twin guitars for The Waterboys classic Fisherman's Blues was upbeat and catchy. A fine set from an accomplished duo as an appetiser for things to come. Before going to the main stage at The Royal Blues Club in the Royal Hotel, managed to sneak into The Stromness Legion to see another Orkney based band Pleepsin Joe who were funking things up.
They are a four piece and who do some covers as well. Lead singer is sassy and delivers vocals with a powerful tone interplaying well with lead guitarist and rhythm section. Radar Love was a particular favourite, and they took this one to the maximum power level. Punchy blues rock feel to that one a very competent and professional band proving Orkney has many talented musicians.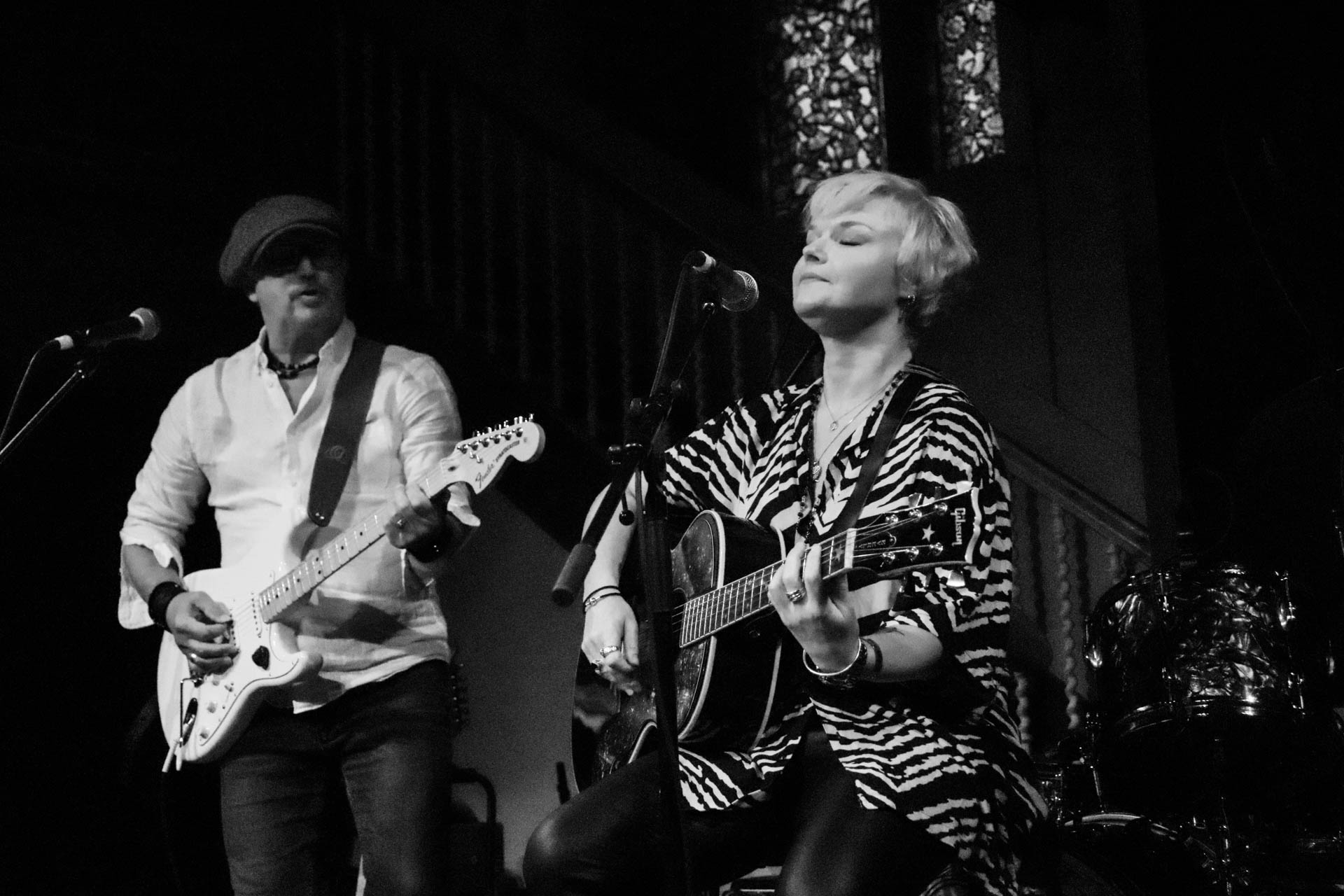 On to The Royal Hotel for the rest of the night then. This venue was the Blues hub, great staging, and particularly wonderful sound this had that feel of a Club and was packed out most the time over the weekend. Also, must mention that night on another part of the Island bands were playing in Burray Hall which was also well attended. Rebecca Downes commented on the local talent on display there as "impressive."
Anyway, digressing apart, it was upstairs in the Royal Hotel where the action was in Stromness tonight. First up another local band collectively called Craig Randell & The Helly Buckles. They consist of; Craig Rendall on lead guitar, Jamie Anderson on bass guitar and one of the main organisers of the festival the amazing workaholic Dylan Pepper who also plays in other bands, notably Andy Taylor Group. They played an eclectic mix of covers and their musicianship and chemistry were palpable.
Blues rooted tunes with their own brand, included Merle Haggard's Working Man Blues and Danny Gatton's Funky Mama an outstanding instrumental from a tight band. An added bonus was when James Oliver also sat in with them for tunes including a rocking version of That's Alright Mama, just raw power on that one, lapped up by an appreciative audience. Last tune saw their country music side with a blistering version of Marty Stuart's Country Boy Rock And Roll. Something for any music lover. Dexterous guitar work, great rhythm section thoroughly entertaining.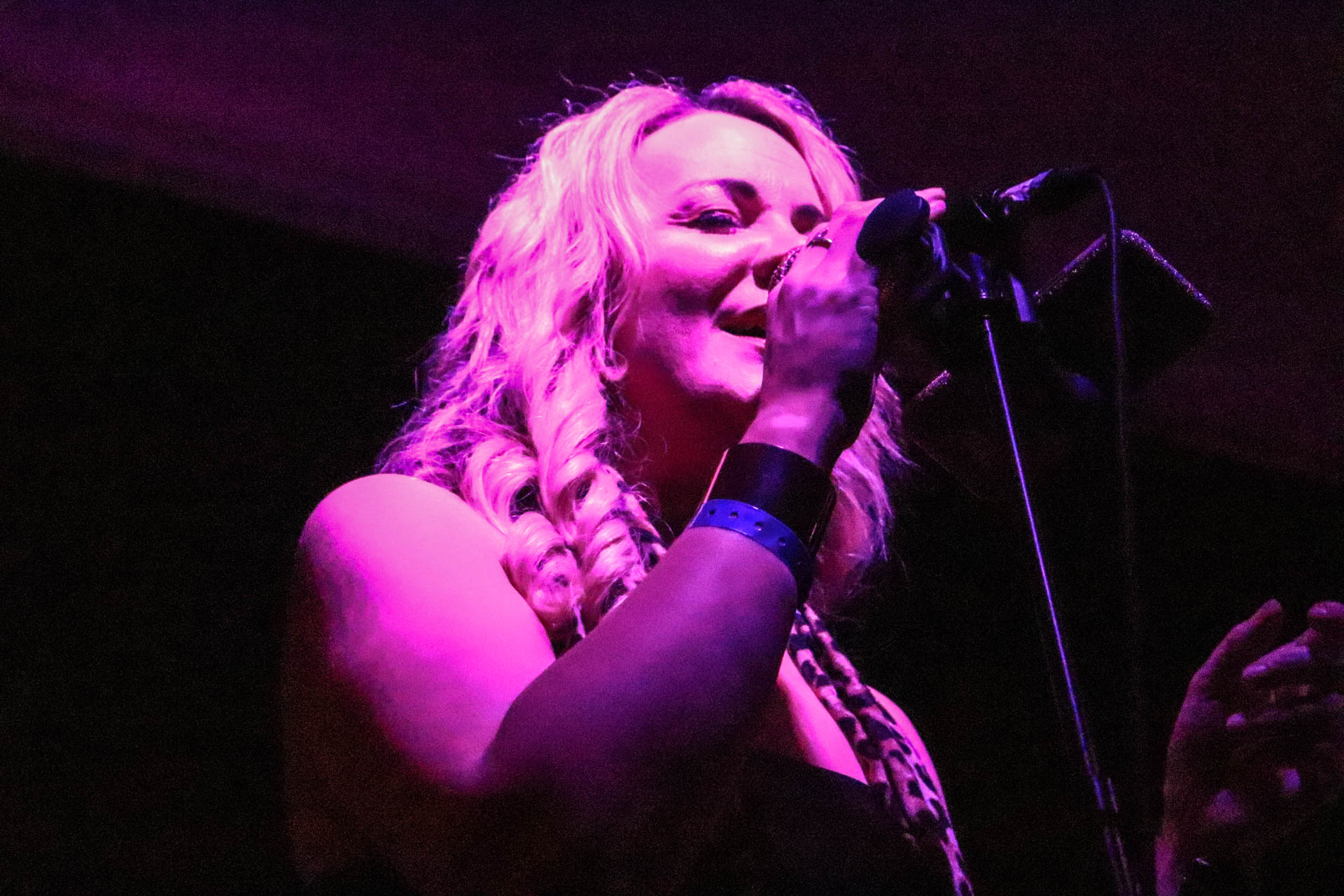 Another local band next; Bad Apple, a five-piece band mixing funk blues and soul. Lead vocalist Leah Seator is a real find, a great singer with power and passion throughout the well-chosen set. Starting with Road Runner which was well appreciated by the audience. Bonnie Raitt's Love Me Like A Man was delivered well sharp clear vocals and bluesy guitar licks made this a highlight. Also, they The Breeze was another outstanding song, great guitar solo noted. The band funked things up with I Wish and ended the set with a great heavy Funky version of Play That Funky Music, a band to watch out for.
There were noticeable quick changes of acts throughout the event, drum kit was supplied by the next band on, the effervescent Cinelli Brothers who like the other touring bands (James Oliver, Rebecca Downes, Liz Jones, Andy Taylor Group and Tommy Bentz Band) played all three days! Suffice to say they put on an amazing show mixing musical styles, playing each other's instruments, jamming sometimes, looking sharp and their enthusiasm to entertain is just breath-taking at times. They never play the same set, and this weekend was no exception. They started with Everything's Gonna easing into the groove. Then, I'm Shaking raised the tempo and it was time for the boys to let themselves just do what comes naturally, entertain, and connect with each other and the audience.
Grandchildren Of The Blues was just an excellent multi layered tune that took a twist of its own full-on old-time rhythm and blues, pulsating with feeling and attitude. They finished with a Vince Gill song, One More Last Chance leaving their adoring public wanting more. The energy in the room was more than electric and this continued when The James Oliver Band started their set.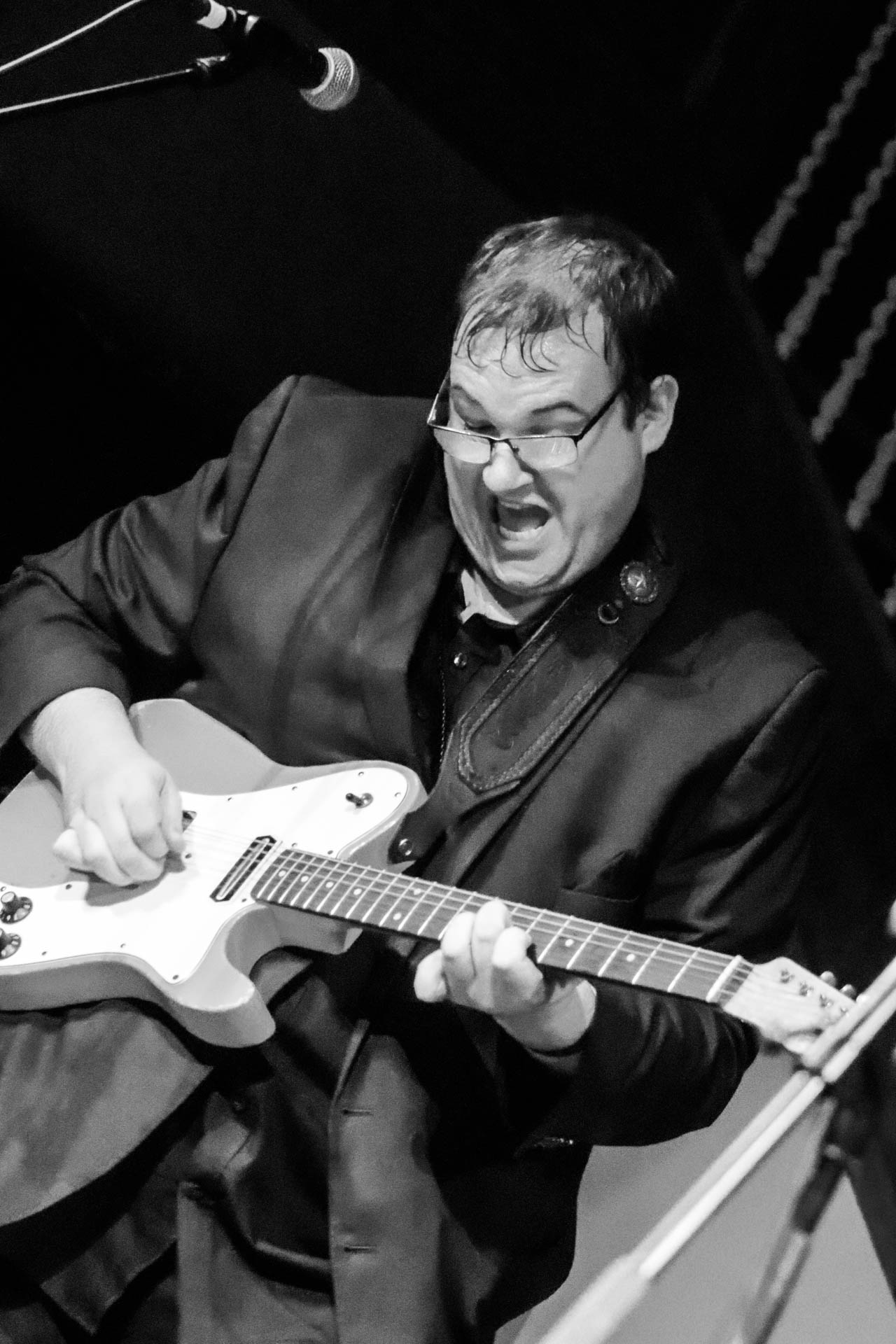 James Oliver is unique in every way; his guitar work is exceptional and is the hardest working musician in the UK. On and offstage he is the same person, no frills what you see is what you get with the Taffy Twanger.
His one liner jokes are as incendiary as his guitar playing. Assisted by a fantastic rhythm section this trio can fill a room with energy, passion and overall fun-loving and feelgood tunes. There was blues, rockabilly, rock and roll in the set, starting with Matchbox then Tear It Up the tunes were coming thick, fast, and up-tempo. Let's Have A Natural Ball was delivered effortlessly. His originals were quirky and paced, such as Mean Little Mama and The Only Thing I Lack Is A Cadillac.
Paying tribute to the Blues masters he played My Baby Caught The Train and his dextrous playing through Hideaway must be seen to be believed. He played some surf music then played American Cars before finishing with Shotgun Boogie. Absolutely amazing musicianship by a band at the top of their game very impressive and that is just the first day!
First off today was some musical education! Managed to attend Stromness Community Centre for a Singer Songwriter Workshop with Rebecca Downes and fellow band member and co-writer Steve Birkett.
This was a highly informative and insightful session to a small gathering but that included two thirteen-year-olds. Topics varied between writing lyrics, where melody fitted in and ideas for where songs came from. There was even time for an impromptu behind the scenes take on how their song Night Train had been composed. Best advice of the session: "Don't get too self-conscious."
Next it was time to go to the Pub again! This time The Ferry Inn where Liz Jones and some of her band The Broken Windows (John Bruce on electric guitar and Suzy Cargill on percussion) were performing a short set before an Open Jam session, which sadly did not materialise due to other artists being other places, such is life. This Edinburgh based trio played a stripped back set, an eclectic bunch of tunes, mostly originals, but starting with an ethereal take to a John Martyn tune, I Don't Wanna Know. No Classic Love Song had an old-style classic twenties feel. Liz is a superb vocalist and here seemed to channel her inner Bonnie Raitt delivery to raspy vocals.
Mother Earth, another original again had melodic tones. Jesus, a song inspired by a friend who looks like him had groove heavy beat and superb lyrics, interspersed with understated electric guitar licks from John. Some well-crafted songs, a real feelgood easy going vibe throughout, well received by a listening audience respectful of the band.
Later, it was a different venue that took centre stage. Billed as The OBF Headline Concert, it was time to go to the Town Hall. It was packed with people a great night was had by all. Starting proceedings was the Orkney Rocks Choir. They finished with a medley of tunes, expertly sung and orchestrated.
The joy on the choristers faces lit up the Hall and the harmonies were excellent, a great uplifting experience.
Next on stage were Rebecca Downes and Steve Birkett who played a stripped back set of their band's tunes. Both played guitar and sang and filled the auditorium. Indeed, they did play Night Train which they alluded was a homage to Robert Johnson and was played superbly. Rebecca's vocals were never better than on Sailing On A Pool Of Tears and Steve's slide guitar play also excellent on Belief. Blues tinted music as they would call it, raw and emotional this reviewer calls it.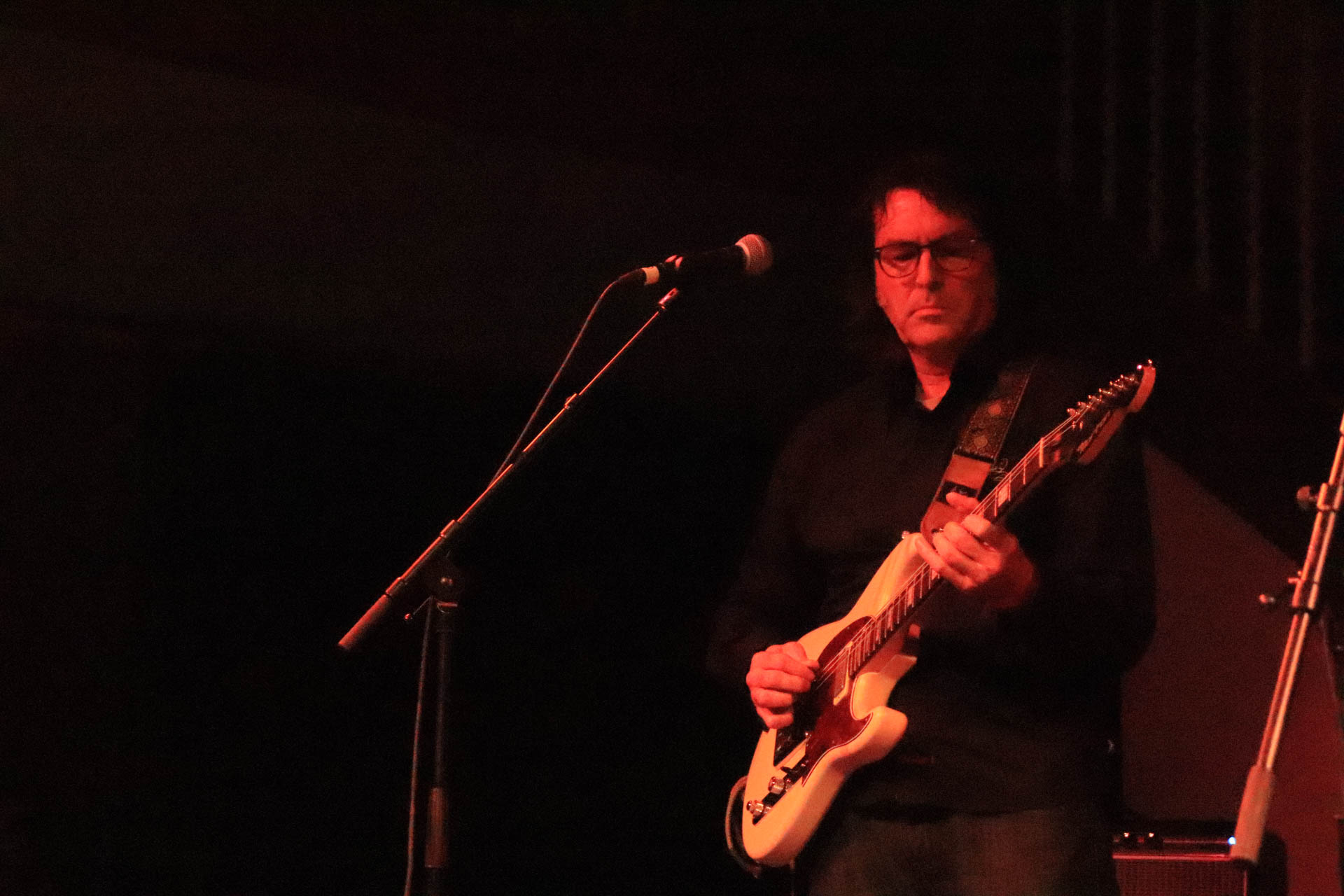 Next up was a local band Saltfishforty, a trio comprising fiddle (Douglas Montgomery), drums (Erik Laughton, a guest!) and on guitar and vocals (Brian Cromarty), the Orkney way! They were electrifying from the start, blending traditional folk with blues rooted tunes, such as Short Day Blues.
They came for a party and my did the crowd lap up their material. Amazing musicians, full of patter and fun playing foot stomping enjoyable and entertaining tunes, what is not to like! The Ballad Of Pirate Gow was sensational, a hybrid of the Pogues meeting John Lee Hooker.
They also played Breadbin Blues the lyrics to do with a hangover, punctuated by some stylish blues fiddle. The ballad; Hammars of Syradale was poignant. Definitely a festival favourite. Next, Liz Jones came onstage with her trio and played a blistering set, starting with JJ Cale's Riverboat Song, full of bluesy tones and riffs to a laid-back beat. The originals, Strum and Jo were remarkably interesting and well received by the massed crowd. Final tune their take on Sippie Wallace's tune Women Be Wise was breath-taking a wonderful rendition from a quite outstanding band.
Next saw a stage full of musicians paying tribute to Robert Johnson and others called King Of The Delta Blues, they included Fiddle, drums, double bass, electric guitarist and guesting on keyboards was Marco Cinelli. This was a great jam with a lot of local talent on display including Bad Apple's lead singer belting out the blues standards. Highlights being Rolling and Tumbling and Crossroads, an impressive set again by consummate musicians.
The Tommy Bentz Band took stage next, another blues trio with Tommy on lead guitar and vocals and rhythm section. They played a notable set enjoyed by the audience. Some superb guitar playing throughout the tracks, great blues riffs, and superb vocals. They played a lot from the newest album 1000 Reasons, including Wrong Road, where Tommy played amazing slide guitar.
Love Me To The End was full of rhythm, a good bluesy set including some jump blues, great band. James Oliver Band next played another powerful, energetic set of tunes in their own inimitable style. This man is a guitar master, blending all types of genres and styles to perfection and his persona on and off stage is the same, he is a gentle genius, unique in all aspects!
A consummate performer and a firm favourite of Festival goers. If you have not seen him play live then do it, you will not be disappointed. The Twanging Taffy goes from strength to strength and is at last getting some notoriety. His originals such as American Cars and Real Mama are classics. We are privileged to have such a talent in the UK. Last on tonight were the incredibly talented Cinelli Brothers; Marco Cinelli on guitar and keyboard, Alessandro Cinelli on drums, Tom JJ Jones guitar, vocals, harmonica, and Stephen Giry on bass guitar. They provided an excellent showcase of Country, Blues and even peppered with some soul and Gospel mixed up and served at room temperature that rose from the opening bars of the delightful No Peace For Me, all members singing at least one verse a piece, outstanding.
Call Me The Breeze was another highlight proving they can mix up styles, take a song then make it into a jam session. This was never more obvious than in the way they interpreted Kenny Rogers song, Just Dropped In, it was mesmerising especially Marco channelling his inner Jimi Hendrix. Married Woman saw their fun side, with groove and rhythm. Leaving an adoring audience wanting more they ended with a funky version of Choo Ma Gum.
A full night's entertainment. There was more to follow into the wee small hours courtesy of Andy Taylor's Midnight Blues Jam with special guests in the Royal Hotel, Stromness. Suffice to say this was superb and featured various local musicians plying their trade, blues, funk, soul you name it they played it!
Due to inclement weather, well it is an island, the ferries dictated what the running order for the last day. Only right to got to The Blues Club at The Royal Hotel and see who was playing. This was billed as the Sunday Sesh BBQ Blues Finale (The BBQ was an indoor one unsurprisingly!) Got there in time for Rebecca Downes last song, as she was leaving with Steve Birkett on an early ferry. Another stripped back blues performance played to an appreciative audience.
Liz Jones was next, providing a laid-back bluesy Americana feel to her set along with wonderful guitar licks from John Bruce and backbeat from Suzy Cargill, intimate and melodic, this group was fantastic. Next were The Cinelli Brothers who did a spontaneous set, a more laid back and bluesy one to previous night's high-octane performance.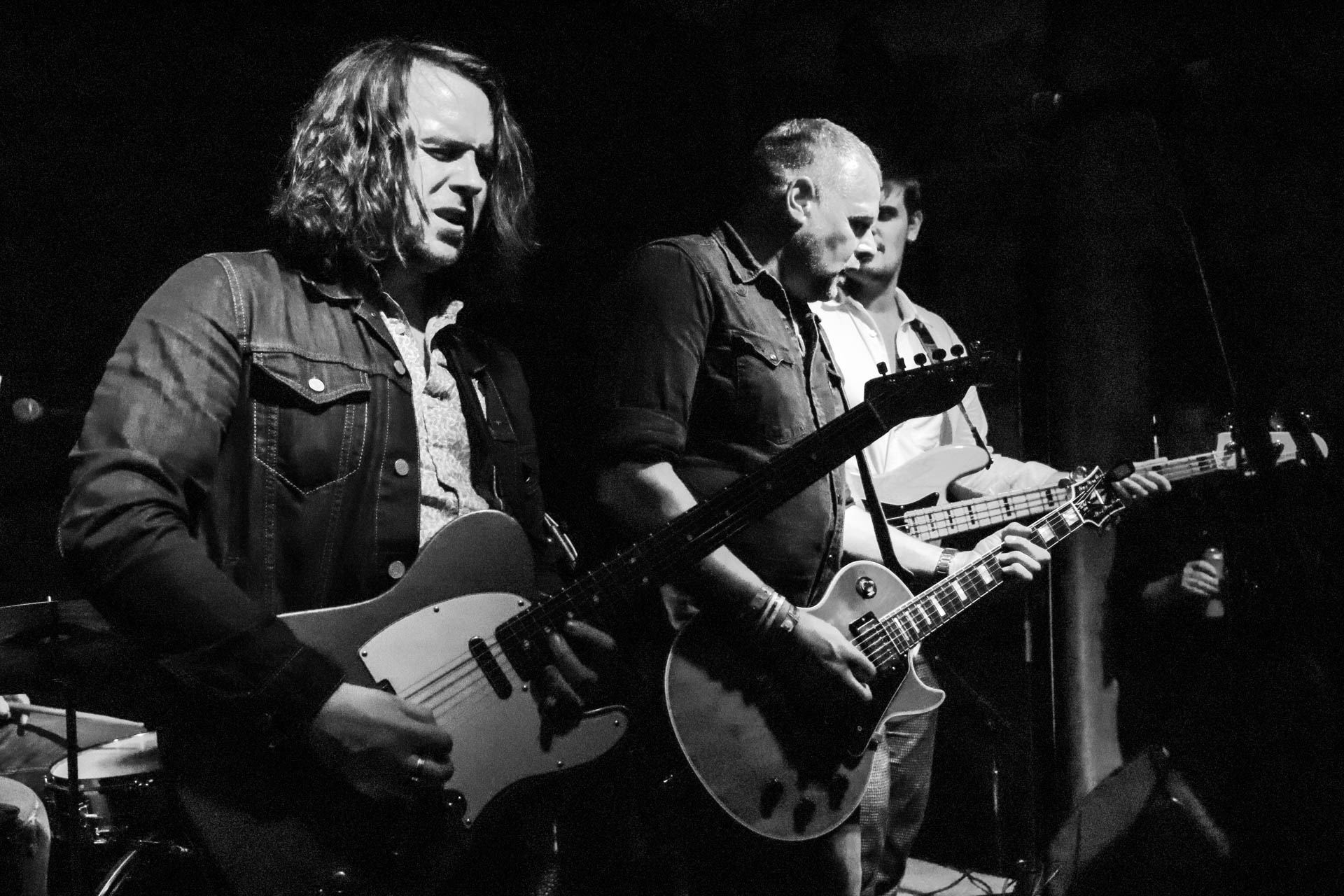 They played T Bone Walker's Papa Ain't Salty. Then rocked the tempo with Homework. They boogied to JJ Boogie. Alessandro soloed on drums and sang Dimples this was amazing, and the band fused into this well. They harmonised on Make You Mine and So Far So Good.
Graham Bevan the MC for the weekend even managed to coax them to do an encore. They finished with Prince's song Kiss, a good version, then they had to leave to get off the island as they had more gigs to play. They are a workhorse of a unit; their chemistry is amazing. It is no wonder they are riding a wave and representing UK in the Blues Challenge in Memphis next year, catch them when you can. The previous night Andy Taylor had played in the late jam, here he took his band The Andy Taylor Group (Andy Taylor, lead guitar and vocals, Dylan Pepper on drums and bass man Marcus Cordock) a blues rock power trio on stage.
A wonderful sound and full of rhythm they started with Loose Cannon. Worried Love Blues showed their soulful side, but what a guitarist Andy is, making it look an easy instrument to play. Finishing with a Jimi Hendrix tune this was a rocking set by fabulous musicians. Burray Blues Club next, they are a musical jam band of local talent playing different musical styles.
So many musicians, a fiddler, mandolin, drummer, three guitars the highlight was Looking Back an absolute classic done jump boogie Orkney style, another impressive set. The James Oliver Band played another scintillating set starting with Roadrunner then into some blues standards with his twist; Hoochie Coochie Man and a wonderful rendition of Martini Mama. He slowed down the pace enough to play the instrumental, Albatross, this was sublime, off the radar brilliance in guitar technique and style. The band finished with a bang, covering Honey Hush to a very satisfied audience.
Tommy Bentz Band were last on and played an eclectic mix of blues rooted tunes including 1000 Reasons, a mellow inspired tune. Love Me To The End was a favourite. They played an inspiring version of Ain't No Sunshine particular noted bassline was superb. Sugar Drive, another new tune was an interestingly crafted instrumental in an eclectic set. A wonderful day's entertainment was finished off with the James Oliver Band playing a set in the Stromness Legion, suffice to say this was more high-octane musicianship from the Welsh wizard.
Overall, a phenomenally successful and enjoyable event, organised well, sound and lighting, venues of the highest calibre. Long may this continue thanks to everyone involved and to those artists not mentioned but played, a big thank you also. This is what live music is all about! An experience that will last long into some of the best Festivals this reviewer has been to, bring on the next one!