Advertisements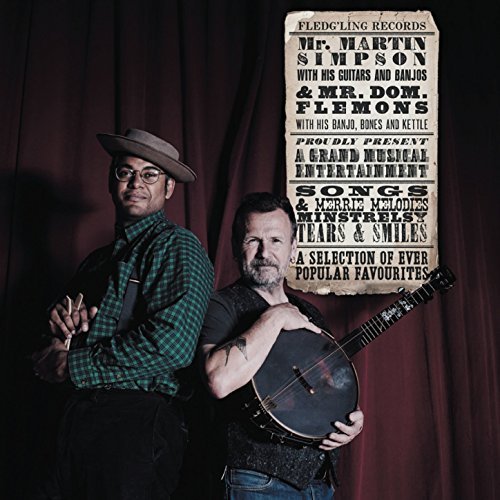 The album comprises of twelve tracks that are as they state ever popular to lovers of acoustic music, recorded live during their sell-out autumn 2015 tour.
Simpson and Flemons find a unity as they harmonise what are the common core of roots acoustic music from each side of the Atlantic. They find the common threads that show a deep psyche of roots music in the cultural memories of folk.
Martin Simpson and Dom Flemons champion traditional music that is still relevant and speaking to us today the modern audiences that packed their shows.
The people travelled as did their music creating a river of creativity.
Short Time Come Again No More reflects back across the Atlantic the suffering of the factory workers of the North West as well as those hit by the cotton famine of the American Civil War.
A mirror image, re-working of Stephen Foster's Hard Times Come Again No More it hits the message home hard and the lyrics win through. The instrumentation throughout is fresh, lively with an energy that makes your feet tap and engaged.
Combining Martin's scintillating slide and acoustic finger picking style joining in with Dom's Quills with a piping call and the percussive bones this is music that sings from the heart deep into your musical DNA.
The vocals are full of emotional intensity, yet at the same time, every song has a simplicity letting the words tell that tale of people's experiences we all recognise today.
The mix is enticing with Champagne Charlie re-invigorated and Coalman Blues telling the story full of the humour and pathos.
Every track has something to say to you the whole album zings with the energy of a live performance with emotions, and the charm of music delivered with love and care.
All the traditional numbers are arranged by Simpson and Flemons and into the mix is a Flemon's original Too Long I've Been Gone fitting into the mix perfectly.
A definite for your acoustic collection.
LIZ AIKEN