Presented with the opportunity to go to this festival, one look at the stellar lineup made my decision very easy, that and I've never been to Romania before, add to the equation that I hadn't been on a plane in three years and my suitcase was packed before I finished reading the email.
Words: Barry Blues Barn Hopwood   Pictures: Popa Bogdan
OPEN AIR BLUES FESTIVAL SUMMER CAMP, BREZOI ROMANIA – July 2022
After the usual photos of breakfast were sent to various friends, I was on my delayed flight to Sibiu where upon landing I was met by a lovely young driver called Cosmin, who informed me we had to wait for Samantha Fish and her band as if I'd mind. Once all were on board, it was off to Brezoi and our hotels, where I was dropped off at my hotel. Samantha and her band were at a different location but all I'm thinking so far is how wonderful the festival organisers are looking after us. After settling into my hotel and having a local dish for dinner it's not too long till I retire after a long day's travelling. After all, tomorrow is the start of a six day Blues festival and I'll need all the energy I can muster, as I'm normally used to only three day events.
On Tuesday, I meet one of the organisers, a wonderful young lady called Alina Bagiu, who turns out to be nothing short of a wonder woman, her attention to detail, looking after and organising over 170 artists for the next six nights is incredible.  Onwards to the summer camp and the first night of six, top nights of action, kicked off by my old travelling partner, Samantha Fish, as well as Popa Chubby, two of five acts that are to play.
As we arrive at the summer camp, I take a look around at what can only be described as an arena carved out of the earth by mother nature, a truly beautiful setting, surrounded by mountains full of trees ; there's a river with a hand built bridge to a chillout area and enough shaded areas to hide from the fierce sun that awaits. As I return to backstage, the first thing I notice is the green room and surrounding area with  fridges full of drinks for the artists, along with tea, coffee and plenty of bottled water (UK venues take note.) Suddenly there's a buzz as Eric Gales and his band turn up – but as they're not playing for two more days, I ask him why, he tells me, 'the wonderful people of Open air blues festival are putting  us up for a few days as we've been touring extensively for a while.' This tells me even more so how wonderful these organisers are, what happens over the next few nights is going to stay with me forever.
On the first night of gigs, five bands of exceptional quality, play their socks off, starting with Green Onions Experience, a local band of young blues cavaliers, that makes me believe there's hope for the Blues; followed by Joe Rusi, Grainne Duffy then onto Popa, just when I'm thinking he's on fire he asks Eric Gales to join him on stage. This is what gig dreams are made of and on the first night, we haven't even seen the firecracker that is coming in the shape of Samantha Fish. And there's five more nights to come, wow.
Wednesday night and top of the bill is Larkin Poe and Ben Poole, both were made for a stadium like this but let's not forget the are three more bands on earlier and, by the way, the Romanian crowds gather for them. Everybody here has missed music as much as me, no one so far has let us down: two nights, ten acts, it's scorching on stage but not just because of the weather.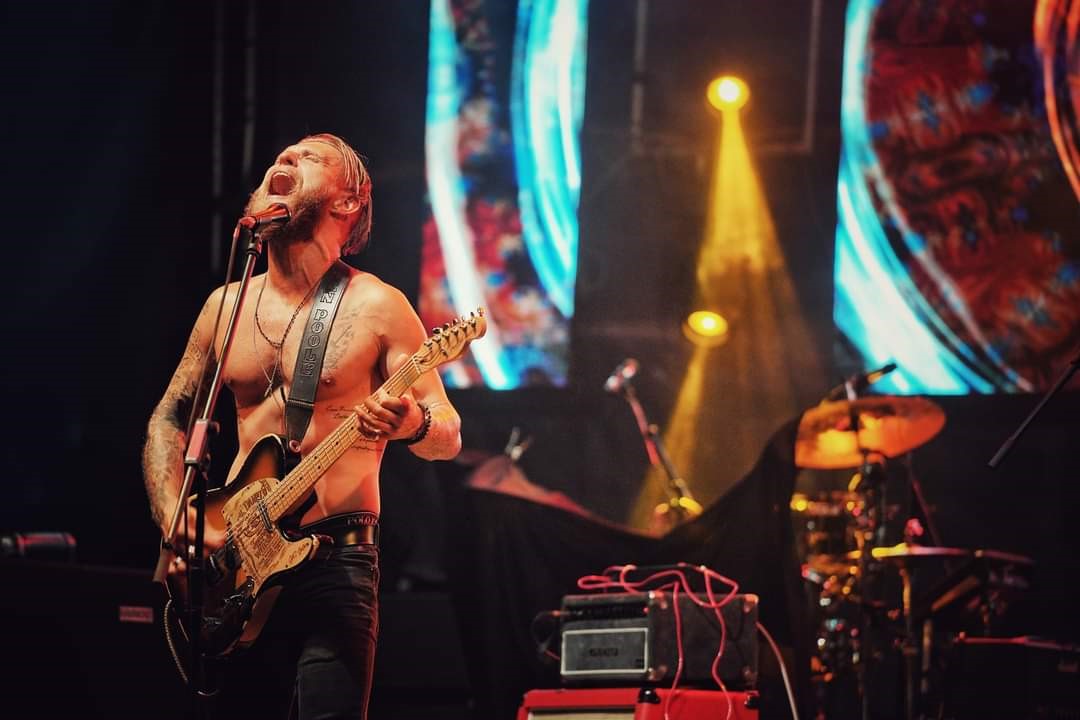 Thursday comes and goes in a blur, because today, on my 60th Birthday, the two main acts are Beth Hart and Eric Gales.  Just when you think it can't get any better, after both put in excellent performances, Beth asks Eric to join her for a rendition of 'I'd Rather go Blind' that whips the crowd up into a frenzy and puts me into a gig coma. Superb stuff. Thinking it can't get any better, I then remembered that we still have three more nights of music with some wonderful artists from the UK on the bill, two of which are top.
On Friday, Elles Bailey is up last. I've waited over three years to see her again and it was worth every second, this girl and her band are like diamonds in the night, shining bright. My fourth night of goosebumps. Her songs and her charisma are all world class. This has been by far my best music festival experience ever.
Before I know it, I'm onto the fifth night. The first band up are The Southern Cockroaches, another localish band of blues enthusiastic guys, who, like all so far, have kept me thoroughly entertained. Then something truly remarkable happened, a four piece UK band got up, performed and completely blew my mind. It was like I was eighteen again, discovering bands for the first time. It was like watching Iggy, Dr. Feelgood and Nine Below Zero all rolled into one, The Bad Day Blues band, wow!
How is Dana Fuchs and Sweden's Blues Pills gonna follow that? Well, they did with unbelievable performances. Absolutely wonderful to hear Dana's voice, singing her heartfelt songs and watch her engage the massive crowd. As for the Blues Pills, they knocked it over the mountain top.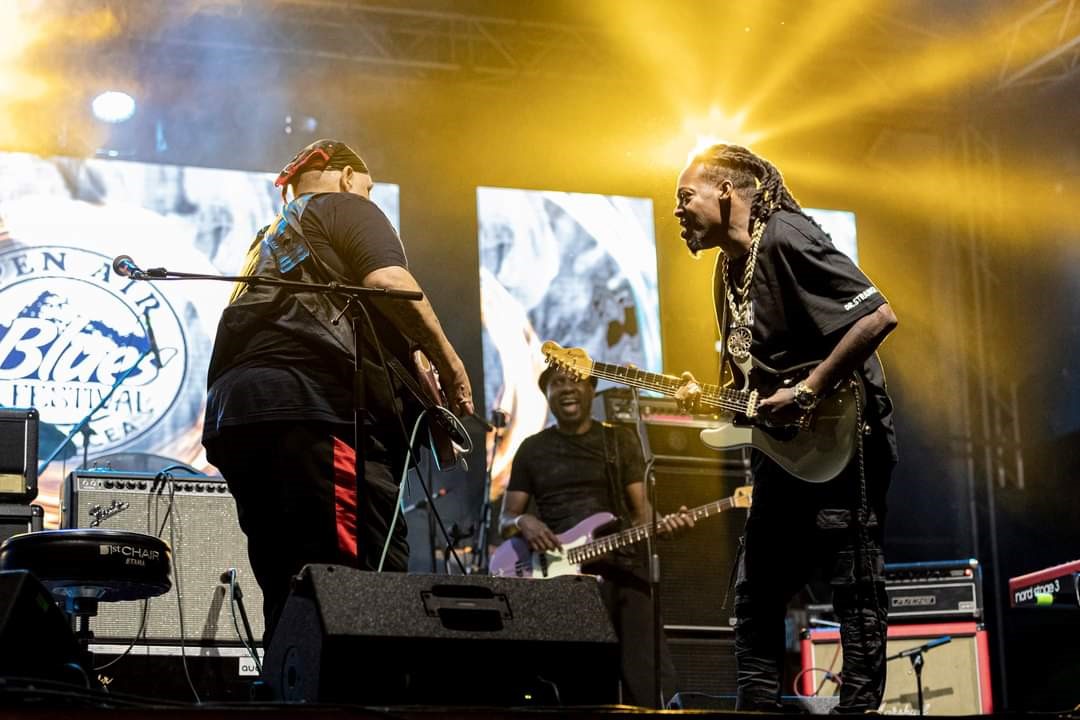 So, onto the final night with two of our own as top billing, Kaz Hawkins and King King. With harp legend Rick Estrin also on the bill,  I ask myself, is the crowd and my energy going to last? It is a Sunday night – do the Romanians have work in the morning? Do their kids have school? As King King play 'Long History of Love,'  I swear we could hear it bouncing off the mountains –  had a hot flush and goosebumps all over my body. This is it, I thought. This is why I came.
Then up steps MUMMA Kaz at 1 am on a Sunday night. The crowds flock to the front, they know her story, they know her songs. Kaz responds, and at the finale, she gets all the backroom staff up on stage for the final song (by now I was crying my eyes out) as a 'thank you'  for all their wonderful work.
This is what festivals should be like, every single artist I spoke to over the last six days said the same thing, 'it's incredible how they've treated us, with respect, looked after us like friends, like Family.'  Enough said…