Advertisements

After a few tough years of Covid-enforced nothing, the French blues festival scene moved slowly into gear with the country's two most important events following snapping each others' heels through July.
Words: Iain Patience    Pictures: Jan Venning
Cognac Blues Passions, used to be the biggest, most celebrated blues event in the country – possibly Europe even – until recent years have seen it descend into an uncertain musical mish-mash where rock and pop seem too often to hold sway and top the bill. Past years have seen the likes of Iggy Pop, The Cranberries and Marriane Faithful perform, all artists of high calibre but hardly blues!
This year that pattern was repeated with UK popsters Simple Minds topping the bill along with Liam Gallagher, who failed to appear and was cancelled due to last-minute illness. In a blues vein, however, US picker Ben Harper turned out with his original Innocent Criminals band. His set was, to me, a bit lame and uninspiring for the most part. I know Harper can be much better than this; maybe the stifling high 30s heat played a part?
Alligator Records growing young star, Christone Kingfish Ingram, also delivered a strong blues set that highlighted his astonishing talent and love for the music, in what was probably the finest pure-blues set of the event. The Altered 5 Blues Band also provided the crowd with a masterclass in how to work a blues stage with a truly excellent, memorable set, one that should have merited a feature on the main amphitheatre stage. Other blues acts got in on the fun with France-based US guitarist Neal Black delivering an excellent set built around his recent Dixie Frog Records double career-spanning album, 'Wherever the Road Takes Me.'
Another few French acts took up the blues baton to produce cracking sets: Limoges-based duo Bourbon Street hosted a set at a town-centre, open-air bar area that sparkled with some cool traditional acoustic country blues, while local lad, and top-quality guitarist, Sam Mister TChang also produced the goods in spades. The opening set for the festival, in the nearby town of Jarnac, featured the ever-popular US duo Larkin Poe and was pretty much as might be expected, though that set was, for my money, overshadowed by a revelatory, opening set from French drummer Denis Agenet and his Nolapsters Big Band. This was an outfit featuring a dozen musicians including horn sections, twin keyboards, guitars and singers. An absolute revelation in many ways and a wonderful start to a festival that otherwise seemed lackluster at times.
One outstanding highlight, however, was the inspired, emotive playing of the great US bluesman Chris Cain, here paired with top-dollar Italian picker Luca Giordano. In many ways, this pairing hit the blues heights with a set in a beautiful, ancient chateau setting that simply showed just what the power of pure blues can be.
Other blues acts included the excellent US Tommy Castro and the Painkillers and Danish band, Thorbjorn Risager, a recent new-signing with Mascot Records. Both delivered strong, assured performances to a happy crowd, perhaps already weary of
the high ticket prices (which were partly refunded for a free final day following Liam Gallagher's withdrawal) and too little true blues acts topping the bill.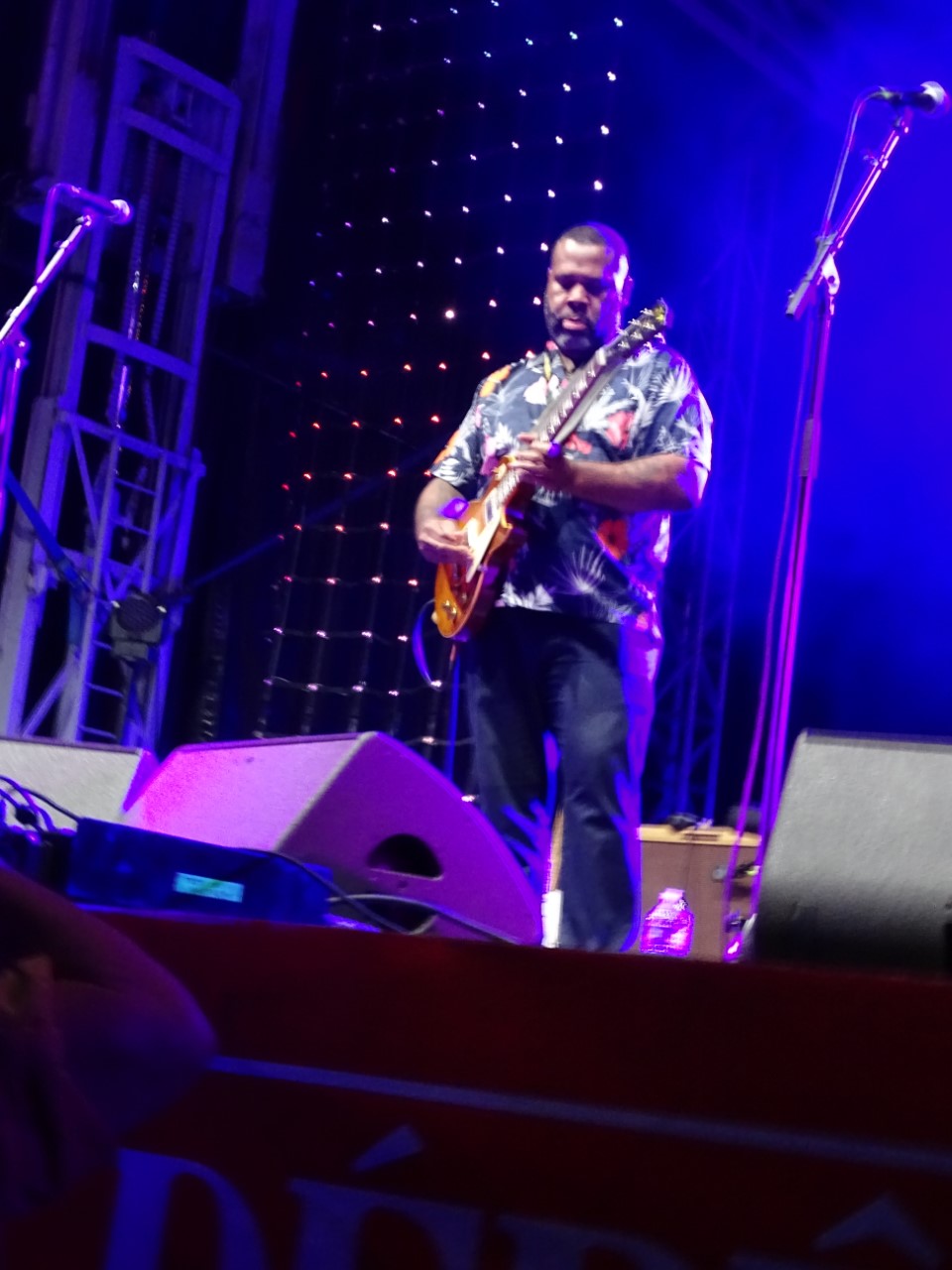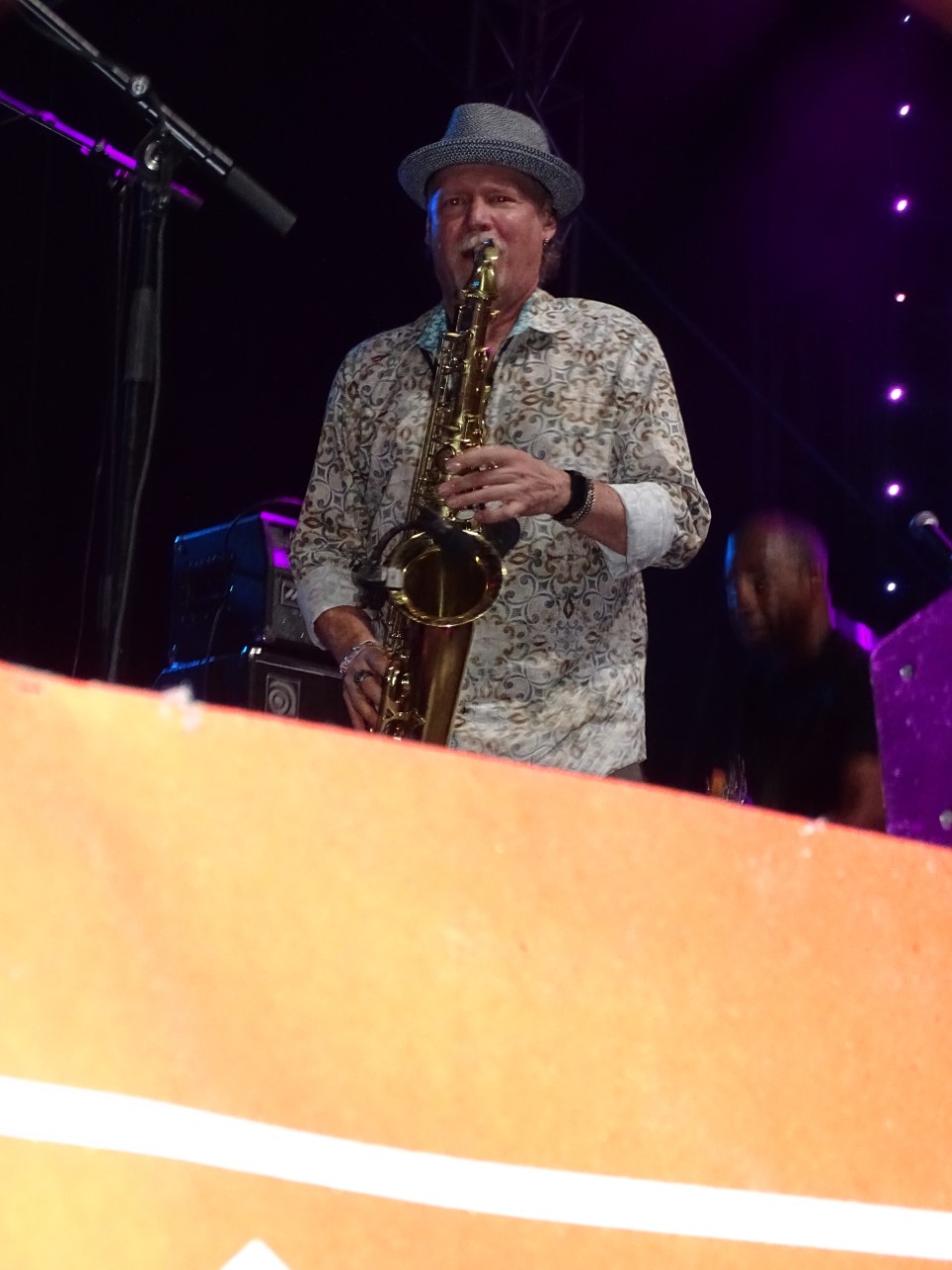 One week later and we're a few hundred kilometers south at the delightful town of Cahors where temperatures are touching 40° and blues remain firmly on the menu. Now the premiere blues festival in France, Cahors is run by the usual mixed crew of volunteers and always succeeds in attracting top-quality acts from the US, UK and Europe. With a town centre location, the festival has steadily overtaken Cognac as the main blues gig of the annual blues calendar.
This year started with a fabulous double-header featuring the busy Thorbjorn Risager & the Black Tornado followed by Christone Kingfish Ingram, both guys who had also played Cognac a matter of days earlier. Risager delivered an excellent set that the crowd positively lapped up and Kingfish did his usual thing, bringing the house down with some guitar brilliance and a taste of his Mississippi hometown, Clarksdale at its core. For a few numbers, he brought a young French picker onboard onstage, a youngster he'd met in Clarksdale a few weeks earlier and who was clearly enjoying himself working the stage with the US bluesman.
The next day brought two more US giants to the fore with soul singer, Barence Whitfield delivering a wonderful soulful set featuring his extraordinary vocal range from near-falsetto to a growling bass rumble. Close on his heels, we had the remarkable talents of New York's Popa Chubby, a guy who knows how to work a crowd and has a huge following in France. Closing his excellent set with some Stones, Chubby then produced a Leonard Cohen 'Hallelujah' encore to rapturous applause. A fitting end to France's national holiday on July 14th.
Hitting the stage the following day came an interesting French outfit, Same Player Shoot again. This seven-piece band turned out an enjoyable light-touch blues infused set that also had undercurrents of modern Americana in the mix. Evidently, a band to watch out for going forward. They in turn were followed by the blues-assured Kirk Fletcher, who delivered a great set with his fretwork and sultry soulful voice centre-stage before being joined by another very fine US picker, the wonderful Guy King. Together, they delivered quality blues with an ease that belies their combined years of working the music. Reaching the close of the evening, the simply wonderful Brooklyn blues lady Bette Smith joined the guys onstage dressed in a killing outfit and starting with a killer number in Credence Clearwater's 'Proud Mary' followed by Prince's 'Purple Rain.' A winning combination that had the crowd eating out of her hand from the off.
As the festival end came into sight, the afternoon stage featured the France resident, US guitarist, Mike Green and his current four-piece band. Green is always a pleasure with a knowledge and mastery of the music that is second to none. The penultimate night brought our very own Kyla Brox first to the stage, where she performed a marvellous set that set the tone for the 'Women's' evening lying ahead. Kyla gave way to US blueser Whitney Shay, with the excellent Laura Chavez on guitar duty and London-based Swedish session drummer Amanda Lan in the band. As dusk fell and the night drove on another UK great took the stage with Kaz Hawkins. Kaz hit the stage running with her fiery powerful, and passionate voice soaring into the night, enthralling the huge crowd. Hawkins did a mix of numbers with her love of Etta James always at the fore but also a range of material from her recent release 'My Life And I.' Possibly the highlight of the event, the night drew to a close with all three, Kyla, Whitney and Kaz, joining forces to deliver a stunning finale to an absolutely fabulous night of great music.
Throughout the festival, every night, saw the amazing US sax-master, Jimmy Carpenter join the fun onstage with his towering excellence and quality. If ever a man worked a stage, it was Jimmy. He laughed when I mentioned it to him, quipping that I 'usually just wing it!'
The closing night should have seen French bluesman Fred Chapellier onstage but illness prevented his appearance at both Cahors and Cognac. Instead, Irish picker Johnny Gallagher stepped in and closed the festival with Kaz Hawkins, Neal Black, New Zealand's Grant Haua and others piling in for the fun on what was labelled a 'Dixie Frog' showcase stage.
Overall, the Cahors Blues Festival again cemented its growing reputation as the leading event in France, with a wonderful range of blues music and an assurance that few events anywhere can challenge. After all, this is the event that saw Johnny Winter deliver his final live gig before passing a few days later in 2014.