Sitting back-stage, in the so-called green room area at London's 02, in late November 2019, with Kenny Wayne Shepherd, it's hard to think that this guy is a rock-blues star often likened to Hendrix.
Instead, he's a bit scruffy; laid-back, relaxed, lounging on a well-worn sofa while signing vinyl and CDs of his latest release, 'Traveler,' for the merchandising staff before his sold-out concert, while the rest of the band relax in the adjoining room reading music magazines, including Blues Matters! with evident enjoyment.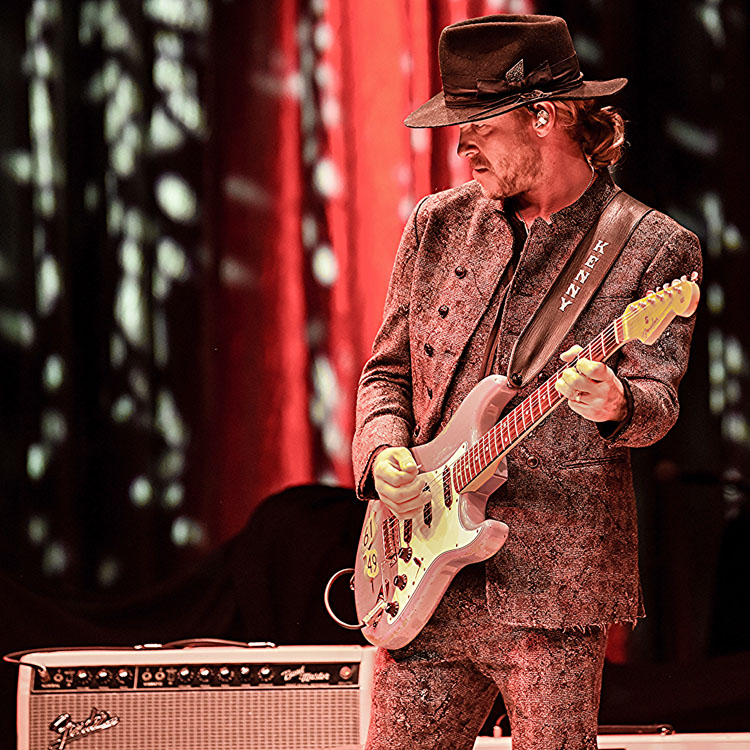 With this last gig, the final concert after a tiring European tour that has taken him through much of Europe from the south to Denmark's Blues Heaven Festival and a handful of UK gigs with barely a night off from the blues fire.
So, is he tired, does he ever get weary of the life, I speculate: "No way. It's all great. I love being out on the road, touring. It's always tiring, the travelling, but in between times, with the crowds and the gigs themselves, that's always a real pleasure. And I always try to get out and about, see a bit of the towns we're in. Yesterday, I had a day off and we got out and about in Cambridge. Though it will be good to get back home to California and see my wife and the kids," he laughs and adds, "I know some of the older guys get tired, find it tiring, but I'm still young enough to enjoy it all."
So you'll be glad to get back home, I suggest: "Yea, of course. But I'm not having much downtime. I'm off to play with Buddy Guy when I get back. Then I've got the Legendary Blues Cruise before I have a real break. That's about the way it goes, I guess."
I ask about the new album, 'Traveler,' and he's immediately focused, clearly pleased with the project generally and sales and airplay in particular: "It's been a real great thing. I'm real pleased with the way everything is going since it came out. It's been getting lots of media and radio attention. Lots of people like it – and that's what really counts," he confirms.
"I'm happy with the way it's gone down so far. And when I look at the whole thing, I reckon it's been a success," he adds with a wide smile, as he sweeps his hair aside and his eyes gleam through his spectacles. And success it has indeed been. An album that truly reflects the sound and power of a Kenny Wayne Shepherd concert in many ways, 'Traveler' is maybe the album that will push Shepherd into the awards circus in 2020.
Shepherd shrugs and smiles at this suggestion, indicating that it's not what it's all about in the first place: "Sure, it's always cool to have others, like your peers approval, but that's not the reason for it. It's all for the fans, the people who come to the gigs, who buy the records."  And outside later that evening, as the crowd pours into the hall, it's clear the merchandising and sales operation is working pretty well flat out, struggling at times to cope with the noisy, enthusiastic demand.
 Asked if he prefers studio work to live performance, Shepherd again smiles and shakes his head: "Doesn't matter to me really. I'm happy in the studio and I'm just as happy on-stage performing live. Anyway, I try to make the recording process as true to the live set as possible. I think that's always important. It's like blues music is grounded in an honesty so it's real important to create that same feeling in the studio and on the road onstage. It's what makes blues music and musicians different. I'd say special, but that sounds a bit over the top, maybe."
Shepherd kicked off playing guitar as a youngster aged around seven. He has been immersed in it ever since. He is happy to say that Stevie Ray Vaughn was probably his first real influence and what turned him onto the music generally: "I remember all that rock 'n' roll stuff was going down when I was a kid and first getting interested in the music. Then there was Muddy Waters, Howlin' Wolf, Hendrix., a whole range of great players. They all make their mark in different ways. I'm self-taught, like most guitarists, I guess. I had a toy guitar when I was still a toddler but after I heard Stevie Ray play when I was around seven, I took to it seriously and got a better guitar!"
With a signature model Fender Stratocaster already out there, I ask him does he prefer the Fender Strat to the Gibson which I know he also turns to at times. The question brings a huge smile and a head-nod: "I think the Strat just has a feel, and a sound, I go for. It seems natural. It's that feeling. All blues is about feeling. I love the Gibson 335 too, and I use it regularly for when I want or need that Gibson sound. But they're such different guitars each with its own feeling and sound. Sometimes a song just sort of writes itself and I know what guitar is needed. It's that simple really."
As we near the time for his sound-check before the set opens, I'm unable to resist the asking a final question about his time playing with The Rides, a band fronted by the legendary US singer-songwriter Stephen Stills: "That was great. We all had an absolute blast! Everything just came together so easily, so natural in feeling. Stephen Stills was pleased with the result and we did a second album, of course, with 'Pierced Arrow.' I'm hoping we get together again and do something else."
Winding up our meeting, I remark on Shepherd being from Louisiana and wonder if that New Orleans, Cajun-like vibe has ever moved him or influenced his music: "No, not really, though I do enjoy a lot of it. If it's good music, it's good, I reckon. But I'm from the north of the state, Shreveport and we have different musical influences down there, I guess," he ends with an enigmatic grin.
By Iain Patience.