The fans of John Primer's brand of Chicago Blues should not be put off by the "Soul" part of the title of his new album " The Soul Of A Blues Man". There is plenty here to satisfy them and all but the most blinkered of purists will not question the inclusion of some great R&B tracks in the style of the early Stax, Atlantic and Cotillion artists that were John's youthful influences, just like many others in the younger generation of bluesmen in the 1970s.
John Primer was born in Mississippi, his father died tragically early, and he moved to Chicago with his mother in 1963. By 1974 he was fronting the house band at Theresa's Lounge and had played with just about every remaining Chicago Blues legend when Willie Dixon signed him up for The Chicago Blues Allstars touring the world in 1979.
He then joined the Muddy Waters band until Muddy passed in 1983, then he joined Magic Slim until going solo in 1995. His previous albums have mainly built on his infectious, driving hot Chicago Blues sound honed with that last Muddy Waters band and the "lump" blues that evolved with Magic Slim and the Teardrops.
This album shows a widening of that style and brings up the question of the influences that are in John's blues roots. Just as Muddy Waters and Wolf brought the Delta Blues from Memphis to Chicago, the next generation brought a new Memphis sound to the city.
In the famous "Checkerboard Lounge" film of Muddy with the Rolling Stones and other pictures from that time John Primer gives us a clue as he sports a fashionable but trimmed "afro" hairstyle, and in earlier pictures the style is even a bit more spectacular with flared jeans and satin shirts. He was from a younger generation than the bluesmen like Muddy that he admired so much and played with, and he was listening to the current sounds while playing the classics.
Muddy Waters once said the reason he sang the blues was that "I have a long memory" of the Delta,  and the blues that John learned was also through some hard times too but his memory of the blues was from Muddy and the other great names that he played with. What he also enjoyed, like most young people, was what he heard on the radio and TV and this album reveals a love of early soulful sounds too.
The MG's guitar man Steve Cropper once opined that soul music in the early days was really a Motown and Detroit thing and the stuff coming out of Stax in Memphis was all Rhythm & Blues, and of course here in the UK we love our labels and categories, but us old 60's Brits remember when R&B bands played Delta, Chicago, Folk, Rock 'n Roll, Motown and Memphis Soul without any distinction at all (The early Stones and Animals albums are a good example). The blues was never about putting stuff in boxes anyway!
With one exception, the original recordings of the covers on this album were not huge hits in the UK except with real early soul enthusiasts, and are all recognisably rooted in the blues, and sit very comfortably with the more familiar Chicago Blues style numbers. In fact, this album is a gem (in my humble opinion!) for existing Primer fans and those new to his work.
John is supported by some very fine musicians and trusted friends as ever on this "own label" venture. Billy Flynn guests on guitar, Chuckaluck provides some ultra-funky bass, Lenny Media (drums) Ronnie Hicks (keyboard) and Charlie Kimble's vibrant sax all excel with John with his characteristic and brilliant "Blues Bar Baritone" vocals and guitar.
Special mention also must go to Steve Bell on harmonica, every style and every genre, I lost count of the different influences that I thought I heard in his incredibly versatile technique.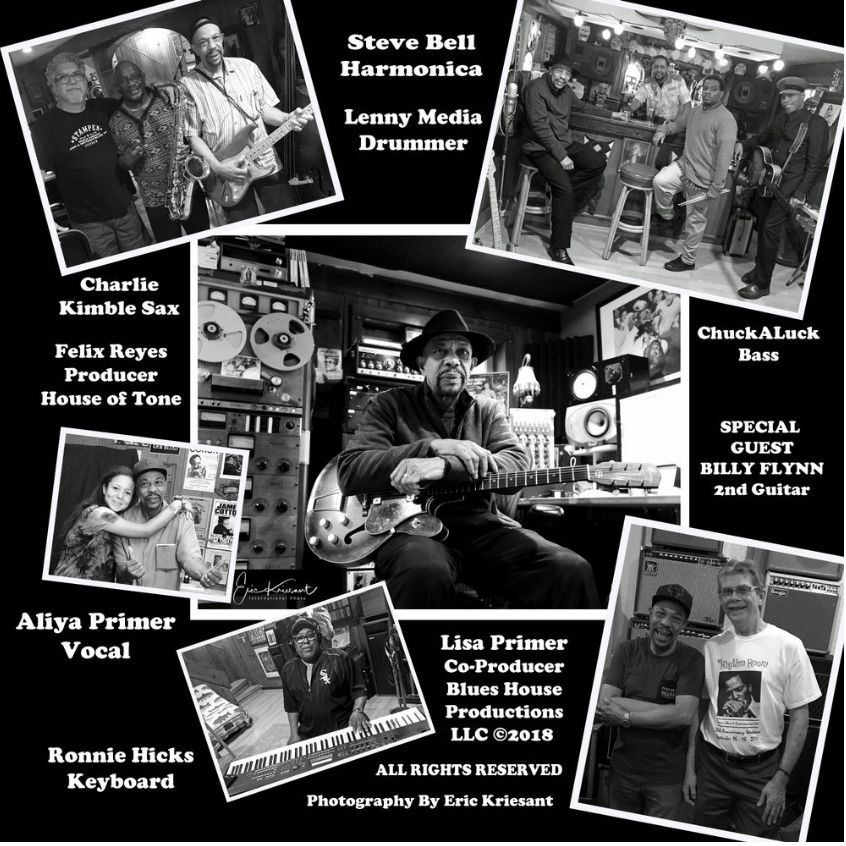 The album includes three original songs.
"You Shouldn't Tell A Lie" and "Please Don't Leave Me Baby" are both examples of what Primer is known best for, a jaunty rocking Chicago blues and a medium paced blues, sung with his typical skill and emotion, with hints of Cotton, Musselwhite and Reed styles on harp and a great Chicago blues piano, guitar and slide guitar on display too.
The third original "Meet Me In The Park" is a real fun number, and bounces along with strategic pauses and familiar riffs, and displays John's famous mischievous side, with some great lyrics. The band plays excellently as they always do but what really sticks in my mind are the surreal words "I wish I was a grapefruit, tell you the reason why, when you come to kiss me, baby, I'll squirt it in your eye! "
There are another three songs that may be familiar to some UK fans.
Leon Russell's "Help Me Through The Day" was written for Freddie King and has an echo for British Blues fans too. It was on the legendary Jo Ann Kelly's last album and John Mayall and Peter Green both recorded versions of it too.. Primer's version stands up well against them all, his voice is superb and Charlie Kimble really surpasses himself on saxophone.
"Rainy Night In Georgia" is the one song familiar to everyone, and here it is sensitively and faithfully performed and Steve Bell's harmonica lives up to the legendary Toots Thielmans original.
Stagger Lee is a real classic rocker from a story about a gambler and murderer, sort of "Frankie and Johnny meets Hey Joe at the House of The Rising Sun"! It dates back even before Fred Waring's Pennsylvanians recorded "Stack O'Lee" in 1902. Here in Britain, Leadbelly sang it when he arrived here in the '50s and even PJ Proby had a go at it, but the version John uses for this arrangement is the Lloyd Price 1959 hit. No horns used on this version but they are not missed, as meandering guitar and chord filled harmonica fills put a real Chicago slant on it with joyous solos from both and combine with a romping honky-tonk piano. Great Stuff.
The covers that make up the rest on the album come from originals and arrangements by artists like Freddie King, Bob Dylan, Toussaint McCall, Larry Addison, B.B. King and several from the repertoire of Bobby Blue Bland.
They are all either good blues or rich and melodic examples of that early blues-based soul music that came out of Memphis on the Stax and its subsidiary label Cotillion and the early Atlantic label that spawned artists like Otis Redding and Wilson Pickett.
All are executed with precision, and with a few pleasant surprises throughout, especially on guitar and harmonica, but without spoiling the overall soulful vibe. They add a great deal to the pleasure of listening as they evoke an era and style of some great Rhythm & Blues that has been forgotten by many as it was eventually swamped by the big production soul and funk age.
I recommend this album to anyone who has enjoyed John Primer's previous albums as it continues to display his expert Chicago Blues side and adds a little more I think most of you will enjoy. If you haven't heard him before then this is a great starter. And yes, despite the "Soul" in the title it is also a damn good blues album. I have been playing this on repeat in my car and that's a rare thing for me!
Sincere thanks are due to Real Blues Forum and David Byng for their interview and archive quotes from Muddy Waters and Steve Cropper and also John Primer's own website for his wonderfully detailed biographical details.
Album Review by John Habes
For More Info go to – John Primer Blues