Advertisements

Guitar supremo Joe Bonamassa is about to embark on his most extensive UK tour since the pandemic. The artist recently released his latest concert album, "Tales of Time", but those lucky enough to have a ticket for his upcoming shows will experience Bonamassa live and in person.
IMAGES: Robert Sutton
WORDS: Adam Kennedy
In the run-up to this week's UK shows, Joe Bonamassa has been touring across mainland Europe. "The shows have been really fun to play. The crowds have been very animated, and the band is on fire," explains Joe.
But what can the UK fans expect from the gifted guitarist's upcoming UK dates? "We're doing some stuff from Time Clocks. It's a good mix of old and new. There are some songs you've got to get to every night," says Bonamassa. "There are some songs we can just play around with. Tonight, we're bringing out Pain and Sorrow. That's 20 years old, and we rarely do that. But I think our fans come for a body of work, not just a couple of tunes. So, I can kind of pivot."
Advertisements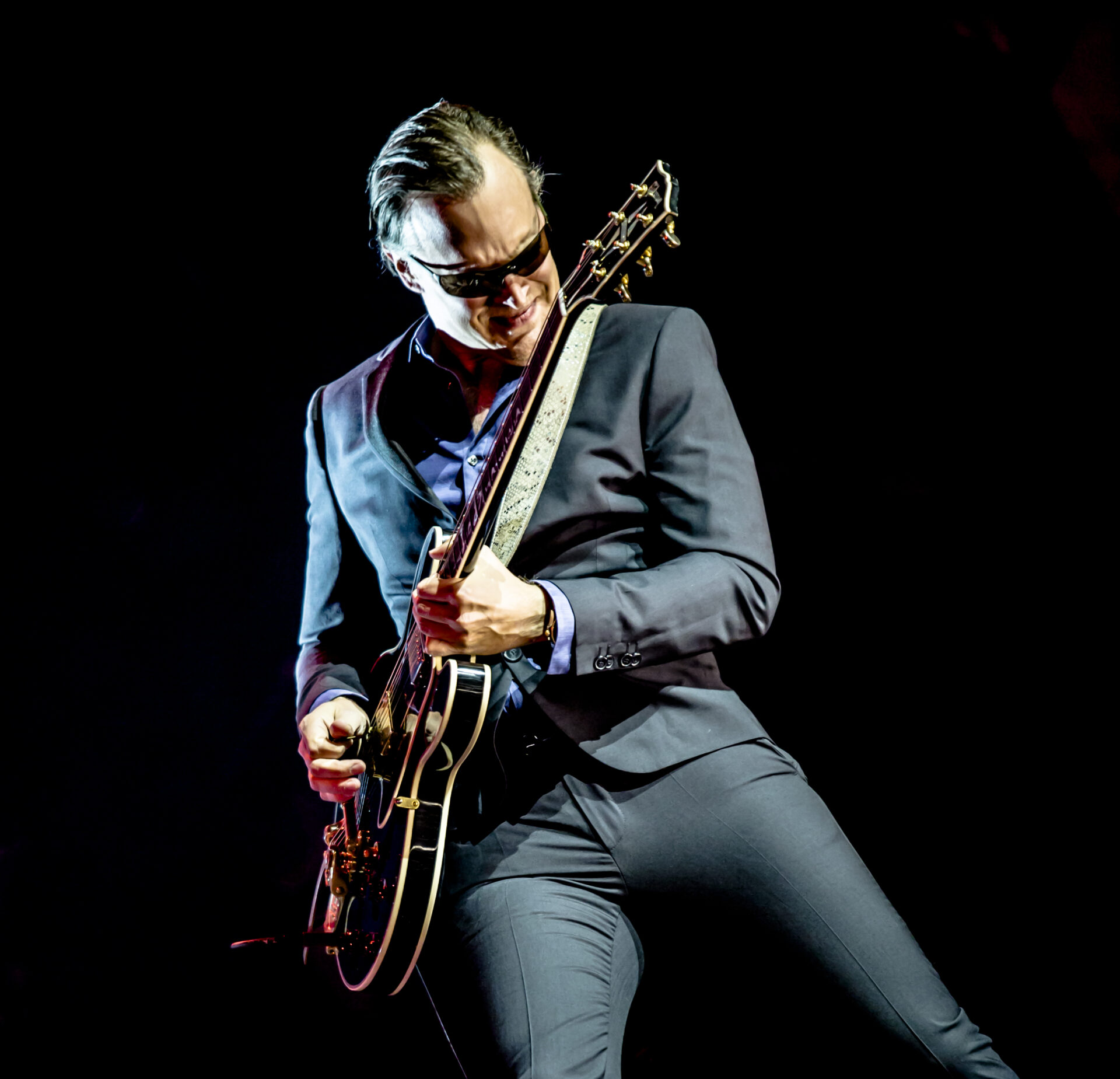 Joe Bonamassa's latest live album, "Tales of Time", was recorded at the legendary Red Rocks Amphitheatre in Colorado. "It's a special place in the world," confirms Joe. "If the weather is cooperating, there's nothing like it outside. It's just a fun place to play, and it sounds great. Everybody knows it's bigger than any of the artists that could be in there." He adds: "They have everybody who has played there listed by the year, and it's so amazing. Louis Armstrong, BB King, The Beatles."
The blues legend has released a vast body of live recordings throughout his career. His latest release adds to a repertoire that includes concert albums that have been recorded at some of the most prestigious venues on the planet. "The live album to me is where the artist truly is as an artist," says Joe. "Because once you've made your record, then ultimately what happens is you put together these live arrangements, and that's really who the artist is. The studio can get confining even though you have unlimited options; it's not quite that. When you are live, it's free. You can do anything you want."
It's no secret that Joe Bonamassa has amassed an incredible collection of guitars. But how many does the artist take out on the road whilst on tour? "I carry a dozen," he says. "I have 500 guitars. And a lot of the stuff nobody sees because it's all very well preserved." He adds: "The oldest guitar I will play tonight was made in 1964."
The artist has had the privilege of playing some of the most iconic guitars of all time, but those items are not always what he is looking to add to his own collection. "I never really collected celebrity-owned guitars," he says. "For me when I play Rory Gallagher's guitar, unfortunately, it sounded like me. When I played Paul Kossoff's guitar, it unfortunately, sounded like me. So, it was the players, not the guitar. And I'm assuming if I ever had the honour of playing one of Stevie Ray Vaughn's guitars, it would sound like me." He adds: "Conversely, if I handed my guitar and my rig to Eric Clapton, he'd sound like Eric Clapton. The instrument itself doesn't drive the car. You drive the car. It's just what kind of car do you prefer."
Whilst blues music has traditionally been confined to clubs and concert halls, Joe Bonamassa has been very successful at taking this beloved genre of music to the waves via his Keeping The Blues Alive at Sea cruises. "It's the most efficient, fun way that I know of to raise a lot of money for charity in a hurry," he says. "This is our 10th year. And some celebrity cruises don't work. For some reason, our community has been very supportive. We've done two a year. We're doing one next year because of a boat positioning issue. But the one that we're doing is already sold out, and it sold out in two weeks. So, there's something about that community, and people love to come, and they love the interplay between the bands, the camaraderie and all the crazy jams that break out. So, it's been a good thing. I can't complain."
Having performed at some of the most iconic venues in the world, Joe will shortly tick off a further bucket list location – the Hollywood Bowl. "It's either going to be the most exhilarating night of my life or the biggest punch in the face of all time," he says. On this occasion, the guitarist and his band will be joined by an orchestra. "It's 70 pieces, and we are 7. So, I mean, all this stuff has got to be very exact. It's going to be a challenge, but I like challenges. I'm not a person that shy's away from that – I ain't scared."
With such a special night at the Hollywood Bowl on the cards, the guitarist is already preparing for what is to come. "We have songs that are already picked out because we have to get the orchestrations done. And so, we have everyone from Trevor Rabin to Jeff Bova involved. There are some real orchestrators. So, we're hearing it digitally on top of the music, but we literally have one shot to rehearse it and then go."
He may hail from the US, but Joe Bonamassa has a special relationship with the UK and British blues in particular. "That was my introduction to the blues. I'm an Anglophile," he says. "That's part of the reason why it works over here. It's because I was just kind of an anomaly from America re-updating stuff that I heard from the 60s. But I wasn't old enough to be there. I was coming from a different spot."
One of the guitarist's legendary performances in the UK was the first time he played at the Royal Albert Hall in London. Recollecting that night, Joe said: "I was very aware that a broken watch is right twice a day. And it was either the beginning of the beginning or the beginning of the end. We had one shot and we put all of our money into the show. And it was much more enjoyable to watch it on DVD than it was to participate in. I am much more comfortable now. I've played at the Royal Albert Hall ten times. Every time I walk back in, I go, I've got you. The first one was one of them; it got me. Arguably, maybe it was the best one I've ever done. But I'm more comfortable on that stage now than I ever have been. It's just age and experience, and you've just got to play a gig. That's it."
Aside from his impending UK dates, Joe concludes: "It's such a busy year. I know where I'm going to be up until the summer of next year. And it's busy. But thank God we're gainfully employed."
Celebrated and award-winning blues rock guitarist and singer-songwriter, Joe Bonamassa, in association with J&R Adventures and Neil O'Brien Entertainment, will perform five UK arena concerts in May 2023. Dates include Bournemouth International Centre on Tuesday, 9 May, Blackpool Opera House on Wednesday, 10 May, Leeds First Direct Arena on Friday, 12 May, Newcastle Utilita Arena on Saturday, 13 May, and Birmingham Utilita Arena on Sunday, 14 May. Tickets are on sale now via www.jbonamassa.com/tour-dates.