Highlights in Issue 110 are…
Queen of blues-rock guitar Samantha Fish caught up with us to discuss her new album Kill Or Be Kind, plus guitars & cigar box guitars.
Chris Youlden is one of the venerable men of blues music and we talk about a career that is ever-green.
Danny Bryant is home-grown blues talent and he talks to us about life on the road and a new release in the wings.
From the USA, we have Bert Deivert, a man with a mission and a mandolin to hand.
Lauren Anderson is from Chicago but is a blueslady based in Nashville, here she talks music, touring and influences.
We catch up with the ever-popular Beth Hart on the eve of a new tour and album launch.
Bror Gunnar Jansson is a Swede based in France who writes music based on blues tradition but for the 21st Centuary.
Black Stone Cherry from rock 'n' roll to blues, the band explains its blues outlook to Blues Matters!
Kris Barras from creating ringside moves to creating music, Kris rolls with the punches taking it all in his stride.
Jaimoe might be a new name to many, but he's a US musician with a story to tell.
Christone 'Kingfish' Ingram is a rapidly rising talent who recently signed to Alligator Records.
Leo Lyons talks Woodstock, Ten Years After, Hundred Seventy Split and Alvin Lee.
Dancefloor Gospel group, The Achievers caught up with us just before they won the UK Blues Challenge 2019!
Features…
In this issue, we cover many exciting topics including our regular Phenomenal Blues Women piece and this time its Diamond Teeth Mary; Blues Down Under Pt.3; Harmonica Blues; Pianos For People; Scandinavia Blues Pt. 7; Son Houes Pt, 1; John Kay Pt. 1; The Bishops Final Blessing.
Reviews…
Lots of Festivals, Gigs, Books, DVD's & Albums covered just for you.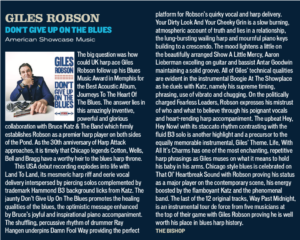 Regulars…
Blue Blood – Newcomers to introduce you to this issue are Cliff Beach; Iron Kyte; Schuld & Stamer; Sun House.
IBBA Blues Top 50